Our new Travel Specialist, Michelle Barth, spent 2 months traveling throughout Southeast Asia. Continue on the journey with her as she recalls some of her favorite meals from Ubud, Bali.
Before my travels to Bali a few key travel words come to mind: surf, temples, monkeys, ex-patriots, rice fields, and massage.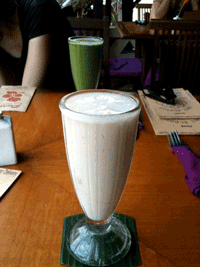 Living in San Diego, there is no shortage of international food options. With an abundance of Thai and Vietnamese, I figured the cuisine of Bali would be similar featuring a variety of noodle and rice dishes. Yes, there are plenty of rice and noodle dishes to indulge in but I was taken back by the intricate layers of flavor I was exposed to. Ubud has no shortage of traditional restaurants and an array of creative fusion restaurants that are worth a taste.
Traveling Southeast Asia for two months, I figured having a salad was out of the picture. I was going to have to stick to eating cooked and steamed vegetables; I was wrong. There is a range of creative fusion restaurants featuring local organic food, produce, meats, and baked goods with a touch of traditional flare, scattered throughout Ubud. Two weeks into my travels, salad less, I stumbled upon Bali Buddha. This locally owned restaurant and food store has been serving up healthy dishes since 1994. Located just off the main road, it is a great way to start your day. Sit back in this open air restaurant, relax to the soft kirtan music, sip on a green super food smoothie and watch the local kids play in the street below. It is a great way to start your morning or enjoy the afternoon. If staying on the main roads is more your style or you want to enjoy some great health food after going to Monkey Forrest, Kafe or Clear Cafe are also great lunch options.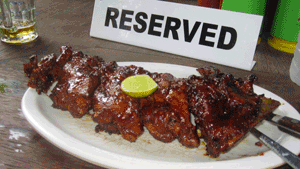 If you haven't heard of the book or movie Eat, Pray, Love, then I don't know where you have been hiding. The publicity of both has tourists flocking to Bali, Ubud in particular. At Naughty Nuri's, they have put a spin on this famous title Eat, Pray, Love and it has become Eat, Pay, Leave due the popularity of this local and tourist spot. The community style seating is off putting at first, but after a few Bingtang's (Indonesian beer), you're sharing travel stories and talking amongst locals. It is truly a unique and authentic experience that shouldn't be missed!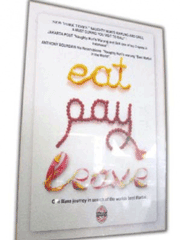 The fine dinning restaurants, serving traditional cuisines are tailored to the expats and tourists. The only locals you will find in these restaurants are the staff. If you are looking for a place to enjoy that special eating experience there are great options. Warung Enak celebrates original traditional dishes presented in a chic contemporary style. Head upstairs, for amazing views of the rice fields. The menu contains an array of dishes from all over Indonesia. If you are having trouble deciding, I highly recommend the fish satay and any soup on the menu. Another good find is Indus, which has arguably the best view in all of Ubud over looking the lush rainforest valley. If the views alone don't win you over the menu has traditional and fusion items to choose from. The green duck curry served in a coconut was amazing! My travel companion tried the suckling pig, which honors all parts of the pig, having a taste it was definitely delicious but the duck curry still pops into my dreams from time to time.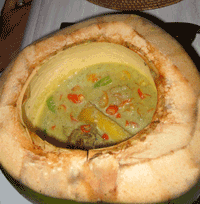 Ubud is the cultural heart of Bali, known for fine arts, traditional music, and dance. With mass tourism development in Bali, the unique qualities of the country are being threatened. Ubud, however, strives to maintain a balance by preserving the beautiful surroundings and attracting tourism in a responsible way. One resort in particular that demonstrates a dedication to ecotourism is Alila Ubud, a boutique hotel located just outside of Ubud that sits high on the edge of the green Ayung River valley within Bali's foothills. The hotel has received the ASEAN Green Hotel Award, Bali Tri Hita Karana Award, in addition to the Green Globe Design and Build Accreditation. To start planning your Indonesia tours please fill out our custom tours form online or give us a call at (866) 577-2462.