The Cuban capital is fascinating, educational, colorful--and open to visitors
As the late, great Anthony Bourdain once said about Cuba, "However you feel about the government, however you feel about the last 55 years, there aren't any places in the world that look like this. It is utterly enchanting." I couldn't agree more. A trip to Cuba is a unique experience and, in just a few days, it is easy to discover what makes this country such a fascinating, educational, and colorful destination.
This past February, with several of my travel colleagues, I had the opportunity to do just that. In sitting down to write this blog post after several months to process my experience, it is still difficult to put into words what a life-changing trip this was. Cuba has a complicated past and an uncertain future, and I didn't know what to expect. What I found was a happy and resilient people! Cuba is colorful and vibrant, enchanting and educational, and utterly fascinating. I have spent the last 30 years living and breathing adventure travel; I have had the opportunity to visit many continents and countries. Cuba touched me deeply in a way few other countries have.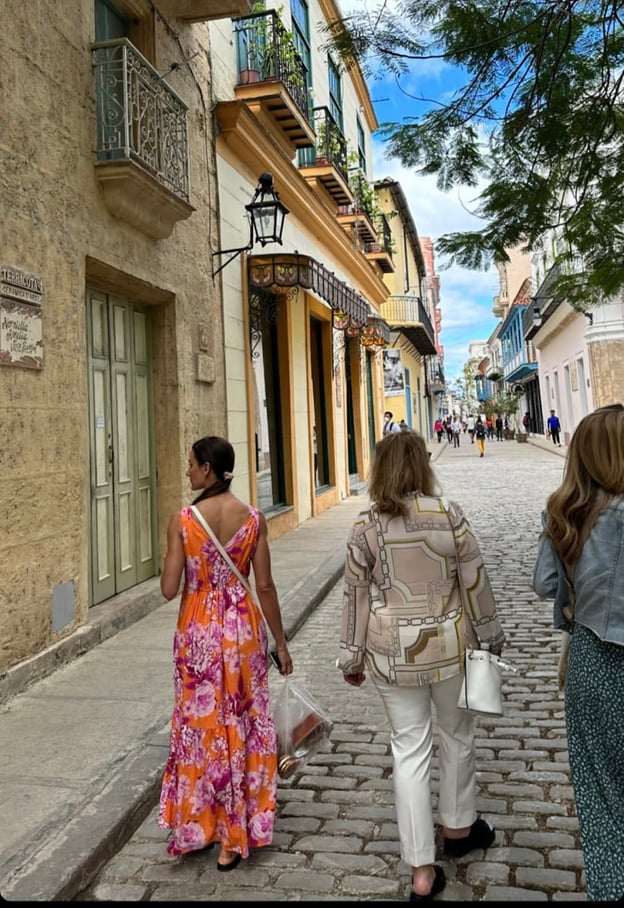 A fascinating walk in Old Havana, the traditional center of Havana's commerce, industry, and entertainment. All photos courtesy of Valentina Michaels.
American travelers are currently bound by very specific visa requirements thus itineraries must be dedicated to cultural interaction and support of the Cuban people. Cuba is NOT a plan-it-yourself destination. At GBC, we are passionate about educating you about Cuba and providing the best options for private, fully customized, and "legal" trips. (To see some of our Cuba tours, follow this link.) For travel specialists such as myself, it is a spectacular opportunity to design bespoke, personalized itineraries focused on topics that are of most interest to you and your traveling companions. Are you interested in art? Food? History? Music? Architecture? No two Cuba itineraries are the same–but all require traveling with a purpose.
The exclusive experiences we are able to offer to you, in partnership with our local in-country team, include the following:
• Visit with preschool children in Old Havana
• Explore hidden neighborhoods with a renowned professional photographer
• Dine with a diplomat and popular historian
• Get lost in the rhythms of an award-winning jazz trio
• Support the dancers of Habana Compas Dance who provide free lessons to talented students in need
• Enjoy unique access to Cuba's top emerging and established artists
• Capture the colors of Havana in classic convertibles and a professional photoshoot
Believe it or not, on a long weekend it is possible to do all of these things! As I discovered myself, there is no such thing as a cookie-cutter tour in Cuba. The sheer brilliance of our local guide was a testament to his love for his country and his desire to personally share his culture and complicated history, and to show by example how happy Cuban citizens are to introduce their country to foreigners, especially Americans, once again. Never at any time did I not feel totally "at home". Each and every guide is fluent in English, with years of experience adeptly navigating the ever-changing landscape of tour possibilities and visitor preferences. They are knowledgeable and entertaining and take delight in sharing their personal insights while soaking up travelers' stories. This is a place you can't help but fall in love with!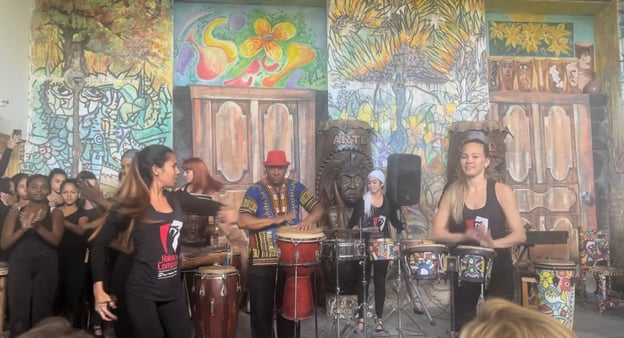 Women playing the once-forbidden-for-women bata drums at the Habana Compas Dance School.
Our days were busy, but never too much so! We hit the ground running on our Saturday arrival. First stop was the historic Revolution Square and the beginning of our deep dive into Cuba's tumultuous history. The local people want to share their story, their struggles and triumphs, and their hopes and fears for the future of their country.
Next, it was the Habana Compas Dance School. WOW. Here we enjoyed a completely private in-studio performance by classically trained dancers and percussionists, featuring (dancing with) chairs and once-forbidden-for-women bata drums. Most of the dancers started training as young children and there are still some child members of the troupe!
Following a delicious lunch in Old Havana, the next stop was Dador, a clothing design collective run by women, once an unheard-of occurrence in Cuba. The female founders took the time to sit down and chat with us about what it means to be a female entrepreneur in Cuba and all of its challenges. Having purchased a few of their sustainable, handmade pieces, we continued on to visit the photography studio of Claudia Corrales and the art gallery showcasing the photography and stories of her famous grandfather, Raul Corrales, who served as Fidel Castro's personal photographer. His images are said to be the inspiration for Ernest Hemingway's novella The Old Man and the Sea and his story is fascinating.
Once we checked into the luxurious Gran Manzana Kempinski Habana Hotel and settled in with some of their famous mojitos, it was time for dinner at Ivan y Justo. Chef Ivan was formerly Fidel Castro's chef, and his creations in the kitchen were both delicious and inspiring. But perhaps the best part of the evening followed dinner, where we enjoyed a private rum tasting and cigar pairing with the head sommelier of Havana Club Rum. Upon laying my head on my fluffy pillow that night, I felt like I had already been in Cuba for a week!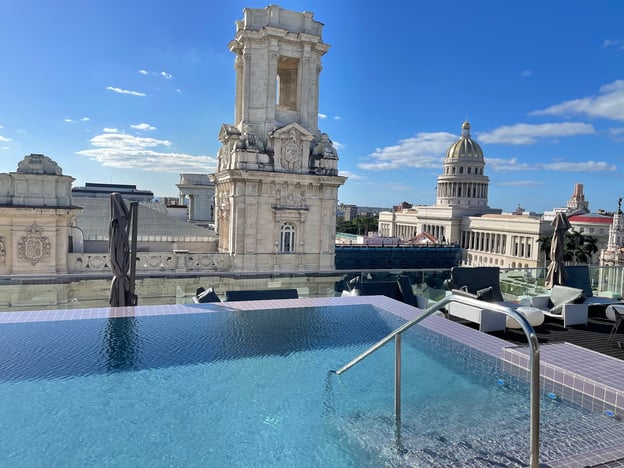 The rooftop pool at the Gran Manzana Kempinski Habana Hotel.
Sunday did not disappoint. Our day started with a walking tour of La Habana Vieja (Old Havana), the traditional center of Havana's commerce, industry, and entertainment. Passing by throngs of cruise ship daytrippers, I was reminded once again of the value of a privately guided and fully customized experience. Together with our guide, we avoided the crowds as we tucked into timeless alleyways and streets, stopping in courtyards, artist workshops, and the city's many plazas. There is an air of faded beauty in Havana, it is easy to imagine what it once was and, at the same time, impossible not to notice the struggles that remain present.
More mojitos at Bodeguita del Medio, the birthplace of this refreshing cocktail! Lunch followed at 5 Sentidos, a favorite among foodies and the darling of the popular paladar food scene of Havana. Paladars are small, local restaurants usually operating out of a private home. Here, in addition to yet another delicious meal, we were fortunate to have a former cultural and press attache and current history professor at the University of Havana join us. Like meeting an old friend, the conversation was insightful and interesting, and topics ranged from the current political atmosphere and past struggles to LGBTQ issues and women's rights. I was pleasantly surprised by how evolved and open-minded everyone we met was! Certainly, some in our own country could take a lesson from the Cubans in acceptance and understanding.
Having spent so much time discussing the delicate balance of a government that provides just enough of what everyone needs and the reality of the economic struggles, it was fitting that our next stop would be a food ration store. Here was a first-hand reality check and realization of how fortunate so many of us are, and yet another opportunity to learn about a day in the life of an average Cuban citizen.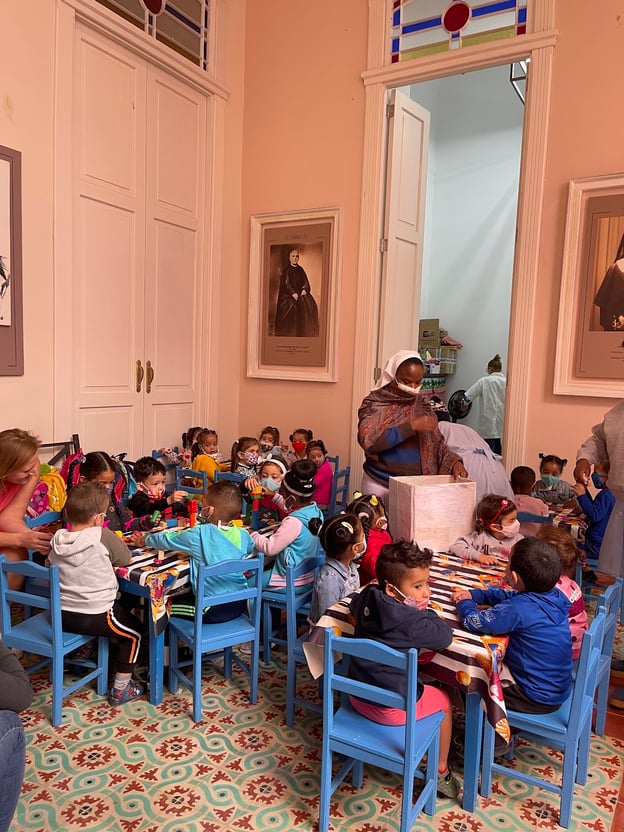 At a preschool in Old Havana, we met the children and their teachers and learned about the Cuban educational system.
Following a late night listening to live music and dancing, Monday proved to be yet another day that pulled at the heartstrings! Following a morning touring a cigar factory, we then visited a preschool run by a church in Old Havana, and spent time meeting the children and speaking with their teachers. We also learned how, in this particular program, many of the children's parents struggled with addiction and about the important social programs in place to get the families the help that they need to overcome and succeed. We also learned a great deal about the educational system (it's free and, in many ways, exceptional). It just takes the patience to see through the crumbling old buildings and worn-out facades to realize that hope is present everywhere you look and with everyone you speak to.
After eating (again!), next came a visit to the award-winning photography studio of the director of Cuba's National Museum and Gallery of Photography. He spent a great deal of time chatting with us in the studio, and we barely had time to explore the vibrant and meaningful street art and "graffiti quarter" in the San Isidro neighborhood. The icing on the cake of this, our final full day in Cuba, was a classic convertible car ride along the famous Malecon with a local, professional photographer capturing us and the cars in motion. We felt like movie stars! After a farewell dinner at the renowned La Guarida, we enjoyed an exclusive and intimate performance by an award-winning Cuban jazz trio. It was easy to get lost in their fusion of classical, bluegrass, bossa nova, and traditional Cuban music. A perfect way to finish a perfect trip.
I left my brief trip to Havana wanting more and eager to return to spend more time with such warm, funny, and welcoming people…to continue to learn, to continue this journey of the senses. I am full of hope for the Cuban people and their future, and I urge everyone to share this experience at least once in their lives!
Are you ready to start planning a trip to Cuba? Click the button below.
---
Now's the Time...
For planning a safari to Tanzania, Kenya, or Botswana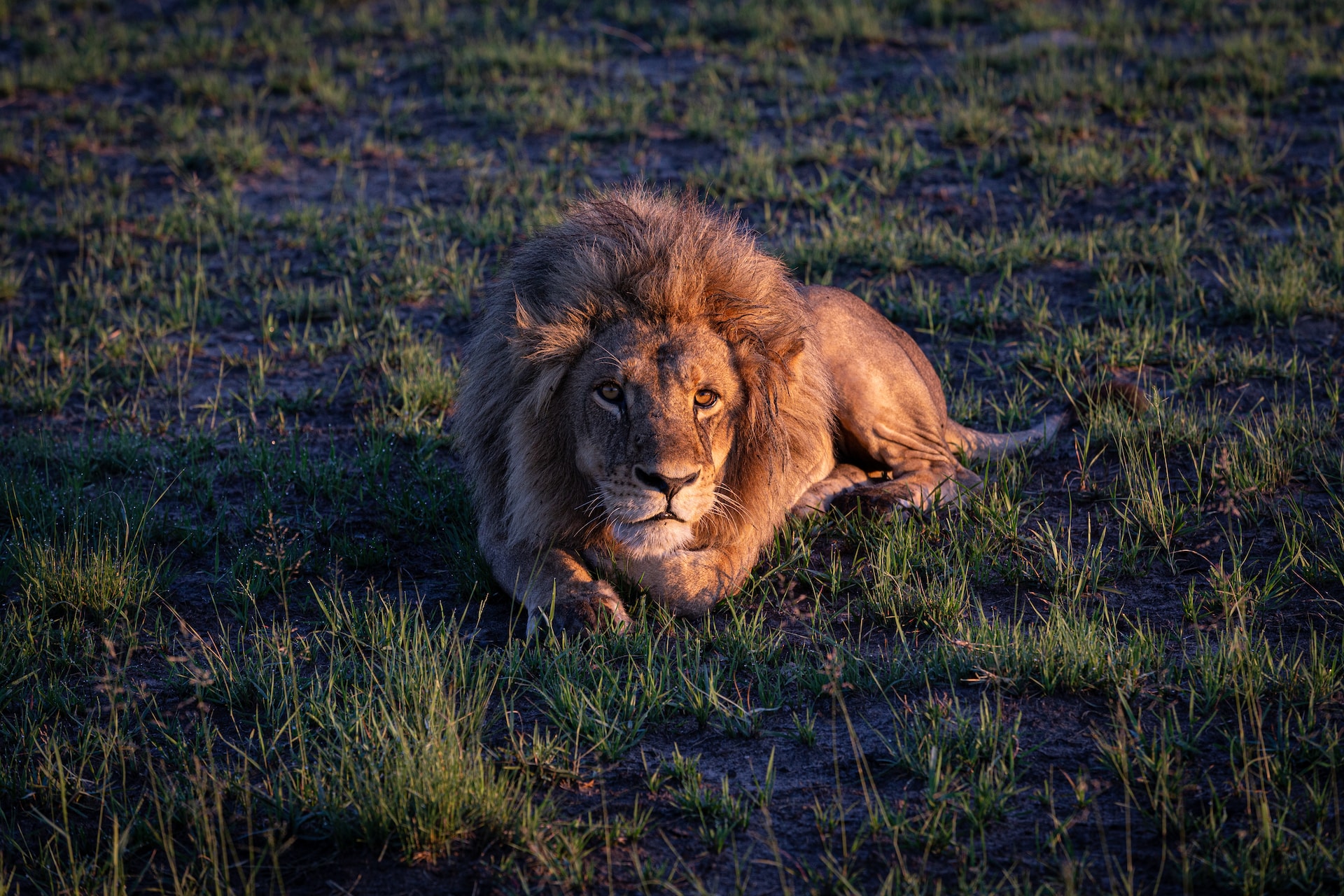 If you're planning on taking a safari to Tanzania, Kenya, or Botswana in 2024–and you should be because they are awesome destinations!–book now because those countries are very popular and sell out early.
Peak safari season is June–September and there is already limited space for 2024. Shoulder season—May and October—also books up early. Green Season—from November to March—so-called because of the rains that turn the grasses, trees, and shrubs into emerald green lushness that is a photographer's dream--has some availability. Green Season also often means fewer people and better rates.
Email us at travel@globalbasecamps.com to get started.