Ecuador is all about history, fascinating indigenous cultures, slow winding rivers and lush tropical forests, spectacular snow capped volcanoes and some of the most exciting wildlife on earth. Prior to diving deep into the rest of the country, the place to start any Ecuador vacation is in Colonial Quito: a city of narrow cobblestone streets lined with whitewashed walls which rise above the steeples and cupolas of the city's many spectacularly decorated historic churches.
The capital of Ecuador, Quito, was built on the foundation of what was once an ancient Inca city and is considered one of the most well preserved Spanish colonial cities in all of South America. Sitting high in the Andean foothills at an elevation of 9,350 ft, it is the second highest capital city in the world! Quito became designated as a UNESCO World Cultural Heritage Site in 1978. Since then, visitors to the city have been delighted by its stunning old cathedrals, colonial plazas, and countless other highlights.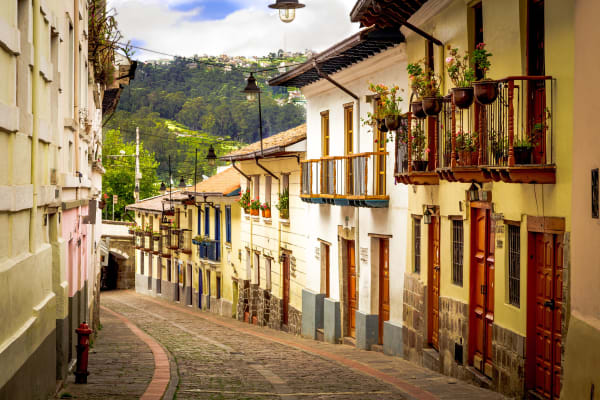 Cobblestone Street in Quito, Ecuador
Whether it's spending time leisurely walking through colonial Quito by foot, exploring the modern commercial center which has become a foodie mecca, or taking day trips to experience local culture or satiate your craving for adventure activities in the cloud forests or national parks, there is so much to do in Quito. Spending time there is sure to be one of the true highlights of any trip to Ecuador for families, friends and individual travelers alike!
For independent travelers seeking authentic experiences, Global Basecamps prides ourselves on providing unique access to destinations worldwide, and our Ecuador tours are no exception. Today I would like to highlight special things to do in Quito. Here are a few of my favorite "insider" tours both inside and outside of one of my favorite cities in South America!
Favorite Experiences inside the city…
Ecuadorian Flavors: Experience authentic Ecuadorian flavors in a gourmet cooking class presented by one of the city's most renowned chefs! Local, fresh and organic are the three fundamental premises for your cooking class. This class will be held in an elegant private area in one of the best restaurants in Quito, known for its fashionable atmosphere, delicious food and high quality service. You will have the chance to learn the secrets of a master chef, learn to prepare some of the restaurant's delightful dishes and present them in style. Flavors and colors as diverse as Ecuador itself will guide your through your foodie experience.
VIP visit to Pre-Columbian Art Museum Casa del Alabado with a Curator: Experience pre-Columbian art and culture through a unique lens, in one of Quito's most exclusive and prestigious museums. Guided by the curator of the museum, an archaeologist with years of experience, you will have an intimate look at the exhibits and more from a "behind the scenes" vantage point. Privately explore the warehouses to admire treasures that are not normally seen by the public, and understand how each exhibition is then conceptualized.
Photography Day Trip: Once you have shared a little bit about your interests and photographic experience with us, we will organize a private excursion with a highly skilled photographer. If your skills are basic, the class will provide the tools you need to make your photographs stand out. If your skills are advanced, the class will focus on photographs using a tripod, together with technically accurate, advanced techniques of framing and composition, as well as High Dynamic Range (HDR) concepts. If you wish to take an evening class, long exposure night photography techniques are available.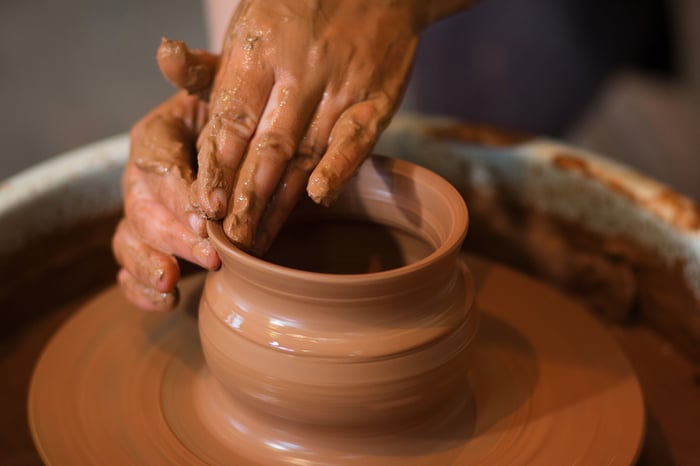 Clay Sculpting With an artist from Quito: A relaxed visit to Sara Palacio's home-workshop is a lovely way to learn about the intricacies of sculpture in clay. Today, you will have the opportunity to view the artist's two workshops. The first is 'muddy', as Sara calls it, where she produces sculptures every day with the clay she brings from different regions of Ecuador (clay can be different!!). Under Sara's supervision you will be able to handle the clay and, following the production process step by step, make a small piece using the string or plate techniques. The second is the clean workshop, where Sara uses techniques such as painting, printmaking, drawing and, when she has time to spare, writing her poetry. Sara will explain how her home and work form part of an artistic endeavor: to preserve and restore Quito's cultural and historic identity, something she has dedicated herself to for over 30 years.
Pacari Chocolate Experience: Ecuador is famous for having some of the best chocolate in the world! During the 'Pacari Chocolate Tasting' experience, you will learn all about the process of making great chocolate and why Ecuador considers itself the best country in the world to grow fine cocoa. You will also learn about the story of cocoa in the context of world history. Activities include a guided tour explaining the history of cocoa in Ecuador, followed by a tasting of award-winning Pacari chocolate. The presentation also focuses on the agricultural aspects of cocoa production and the communities that work with Pacari to bring their product to market.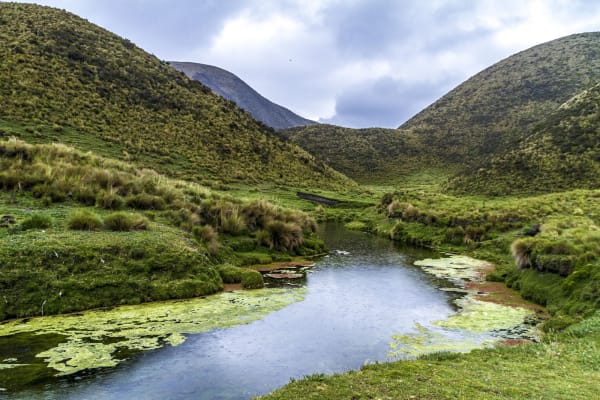 Cotopaxi National Park
And outside of Quito it's all about nature and culture…

Excursion to Cotopaxi National Park: A mere two hours outside of Quito, you can visit Cotopaxi National Park where, weather permitting, you will be able to see the snow capped summits of the Cotopaxi and Antisana volcanoes. During your private excursion, you will visit the Interpretation Center to learn about the history of Cotopaxi volcano's major eruptions, as well as the local flora and fauna. You will then visit Lake Limpiopungo and explore the surrounding area on foot, including Volcan Cotopaxi's J. Ribas refuge (4,800 meters / 15750 feet) where you will be able to enjoy spectacular views of the volcano and the surrounding Andean peaks. Today is all about traditional mountain hospitality with a dose of adventure. You can also reach the area by scenic train ride!
Otavalo Indian Hues: This excursion is all about culture and immersing yourself into local indigenous life. Following a visit to the Quitsato Sundial, you will head to the town of Otavalo. This is truly one of the most interesting towns in Ecuador, where the local Kichwa indigenous culture is not only plainly visible, but on the rise. The town's famous craft market is one of the most visited sites in Ecuador, and for good reason. The market is filled with interesting colorful and sometimes rare objects and crafts. The market is held every day on one of the town squares at the foot of the majestic Imbabura Mountain. Steeped in cultural history, this Indian market has been an economic and social center for more than 4000 years. As part of your day at the market, you will visit the workshop of Master weaver Miguel Andrango, in the village of Agato. In the small store in the courtyard of his Tawantinsuyo workshop, the walls are covered with bright designs, most with an indigenous motif; the designs are based on Inca patterns but are the work of Miguel and his family. The workshop uses only pure wool and Alpaca; the weavers card and spin it themselves and then dye it with natural inks made from mosses (for yellow) or seeds such as 'Achiote' (for red). Later in the afternoon you will continue to the Cotacachi-Cayapas Ecological Reserve for a visit to the interpretation center and an outstanding view of the Cuicocha lagoon, a deep-blue crater lake on the lower southern flanks of Cotacachi Volcano. After your hike, you will stop at the picturesque colonial town of Cotacachi, famous for its leatherwork.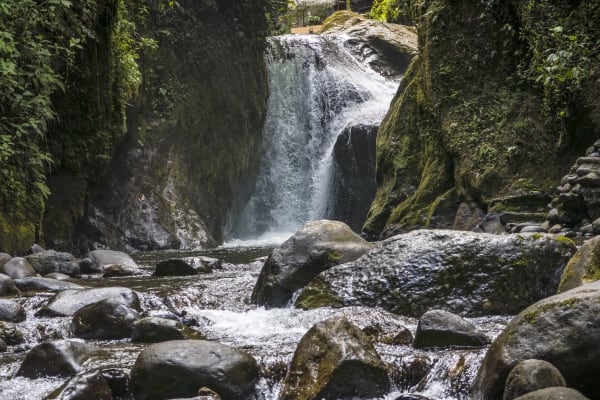 Waterfall at Mindo Cloud Forest Reserve
Mindo Cloud Forest Reserve: Just two hours from Quito, Mindo is a watershed located on the western slopes of the Andes, a meeting point for two of the most biologically diverse ecoregions in the world. A visit to Mindo is like an escape to another world - green and lush, a rainforest resplendent with gorgeous rivers and waterfalls, a haven for birders and nature lovers alike. Leaving Quito after an early breakfast at your hotel, you will first stop at the Pahuma Orchid reserve to enjoy a short walk to the rushing waterfall and orchid display. Then you'll continue on to Mindo to admire and enjoy the interactive butterfly garden. Next on the agenda is a visit to a chocolate factory, the ultimate destination for cocoa and culinary enthusiasts alike, where you will see and "taste" every step of the chocolate making process.
Bellavista Cloud Forest Reserve: The Bellavista Cloud Forest Reserve is a 2,000-acre certified conservation area on the North-Western slopes of the Andean mountain range and is located a mere 52km from Quito. Leaving after an early breakfast at your hotel, you'll first stop at the Pululahua volcanic crater for a peek at the patchwork fields far below on the crater floor. When you reach the Bellavista Cloud Forest Reserve you will make the easy climb to the top of the mountain, once again with fabulous views, to enjoy the flurry of the hummingbirds, or take a hike into the forest on the reserve's variety of trails. An incredible one hundred and seventy species of birds have been recorded at Bellavista, and the list continues to grow: Tanagers - finches, Giant Antpittas, Swallow-tailed Nightjars, Plush-capped Finches, Beautiful Jays, and the White-face Nunbird are recorded within the Reserve's limits.
It is clear that is much to be desired in our Ecuador excursions, whether your interest lies in arts and culture, nature and adventure, or perhaps both! These day trips are just the tip of the ice-burg when it comes to crafting your ultimate trip to Ecuador. Get in touch with one of our travel specialists today to learn more about our Ecuador tours and start planning.