Whether you're whitewater rafting down the Trancura River or sipping a locally-brewed beer overlooking Lake Llanquihue in the charming colonial town of Puerto Varas, Chile's Lake District offers high adrenaline pursuits, complete tranquility, and everything in between. Often overlooked by North American travelers, who tend to head straight down to Patagonia after a brief stop in Santiago, the Lake District offers plenty of scenic beauty and outdoor pursuits worth including in any Chile adventure tour. This region of Chile is a land of shimmering lakes, winding rivers, snow-capped volcanoes, scenic waterfalls, hot springs, and shady forests. Add to that the local indigenous Mapuche culture and food, as well as the German influence mainly seen in architecture, street names and the delicious kuchen (fruit pies and crumbles), and you've got yourself a destination worth experiencing.
Chile's Lake District has two main locations most visitors use as base camps. Puerto Varas, on the shores of Lago Llanquihue, and Pucon,on the shores of Lago Villarrica. Both locations offer adventure activities such as hiking, biking, rafting, fishing, horseback riding, and skiing, plus gorgeous lake and volcano views, and plenty of dining and lodging options. It takes about 4 hours to drive between the two towns and driving a rental car in Chile is a safe option. Here are some of our favorite things to do in each area.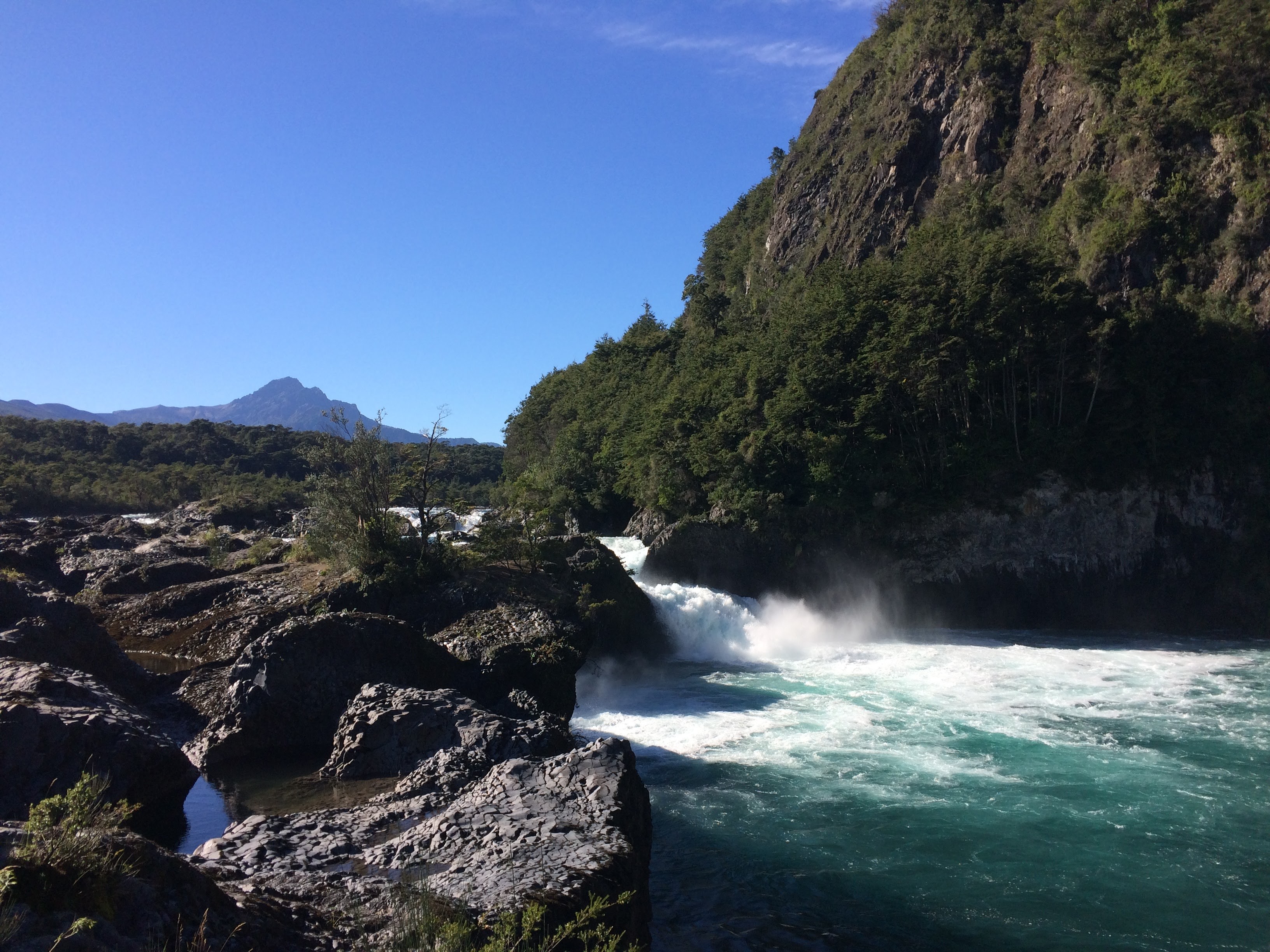 Petrohue Falls in Puerto Varas, Chile. Photo by Laura Roundy
Things To Do in Puerto Varas
Petrohue Falls -- These frothy, mint green falls in the Vicente Pérez Rosales National Park are one of Chile's treasures. Boardwalks guide visitors around and over parts of the falls, as they roil and fume below. This postcard perfect backdrop which includes the Osorno Volcano makes for a great (and easy!) hiking excursion from Puerto Varas.
Cycling around Lago Llanquihue -- This 101-mile circumnavigation of one of Chile's prettiest and largest lakes thrills with fantastic scenery including tree-lined curves and the ever present glittering lake. Black sand beaches invite you to wade in, and pink sunsets with views of looming Volcán Osorno are nearly a given. Most folks do the trip over 2-3 days, but for those with less time there are shorter one day biking options such as out to Puerto Octay, a charming town settled by German colonists in 1852.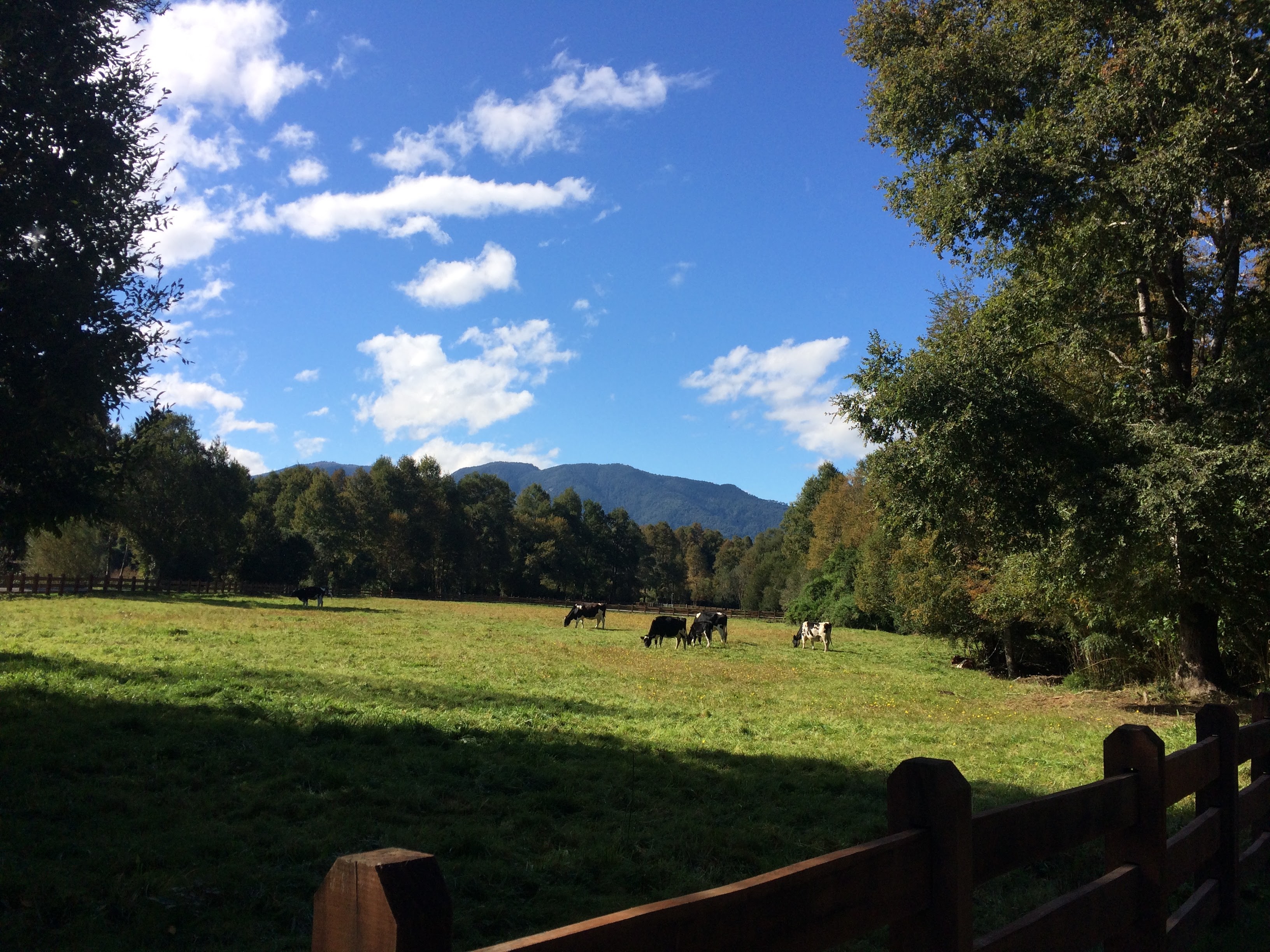 Cattle grazing in Pucon. Photo by Laura Roundy.
Things To Do in Pucon
Rafting the Trancura River -- Ideal for beginners and experienced paddlers, the Trancura River features class 3 and 4 rapids. Zigzagging through valleys and gullies, there are numerous runs and the rapids including the Junction, the Lioness, the Wall and the Footbridge. This adrenaline pumping experience is made all the more fantastic by the surrounding scenery of the Villarrica Volcano at every turn.
Mapuche Culture -- Explore the charming town of Curarrehue, nestled between towering mountains, and visit a Mapuche weaver to view her traditional skills as she works with the loom. Afterwards, continue up into the Andes to the Quillelhue Lagoon, located at the foot of Lanin Volcano. Here you will have the opportunity to see the majestic araucaria trees (known as monkey puzzle trees), followed by lunch at a traditional Mapuche ruka (house). The Mapuche people consider Villarica Volcano or Ruka Pillán as the "House of the Spirit of the Ancestors." Deeply connected with "Mother Earth" these enchanting people base their traditions around nature. During your visit to the "ruka" you will learn about their unique ways of life first hand.
How To Get There
Flights: There are direct flights between Santiago and Puerto Montt (about 1 hr 45 mins) or between Santiago and Temuco (about 1 hr 20 mins). Flights also exist from Punta Arenas in Patagonia to Puerto Montt (2 hrs 10 mins). Puerto Montt is the gateway to Puerto Varas and Temuco is a short drive from Pucon.
Lake Crossing: From Bariloche, Argentina you can take a spectacular boat and bus crossing over to Puerto Varas, Chile. This scenic journey takes one full day during summer months and 2 days in winter and is one of the most breathtaking border crossings in South Ameri
When To Go
October to April -- Spring and Summer in the Southern Hemisphere is the best time to visit for warmer weather and activities like hiking, biking, rafting, and kayaking
June to September: Winter in the Southern Hemisphere is the best time to visit for skiing and snowshoeing
Where To Stay
Puerto Varas: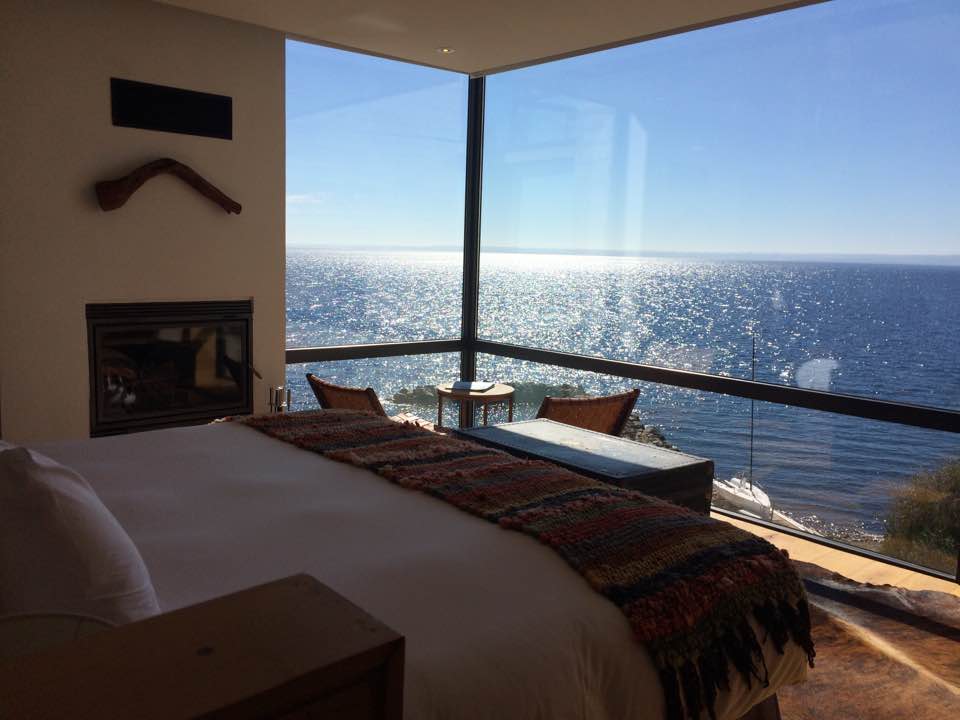 View of Lago Lanquihue from Awa Hotel. Photo by Laura Roundy.
Awa Hotel is committed to the absolute satisfaction of its guests, with an incredible staff team constantly striving to deliver a unique and different (or surprising) service, privileging the local culture and products and putting at the highest level of importance the environment and the surrounding community. An incredible property to enjoy a yoga lesson with the pristine views of the lake and the Osorno volcano. The rooms have a modern yet cozy aura, with comfortable beds, massive windows, and lovely touches like poems left on your bed and a log fire in your room at turndown service.
Los Caiquenes Hotel Boutique is a charmingly small hotel on the shore of Lake Llanquihue. It offers a peaceful haven right next to the center of Puerto Varas, spectacular views come rain or shine, as well as the unique chance to cook alongside the hotel´s chefs using the freshest local ingredients. The spacious bedrooms are designed to provide peace and tranquility all year round, making this hotel a great choice if you´re after typical southern Chile charm in a unique, natural setting.
Pucon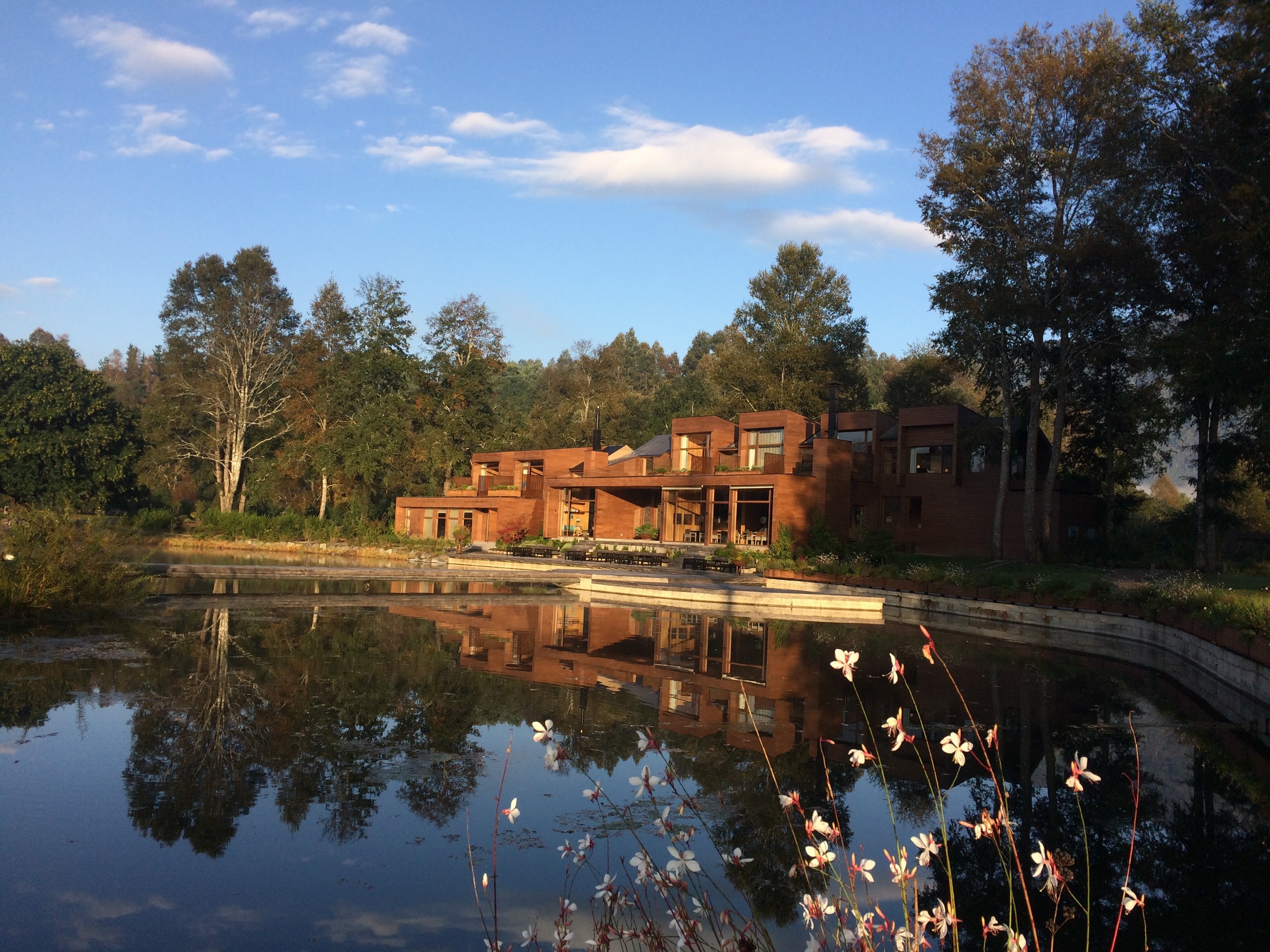 Vira Vira, a luxury hotel that includes its own organic farm. Photo by Laura Roundy
The new kid on the block in terms of Lake District luxury, Vira Vira is a totally unique organic farm/luxury hotel nestled in nature – volcanoes, rivers and lakes all twinkle around the extensive grounds. They have their own dairy and honey production on site, the organic garden is a dream to walk around and the villa suites backing on to the peaceful Liacura river are simply huge yet tasteful. Private hot tubs make it hard to leave your room, but the all-inclusive excursions offered cannot be missed.
This family-run boutique hotel has been around since the 1950's and was one of the first hotels in the region.Those with an interest in architecture will love the modernist Bauhaus design which meshes into the landscape and the wrap-around panoramic windows overlooking Lake Villarrica. The decor is retro-chic and lovingly maintained, with goatskin rugs, tree trunk furniture and walls made with thick slabs of monkey puzzle wood. There are 16 rooms in the main hotel building with three private chalets and a lake house which are ideal for families or groups of friends. Another unique feature is a spa built directly into the rock and an indoor/outdoor pool.
To see how you can include the Lake District into your custom Chile tour, view some of our our sample itineraries on our Chile Tour page or contact one of our sales specialists in Chile tour planning.