Danielle is an international peace advocate and Co-founder of the nonprofit Kids for Peace who recently graduated from Harvard with degrees in Religion and Sociology. From summer 2011-2012, Danielle will spend nearly a year traveling in Asia and Africa. Her blog documents her experiences as she seeks out new adventures, learns about other ways of life, and studies issues related to vulnerable children and conflict resolution.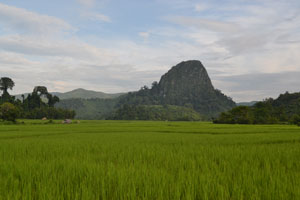 After four years of hard work completing my undergraduate degrees, I decided to treat myself to a trip I had dreamed about since my youth. Southeast Asia beckoned me with images of orange clad monks, golden Buddha statues, and seemingly endless rice paddies. With the highest proportion of practicing Buddhists on the planet, I went to experience peace: to meditate in temples, contemplate beauty from the peaks of Laotian mountains, learn and connect.
One month of travel took me to the magnificent temples of Siem Reap, Cambodia, rural villages of Northern Laos, and tranquil beaches of Koh Samui, Thailand. As part of my personal mandate to experience the fullness of life, I sought not only experiences that foster peace and joy, but those that could teach me about human suffering—the key component of the Four Nobel Truths that form the basis of religious practice and culture for much of the region. I designed a trip that would go beyond touring the temples and art I admired and delve into the depths of the human experience, embracing too the suffering true of our existence.
In Siem Reap, Cambodia, I admired some of the most beautiful artistic expressions created by humankind. With monsoonal rains drumming against the forests' canopies, I explored the temples of Angkor in surreal solitude, dancing to the natural rhythms of the forest and admiring the awe-inspiring reliefs and architecture that idealize the harmony of Buddhism and illustrative lives of Hindu deities.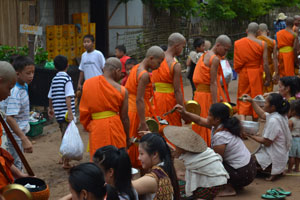 I left the magnificent temples to visit the Cambodian Landmine Museum and Rescue Center where children who have lost limbs receive an education and care. I learned about how millions of undetonated devices left from the Vietnam War continue to jeopardize the security of rural Cambodians and Lao. In the faces of these smiling children, I saw the cruelty of war firsthand, the injustice that affects civilians long after fighting ceases.
Along with gorgeous temples and bustling markets, I visited the killing fields and prisons of the Khmer Rouge in Phnom Pehn, Cambodia where I learned about some of the most heinous acts one human could do to another. I asked questions of victims of forced migration and heard stories of starvation and struggle for survival.
In the villages of northern Laos, I trekked through beautiful rice paddies, participated in a Buddhist festival to honor the departed, gave alms, and enjoyed the slow pace of rural life. On one trek, I explored the dim caves of Muang Ngoi where villagers lived for twelve years while their country fought a civil war and Americans relentlessly bombed the Ho Chi Minh Trail. I listened to adults who were born in the caves and who lost family members to disease when it was too unsafe to seek outside medical attention.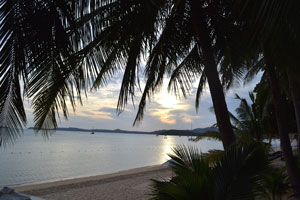 Along with some dark moments, my trip was blessed with periods of unparalleled bliss. One day, I bicycled 70km in the sunshine through the countryside of Luang Prabang, Laos to swim in pools at the base of massive waterfalls. I took a day-long cooking course in Chiang Mai, Thailand that introduced me to the epicurean concepts behind my love of Thai food. I was treated to a divine Thai massage at one of the most internationally praised spas in Koh Samui, Thailand, and swam with tropical fish during a daylong snorkeling excursion off of the deserted Koh Tao Island. Many days of morning meditation in inspiring Buddhist temples left me with a feeling of harmonious emptiness and a constant smile that I carried with me throughout my days.
From my willingness to explore suffering and bear witness to the affects of violence, I was able to connect with those I met and deepen my understanding of the human experience. Through tears and smiles, laughter and joy, I glimpsed the expanse of life: the struggles that no one deserves but some must endure as well as the pleasures small and large that help sustain us. In an extraordinary trip that took me out of the comforts of the Middle Way, I experienced the extremes of beauty, happiness, and suffering in Southeast Asia, learning more about life in one month than in many of my years past.