We all have our own reasons to go abroad. Each of us has at least one, if not many, underlying passion/s that we indulge in while traveling. Some focus on heritage sites, relax on the best beaches of the world, spot wild animals on safari, or have immersive experiences. While no two trips will look identical, there are some overlapping components of every journey. One of these is food. Each day of your adventure, no matter where in the world you are, you have three distinct chances to dive into the local culture and better understand what makes each country tick: breakfast, lunch, and dinner.
As most travelers stay at accommodations which include breakfast, they do not always take the opportunity to eat outside of their comfort zone for the first meal of the day. Some hotels offer local fare but western options like muesli or pastries are familiar and easy for folks to fill up on before heading out to explore.
What does breakfast in South Asia look like?
We recommend taking advantage of the jet lag, waking up early, and seeing what everyone else is tucking into to start their day! Below, we have highlighted some of the most delicious possibilities you may encounter when uncovering what makes up a typical breakfast in Asia.
Breakfast in Asian countries will naturally vary depending on region, as local specialties, fruits, vegetables, and other ingredients and preparations are so specific to each place. Several dishes are seen throughout the continent but with special touches and additions unique to each country. Soups, porridge, breads, and rice form the base for astounding creativity and flavor combinations.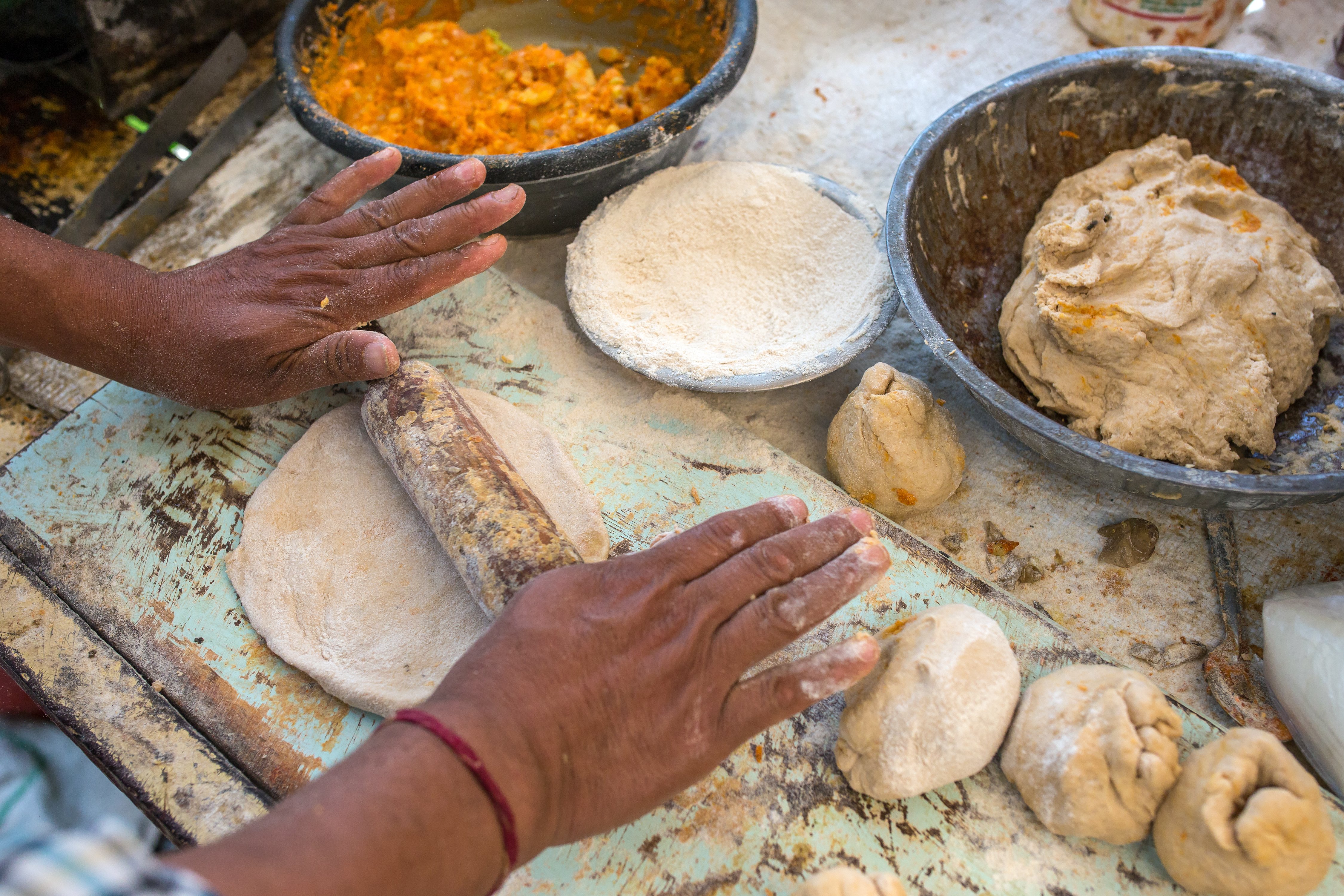 Woman rolling out dough for paratha - a flaky flatbread found mainly in North India.
Breakfast in India
A few of India's most popular breakfast choices are paratha, dosa, and idli. Paratha is favored in the north of India, but can be found not only throughout the country, but also in many neighboring countries like Nepal, Pakistan, Myanmar, and Bangladesh. This flaky flatbread is made from a simple dough of wheat flour, salt, and ghee (or oil). I'd recommend stuffed paratha which is filled with potatoes, cauliflower, or other seasonal vegetables.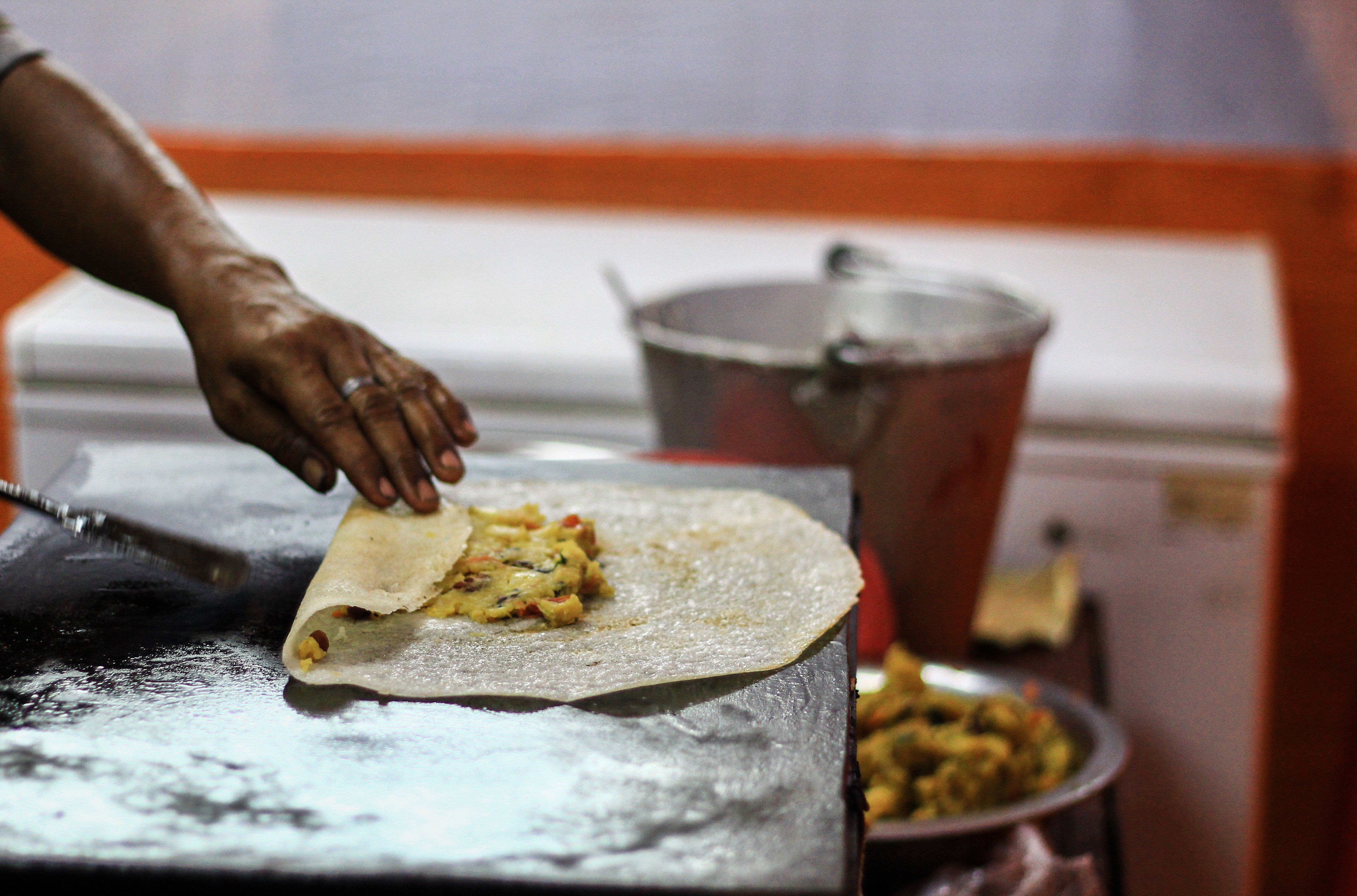 Dosa being heated with Potato Masala - a traditional breakfast in South India
Dosa, thin rice pancakes, are a constant in South India. Frying the traditional batter of rice flour and ground urad dal (black lentils) creates a delicate crepe-like base to pile delicious fillings into and enjoy with a side of sambar (vegetable stew with lentils) and/or chutney. Dosa can be sweet or savory, and with slightly different base ingredients to affect the flavor. The most popular breakfast dosa you'll likely come across is masala dosa which is filled with spiced potatoes and onions.
Idli is a tangier breakfast option due to the fermented urad dal mixed with rice that is ground, blended, and steamed into disk-like shapes.The spongy idli are usually paired with sambar and if you're lucky, a kadale chutney or coconut chutney. We recommend washing down breakfast with a warm cup of chai, readily available at many stalls throughout the country.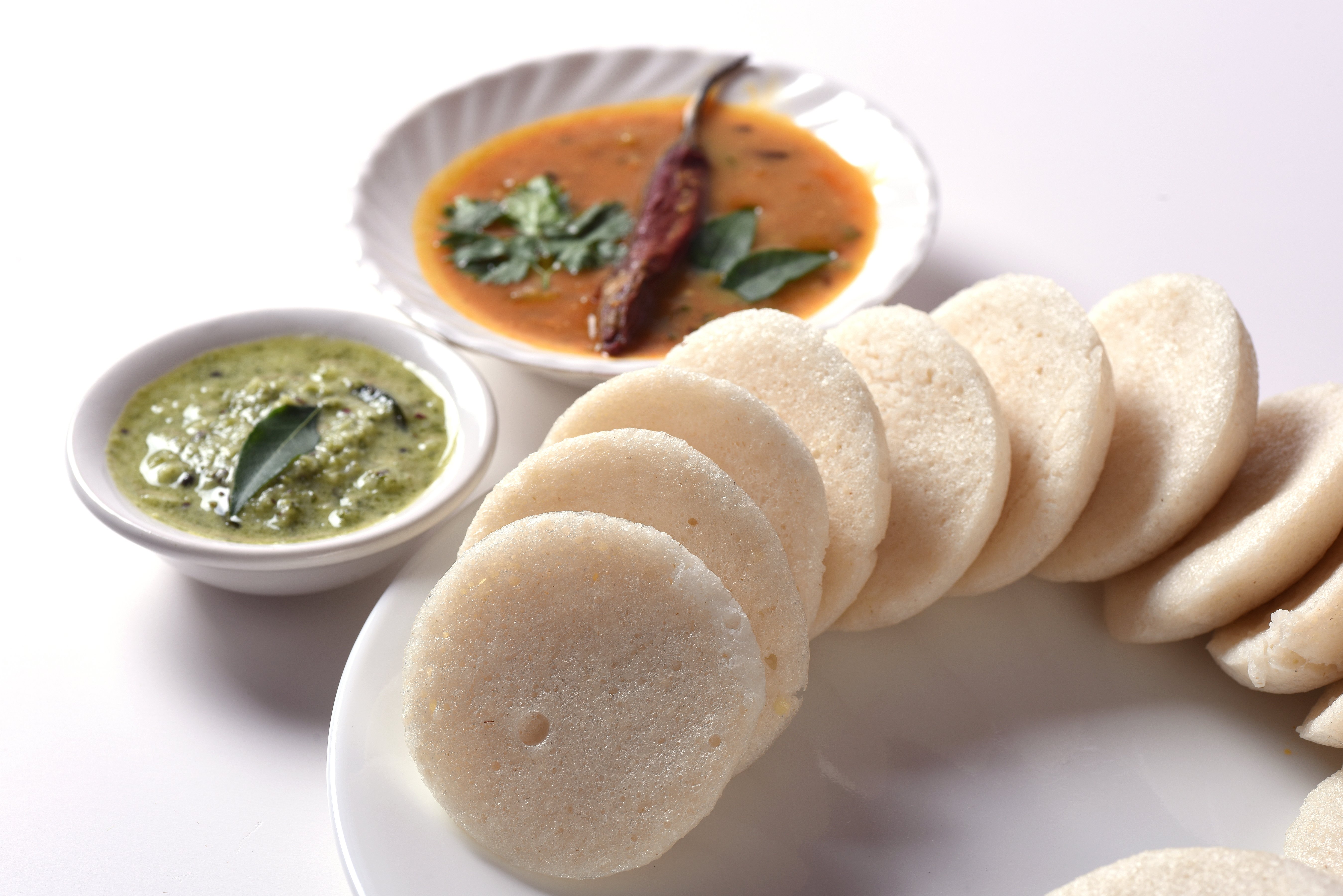 Idli - a traditional tangier breakfast made from fermented daal mixed with ground rice.
In addition to the above savory breakfasts, fruit is abundant and easy to grab and go. The most popular fruit in India is the mango (around 1,500 varieties!) which also holds the distinction of national fruit of both India and Pakistan. Other more exotic (for westerners) fruits include langsat, custard apple, chikoo (sapota), mangosteen, longan, and still these are just scratching the surface of what is available at local markets around the country.
Breakfast in Sri Lanka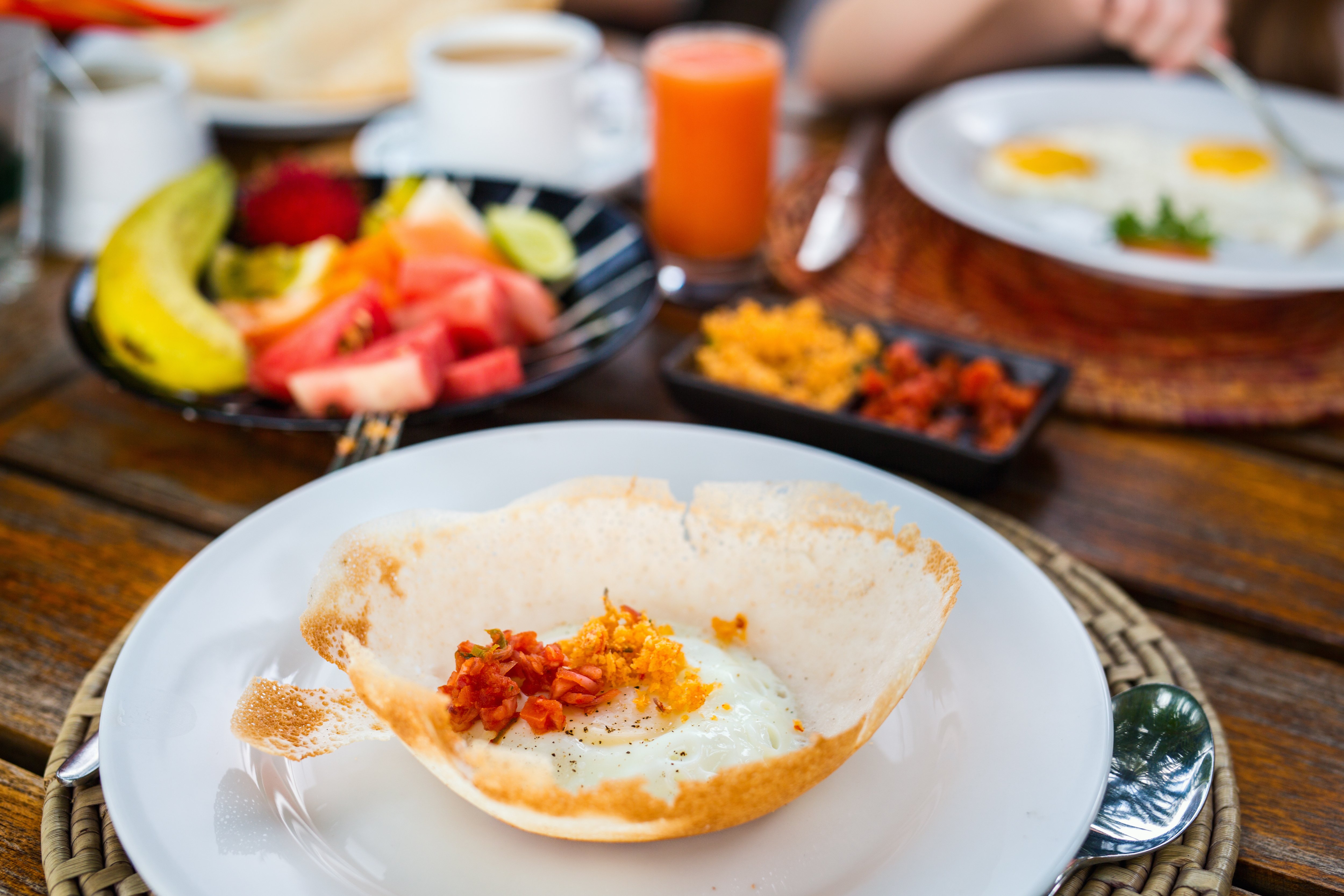 Egg Hoppers - a traditional breakfast dish in Sri Lanka
Sri Lanka has a multitude of mouthwatering breakfast options, but I'll limit to a few of my favorites. Appam (hoppers) come in a few forms, most notably idiyappam (string hoppers), rice flour and coconut pressed "noodles" that are formed into a bundle/disc on wicker mats then steamed, and basic appam that are steamed with raised sides. These thin crispy hoppers may be filled with eggs or be served with curry, khiri hodhi (coconut milk gravy), or dahl (soup made from spit pulses) for dipping or scooping. Appam are also popular in the Indian State of Kerala.
The best side with any meal in Sri Lanka, in my humble opinion, is pol sambol. This deceivingly simple dish is made of grated coconut, shallots, lime juice, chilies, and salt. Flavors combine in an unforgettable way, and you'll want to eat it every chance you get!
Some typical fruits you are likely to run across in Sri Lanka are passion fruit, durian, rambutan, soursop, and coconut. Many accommodations will serve a fruit tray along with your breakfast, so there's no reason not to indulge. Young jackfruit is used in savory dishes like curry, but also eaten ripe on its own. It's common to see coconut used in a variety of preparations as well as just opened with a machete at a roadside stall for slaking your thirst on a hot day.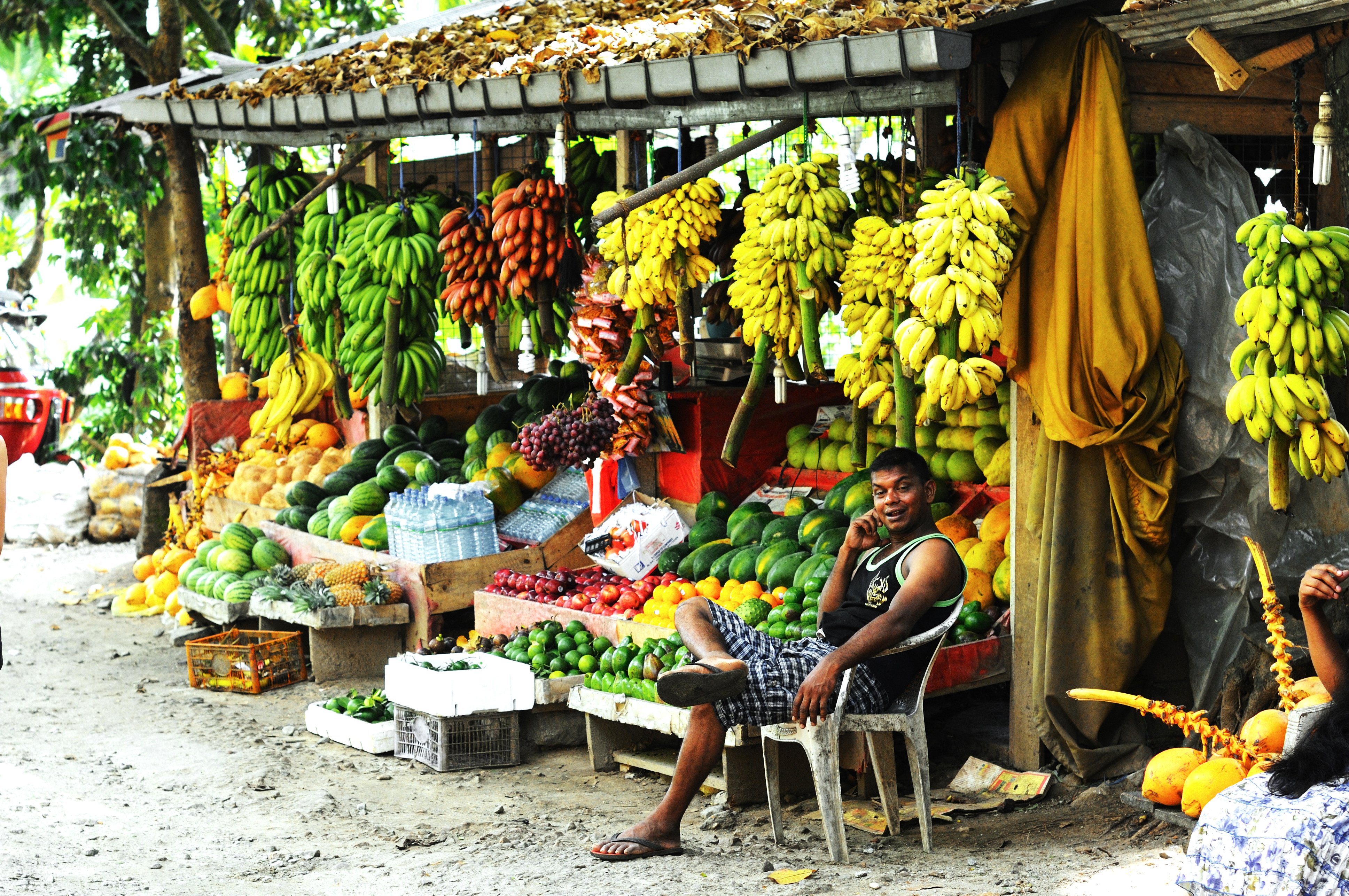 Fruit Stand in Asia
Taste for Yourself
Seek out these mouthwatering foods on your next trip! Enjoying breakfast in South Asian countries is the perfect way to prepare for a day of sightseeing with a belly full of food, and a body full of energy. This underrated first meal of the day deserves attention as it is often made of no frills comfort foods that don't necessarily find their way onto larger restaurant lunch and dinner menus.
There is truly something special about sitting down to a morning meal made of local ingredients and infused with the culture of your destination. Take a walking tour with us through morning markets to try a variety of different tasty breakfast foods. Ask your guide what their favorite breakfast is and try it for yourself. Check out what the locals are purchasing from street stalls or train stations on their way to work or school. Take the first step and contact one of our travel specialists today to learn about journeys to India and Sri Lanka. There is so much out there ready for you to taste!