A country of incredible natural beauty, Brazil is the largest country in all of Latin America with more than 8.5 million people and spanning over 8.5 million kilometers. Yet lying amidst Brazil's huge cities and miles and miles of land, lie sprawling mountain ranges, massive forests and huge tracts of farmland. Currently, there are 69 national parks in Brazil exhibiting incredible flora and fauna and impressive rock formations. The Brazilian Amazon alone is home to more animal and plant species than anywhere else in the world. In addition to its national parks, Brazil also shares a number of reserves and protected areas just waiting to be explored and enjoyed.
There are seven main categories of protected areas in Brazil: wildlife sanctuaries, national parks, biological reserves, ecological stations, areas of environmental protection, areas of considerable ecological interest, and sustainable development reserves. In total, 2.6% of Brazil is being strictly protected and 5.5% is reserved for sustainable development. In lay terms, this means that a total of approximately 67 million hectares in Brazil is protected in some way. Any Brazil Tour would not be complete without a visit to at least one national park. Not all parks and reserves are open to the public, but the ones that are open are just waiting to be explored! Here are some of our favorites.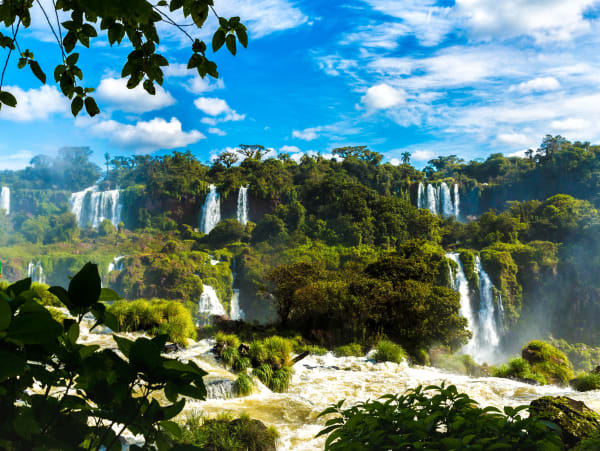 Iguaçu National Park
Arguably the most famous and most visited national park in Brazil, Iguacu is shared by Brazil and Argentina. Formed 150 million years ago, declared a UNESCO World Heritage site in 1984, a "New Wonder of the World" in 2011 and as "Exceptional Universal Value" by UNESCO in 2013, Iguacu Falls spans nearly 3 kilometers with vertical drops of up to 80 meters…making it one of the most impressive waterfalls system in the world. Iguacu National Park actually consists of 2 national parks; Foz de Iguaçu in Brazil and Puerto Iguazu in Argentina, and the experience is different depending on which side of the park you are on. On the Argentine side, you can take a thrilling boat ride to experience the famous Devil's Throat, however, on the Brazilian side you get the incredible panoramic view of the falls. A tour of the Brazilian side alone only takes half a day, as that side only has one circuit. You can also enjoy exciting rainforest tours, cultural encounters, rafting, rappelling, mountain biking, kayaking and a canopy tour. In 2019 alone, the park received more than 1.6 million visitors! With direct flights from either Rio de Janeiro or Buenos Aires, the Falls are a must see for any visit to Brazil and are easily added to any Brazil customized itinerary.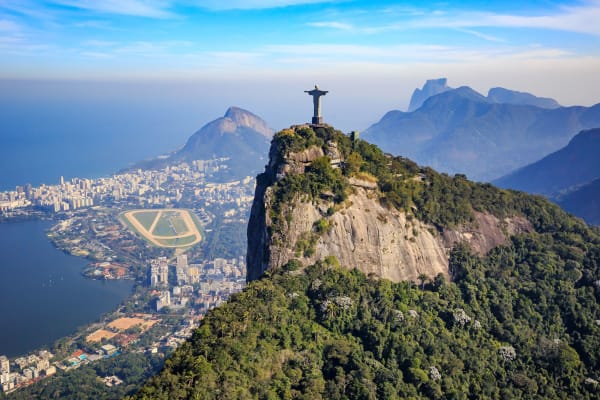 Tijuca National Park
Most famous for being home to Corcovado and the Christ the Redeemer statue, Tijuca National Park is located right in the center of Rio de Janeiro. But the park is much more than the famous postcard – Tijuca protects the world's first replanted forest with it's multitude of waterfalls and trails, and historical ruins from the time of coffee farms. Back in the 1800's, coffee farms and charcoal production almost completely destroyed the forest and the water sources that supplied the city began to dry up. In 1861, Brazil initiated the first major reforestation project in the world, moving the coffee farms and replanting more than 100,000 trees. Visiting the lush forests of Tijuca more than 150 years later, it is almost impossible to imagine the degradation that had once taken hold of this special place. Tijuca National Park can be visited any time of the year and is a wonderful way to spend a morning, afternoon, or even full day during a visit to Rio de Janeiro – it also combines for a perfect full day exploration with Sugarloaf Mountain. Apart from the stone mountain (Corcovado) atop which sits the symbol of Rio, there are 200 kilometers of trails for hiking, roads for walking, running and cycling, more than 300 climbing routes, bathing in the park's waterfalls, and countless viewpoints to simply take in all that Rio has to offer.
Anavilhanas National Park
The state of Amazonas is full of secrets…a wild place of unexplored rainforests and barely touched by civilization indigenous communities. With so much of the Amazon barely touched, exploration of the flora and fauna are still possible in a sustainable way. Analvilhanas National Park consists of important areas of the Amazon and protects more than 400 islands in the Rio Negro. In addition to being a year round sustainable tourism destination, this park is critically important for conservation and scientific research. Here you will find the famed pink Amazon river dolphins, giant otters, giant armadillos, giant anteaters and jaguars. The best way to visit Anavilhanas National Park is either via an Amazon cruise or staying at a jungle lodge. During a multi-day voyage aboard a traditional Amazon boat such as on this itinerary, you can explore the lush Amazon and include activities such as hiking, nocturnal observation of caimans, piranha fishing, swimming the with pink Amazon dolphins, a jungle survival tour, and visiting the caboclas communities. Truly unique is also a canoe trip along the igarapes and the igapos. To explore the Amazon by boat such as the Tucano or the Amazon Clipper, you simply need to depart from the port in Manaus. Or you can enjoy a stay at the Anavilhanas Jungle Lodge, a small and exclusive hotel del selva, located in front of the national park on the banks of the Rio Negro. Here you will be in the heart of the Brazilian Amazon.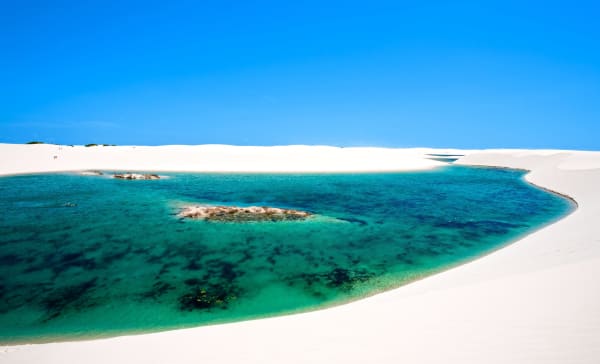 Lençois Maranhenses National Park
The Lençois Maranhenses National Park is the perfect adventure destination and one of the most striking national parks in Brazil. There is little vegetation in the park, it is composed almost entirely of huge, rolling sand dunes that stretch for miles – and during the rainy season, the valleys between the dunes fill with water. The result is a breathtaking contrast of white sand and deep blue lagoons. Maranhenses Lençois National Park is located on the eastern coast of Brazil, in the state of Maranhao. Here you can walk on the white sands of the largest dune field in Brazil, cool off in the crystal clear waters of the many lagoons, and admire the most spectacular sunsets. The main attraction of this park are the dunes, but the interdune ponds that form in the rainy season, the mangroves, and the traditional communities that live in the oases of this Brazilian desert are all reasons to visit as well. The best time to visit this park is right after the rainy season, from July to September, when the ponds, lagoons and lakes are full and the scenery is simply breathtaking. Here you can explore the park by foot, on horseback, or by traversing the dune field in 4x4 vehicles specially adapted to cover the sandy and flooded terrain of the sandbank. Check out our Dunes, Lagoons & Desert Trekking tour!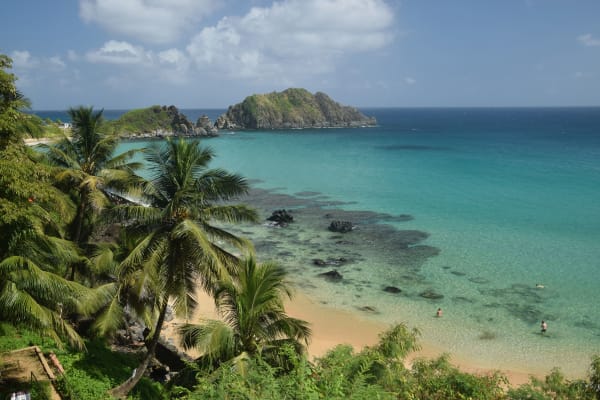 Fernando de Noronha Marine National Park
Fernando de Noronha is an island located off the coast of Recife, easily accessible by flight and home to some of the most beautiful beaches in Brazil. Here you can enjoy boat trips, deep sea dives, dolphins swimming in front of you…the perfect romantic getaway or honeymoon escape. A visit to Praia da Atalaia is one of the most prized attractions in this natural park, literally an opportunity dive into a living aquarium where you can enjoy observing all the marine animals in their natural environment. Make sure to schedule in advance, as the pool that forms at low tide is strictly monitored and can only be visited by a restricted number of people daily. In addition to the gorgeous beaches and spectacular marine life are the historic sites. A walk through the 500 year old historical sites add another dimension to your visit, historical heritage. Visiting Fernando de Noronha is a must for anyone visiting Brazil.
As mentioned, with more than 69 National Parks, this list doesn't even begin to highlight all of the spectacular natural areas just waiting to be explored on your customized tour of Brazil. Other areas absolutely worth the adventure are:
Pantanal Matogrossense National Park – best known as the Pantanal. Part national park, part UNESCO World Heritage Site, the Pantanal covers 70,000 square miles and is the world's largest tropical wetland. Accessed from Cuiaba, you can stay on traditional farms and ecolodges, surrounded by nature and enjoying activities like horseback riding, 4-wheel drive photography safaris, caiman spotting, canoeing and taking in the breathtaking sunsets.
Chapada Diamantina – located in the state of Bahia and just a short flight from Salvador Bahia. Here you can enjoy hiking, mountain biking, climbing, canoeing and swimming, unusual rock formations, caves and mesas that can provide you with hours or days of exploration. No visit would be complete without experiencing the spectacular blue waters of Poco Encantado and Poco Azul.
Chapada dos Guimaraes – located in the state of Mato Grosso and known for it's waterfall circuit, the "stone house" which is a sandstone cave carved by a stream, and the Stone Town rock formations. The cliffs, canyons, waterfalls, caves and savannah are perfect for hiking and exploring; also of note are its archeological sites which include early cave paintings.
Jericoacoara – easily accessed from Fortaleza for 4-wheel drive transfer. Although famous for being among the ten most beautiful beaches on the planet, the pace of life in this old fishing village remains the same as it has for centuries; a refuge from the modernity of the big cities. The winds here make it ideal for windsurfing and kite boarding.
So what are you waiting for? Ready to start planning your Brazil Tour? Reach out to us today.