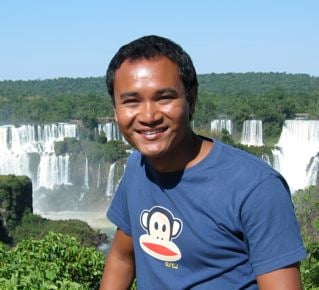 Keith Jenkins is the blogger behind Velvet Escape. He left his corporate career to follow his passion for travel and writing, and in 2008 launched the Velvet Escape Blog. He conveys his incredible travel experiences through writing and photography, offering helpful tips and inspiring readers to discover all that the world has to offer. Keith currently resides in Amsterdam and has traveled to over 60 countries and across 6 continents. Despite his busy travel schedule, Keith was kind enough to take the time to answer some questions for us. Thanks Keith!
Global Basecamps: Where are you from?
Velvet Escape: That's an easy question to start with! I'm from Kuala Lumpur, Malaysia.
Global Basecamps: When and how did you get hooked on travel?
Velvet Escape: My parents instilled in me a great desire to see and experience the world by giving me a geographic encyclopedia when I was eight. I memorized every bit of information in the encyclopedia and stared at all the photos endlessly. My first trip outside Malaysia/Singapore was with my family, when I was nine, to Hong Kong. I knew all the places and dragged them around the sights! I went on my first solo trip when I was 14. I was in Australia and backpacked from Sydney via Canberra to Melbourne and back. By that time, I knew I was hooked on travel!
Global Basecamps: You had a career as an investment banker. What made you decide to take a new career direction and start Velvet Escape?
Velvet Escape: I came up with the concept of Velvet Escape when I was still working at the bank. The bank I worked at was acquired by other banks and there was a lot of politics involved. I was slowly but surely sidelined but I refused to budge so I spent my time at the office sketching logos and writing and publishing travel tips on Velvet Escape. I honestly believe that Velvet Escape kept me sane at the time. I eventually left the bank and went on a five-month round-the-world trip, thinking that I would get a job at another bank when I returned. However, halfway through my trip, Lehman Brothers collapsed and the phone calls from headhunters literally stopped overnight. When I returned home, there were no jobs and prospects in the finance world were very bleak. I decided to return to writing for my Velvet Escape site. I added a blog to the dotcom site and started publishing blog posts. By the time job offers from banks started to trickle in (about nine months after the launch of my blog), I was a full-time travel blogger and having the time of my life! Tough choices had to be made but I decided to stick to my blog and see where this new path would lead me. I have no regrets.
Global Basecamps: Have you had any experience with sustainable travel? What did you think of it?
Velvet Escape: I've been to various countries like Malaysia, Costa Rica, Brazil and Indonesia where eco-tourism and/or the preservation of local cultures are promoted as unique selling points in the tourism sector. Personally, I applaud any initiative that aims to raise awareness; be it nature conservation or culture-related programs. Awareness=understanding=respect. The more we respect and appreciate the great diversity our world and its people have to offer, the more we will be aware of the importance of preserving these for future generations. That's my take on sustainable travel.
Global Basecamps: Out of all the places you've traveled, which destination do you think is the most overlooked or underrated?
Velvet Escape: My old hometown of Kuala Lumpur (KL). Bangkok and Singapore command a lot of the attention in Southeast Asia. I may be biased but KL is a really cool city that's often overlooked. It's a great mix of Asian and Western influences, the architecture is amazing, the food is awesome and there are lots of things to see and do.
Global Basecamps: Which country has the best food or most memorable meal?
Velvet Escape: That's a tough one! I'm a big fan of Japanese, French, Thai and Italian cuisines. However, if I had to choose one country, I would pick Malaysia, simply for its rich and unique variety of cuisines. Malaysia is a fascinating example of multiculturalism and its impact on the food scene. For many centuries, traders and laborers from all over Asia (primarily China, India and the Middle East) and Europe (England, Portugal and Holland) settled either briefly or permanently in what is now Malaysia. They brought with them their languages, customs and cuisines. The various influences meshed through the centuries, resulting in an amazing array of cuisines that are quintessentially Malaysian.
Global Basecamps: If you had one week left on earth where would you go and why?
Velvet Escape: Antarctica. Then I can say I've been to all seven continents!
Global Basecamps: What are the 3 items you can't travel without?
Velvet Escape: My passport, my iPod and my camera.
Global Basecamps: What's your number one travel tip?
Velvet Escape: Always double/triple-check your itinerary (e.g. plane, train, bus departure times). One of my most embarrassing travel moments was missing my flight because I thought it was leaving the next day.
Global Basecamps: You have a career many dream of. Do you have any advice for new travel bloggers?
Velvet Escape: Just be yourself. Blog about topics that you're passionate about and don't be afraid to let your personality shine through. It's your personal voice that will set you apart from the rest.
Global Basecamps: Can you tell us about your e-book, Travelations: The Trip That Opened My Eyes?
Velvet Escape: My Travelations ebook documents the circumstances that led to me leaving my banking job, the personal lessons I learned during my five-month round-the-world trip and the start of my blogging career. Writing it was certainly a therapeutic exercise for me but I hope it inspires others to learn more about themselves through travel.
Global Basecamps: Do you have any exciting travel plans for 2011?
Velvet Escape: My travel schedule for the first six months of the year is looking pretty full at the moment. I was in Hong Kong and Malaysia in January. Some of my upcoming trips include Asturias and Girona in Spain, Tuscany, Manchester (where I'll be speaking at the Travel Bloggers Unite conference) and Alaska. Needless to say, 2011 promises to be a big travel year for me. Yay!
Global Basecamps: What else would you like the online travel community to know about you?
Velvet Escape: Erm…I'm 5'8". On a professional note, 2011 will see me speaking about blogging and social media at various events as well as conducting blogging workshops and online tutorials.
To get better acquainted with Keith of Velvet Escape, follow him on Twitter and like Velvet Escape on Facebook.
Feeling inspired to travel after Keith's interview? Don't forget to enter The Global Basecamps Giveaway for a chance to win a trek for 2 along the Inca Trail to Machu Picchu!