Scott and Christy are surfers and photographers who run an inspiring travel blog, (as well as a San Diego food blog,) where they provide tips to others who want to fulfill their dreams of travel, no matter what situation they are in. You can find them on Facebook, Twitter or view their travel photography portfolio. They were kind enough to answer some questions for us, thanks Scott and Christy!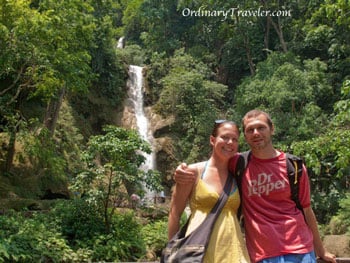 1. Where in the world are you now?
We are currently using San Diego, CA as our home base and taking lots of trips to places like Nepal, Dominican Republic, Panama, Arizona, San Antonio, Texas and Yellowstone National Park. We named our blog Ordinary Traveler because we are two people working normal jobs, but still finding plenty of time to travel the world. We want to show people that you don't have to quit your job in order to travel.
2. When and how did you get hooked on travel?
Christy has been hooked on travel for as long as she can remember. Her parents are partly to blame for taking her on annual trips to exotic destinations throughout her childhood. Scott first caught the travel bug on a school trip to Italy during his senior year in high school.
3. How would you describe your travel style?
I think I would describe us as budget backpacking surfers. We don't spend too much time away from the coast because we love to surf around the world, but there are definitely times when we choose to visit a place even though it's landlocked. You will often find us staying in budget hotels, hostels or camping and during the days we are usually doing something active like hiking or surfing.
4. Which country has the best food or most memorable meal?
Our favorite cuisines during our travels so far have been Thai and Vietnamese. We love a good Pho dish and pretty much anything Thai.
5. What is your most embarrassing travel faux pas?
I have been pondering this question for a couple of days now and the only thing I can come up with is that I'm really bad about remembering not to point in countries where it is offensive. I wish I had a more interesting answer to this question.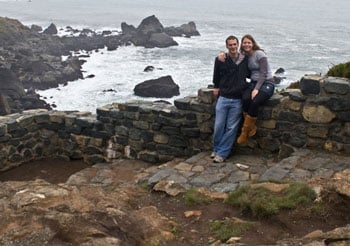 6. Have you had any experience with sustainable travel? What did you think of it?
Many times during our travels we are either camping or staying in a small hut with the bare necessities and we do our best to leave a small carbon footprint. The most interesting place we have ever stayed was at a camp on Catalina island where they are almost completely self-sustained. We loved learning about how this is possible and the best part about it is that it's a kid's camp (we were there when there were no kids because we know the guy who runs the camp) and the kids who come here are taught how to do all of these things. They teach them about the earth, growing their own foods, compost and all about the ocean. It's one of our favorite experiences to date and we would love to learn more.
7. Out of all the places you've traveled, which destination do you think is the most overlooked or underrated?
The northern coast of Koh Phangan island in Thailand. All I have ever heard about Koh Phangan is the infamous full moon parties. We almost didn't even go to this island because we thought that is all there was to it, but thankfully a receptionist at the hotel we stayed at in Phuket recommended we visit the other parts of the island because we absolutely fell in love with it.
8. If you had one week left on earth where would you go and why?
We would get both of our families together and fly to an island to spend the rest of our days having fun in the sun and water. I have a lot of nieces and nephews and miss them dearly.
9. What is your number one travel tip?
Our advice would be to forget about expectations because travel will constantly surprise you. Enjoy the ride and be prepared for things not to go as planned.
10. What are the 3 items you can't travel without?
We always bring our two cameras and we pack our swimsuits and flip flops even if we are not going somewhere warm because you never know when you will need them.
11. Do you have any exciting travel plans coming up?
We have lots of fun stuff coming up. We are heading to Arizona and Texas in September, Panama in November and either Utah or Mexico in December.
12. What else would you like the online travel community to know about you?
We are currently working on a product that we will be launching in early September. It's something that will be useful for women travelers and something that is not yet on the market. We are not ready to share the details yet, but if you become a fan of our Facebook page www.facebook.com/ordinarytraveler.com, we will be announcing it really soon!