Shannon is the voice behind the travel blog A Little Adrift. She left for a year long round the world trip in 2008 and hasn't stopped traveling since. Her unique stories chronicle her travels, inspire, and offer advice for others taking RTW trips. As a supporter of ecotourism she also offers tips for minimizing the negative impact of travel on the environment. Additionally, Shannon incorporates volunteering on her travels, such as teaching English to monks in Nepal and volunteering at a Cambodian orphanage. Yep, she's pretty awesome and there is is never a dull moment in her travels. Despite her busy schedule, Shannon was kind enough to take the time to answer some questions for us. Thanks Shannon!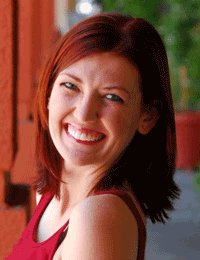 1. Where in the world are you now?
Shannon: Hunkering down in Chiang Mai, Thailand for a few months as I explore the northern region of Southeast Asia. The city makes a fantastic base for slow travelers who want to get to know a country a bit better (like me!); it's small enough to be navigable, but has an amazing supply of diverse street foods and cuisines from all of the neighboring regions and cultures.
2. When and how did you get hooked on travel?
Shannon: The first wisps of wander-dreams popped into my head as I paged through the images and stories in my monthly National Geographic magazine as a teenager. My dad has continually renewed our subscription, and even bought the NatGeo Traveler magazine once I hit the road so that I would have research materials every time I pass through the US for a visit.
Those NatGeos were the earliest days of dreaming; my first international travel actually didn't happen until I was 21 and headed to Europe for a study-abroad program. It was somewhere on the winding back-roads of Northwestern Ireland that it occurred to me this is jived with me more than any other moment...we were in a rental car, misting rain on the windshield, and pulled over to ask a Irish man walking his dog for directions. Twenty minutes later we were still chatting, oblivious to the rain, and had yet to get around to the topic of directions. And I thought "Yes, this is good."
3. How would you describe your travel style?
Shannon: Organized flexibility. I like to have a few ideas about the must-sees and I book my accommodation for the first few nights and transportation from the airport. Once I'm on the ground, though, I prefer to wander around, ask locals for food recommendations and take it all pretty slowly.
The Type A part of my personality plans for all sorts of contingencies (I carry travel insurance, grasp a general idea about a new city through Google searches, and learn how to tell locals I'm vegetarian) but travel has taught me to relax on the nitty-gritty details.
4. What is the most exotic food you've had?
Shannon: Exotic is a tough one - the world has such a cross-pollination of foods from every culture in so many big cities that the national dishes and cuisines themselves are hard to call exotic. I'm vegetarian, so that means my food choices have tended toward the more average options. I will admit though, while traveling through China last month I accepted a dare and ate a piece of fried grasshopper. It was salty, chewy, and has reaffirmed my resolve to stick to vegetables!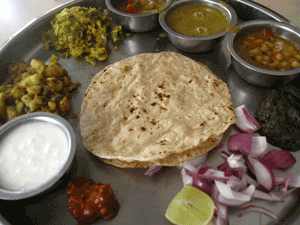 5. Which country has the best food or most memorable meal?
Shannon: I adore Indian food - the absolute variety of dishes and flavors is incredible. The subcontinent is huge, so the range of dishes between the north and the south...well, I could wax poetic about them. Indian dishes play with flavors as they hit your palate - a spicy curry is offset with cool coconut paste and naan (Indian-style flatbread) and the combination heightens the flavors in both foods into pure awesomeness.
6. What is your most embarrassing travel faux pas?
Shannon: I had a "you get what you paid for" moment in India when my pants split on a sidewalk in Mumbai, India. I had just finished backpacking Southeast Asia and was wearing a pair of hideous-what-was-I-thinking farmers-style pants that cost me a whopping $2 in Laos - they lasted three weeks and split as I was leaving the Mumbai airport. India is a pretty modest country, it's not like split pants in the Western world (which is still moderately mortifying), having that happen right on the streets of Mumbai had me giggling awkwardly and running for cover!
7. Have you had any experience with sustainable travel? What did you think of it?
Shannon: I actively try to find those sustainable travel opportunities on the road. The easiest way to lessen your impact is to slow down - take fewer airplanes, fewer buses, and travel locally. This has the doubly positive benefit of also uncovering a whole different side to a new culture than their most notable churches and temples (which do have their own appeal, don't get me wrong!).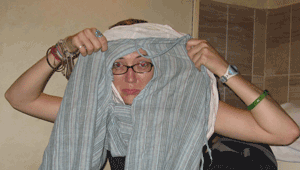 It's impossible to entirely negate the impact of travel - and global tourism provides a lot of developing and established nations with a needed influx of foreign money - but lessening that impact is ideal. I opt to use a SteriPen, pack light, make conscious tour choices and continually seek out new ways to make a bit less of an impact each time I head out on the road.
8. Out of all the places you've traveled, which destination do you think is the most overlooked or underrated?
Shannon: Bosnia and Eastern Europe on the whole; the Balkan wars were alarmingly recent and that is still squashing a lot of tourism in the region. But the people are warm and open in the Balkans, travel was affordable (not as budget as Asia, but certainly cheaper than traveling through Western Europe!), and Bosnia stood out in my mind for the unique cultural transitions as the country moves toward peace, but grapples with the war-torn history. It's an intriguing country and worth visiting!
9. If you had one week left on earth where would you go and why?
Shannon: Home - I would want to spend the time with my family. But to play the question game, if I could take them with me, I would head to Italy and spend my last week drinking deliciously sweet Italian wines, filling up on fresh pasta dishes and capping off my evenings with an espresso and pistachio gelato.
10. What is your number one travel tip?
Shannon: Keep perspective. It's really easy to get caught up in the moment and stress out about the details and the things that will go wrong on the road. Not everything is going to go as planned. And when it goes wrong, and when you get ripped off for 15,000 Kip on a taxi ride, keep perspective - it's $2 bucks and you made it to your location. Though some serious situations may crop up, the vast majority of issues just need a bit of perspective and a sense of humor.
11. What are the 3 items you can't travel without?
Shannon: My laptop - as a freelancer that's a must and keeps me on the road right now. Added to that I'd say a pair of clean underwear and a healthy sense of humor :)
12. Do you have any exciting travel plans for 2011?
Shannon: After leaving Chiang Mai I have some tentative plans through summer - I'll be heading to Jordan in just a few weeks for a whirlwind trip through there before heading back to the North America for travels through Canada and the US. Fall travel plans are up in the air though, and I change my mind on a weekly basis!
13. What else would you like the online travel community to know about you?
Shannon: In addition to sustainable travel, I tend to promote and spread the word about volunteering and giving back when you're on the road. There are small initiatives all over the world looking for a helping hand - some even for just a day - and if you keep that in mind you can ensure that some of your time and tourism dollars are going to good people working to make the world suck a little bit less.
To get better acquainted with Shannon of A Little Adrift, follow her on Twitter and like A Little Adrift on Facebook.