Happy International Surfing Day! Today is all about celebrating the big blue and all things surfing.
We've rounded up some of the best breaks around the world to celebrate. In addition to serving up killer swells, the breaks on this list also happen to be right off the shore of some incredible spots worth exploring out of the water too.
This is by no means a complete list - you'll notice we left off U.S. beaches - nor is it in any particular order. However, we hope it will help spark some inspo for where to go on your next international adventure/surf sesh once global travel kicks back off.
Uluwatu- Bali, Indonesia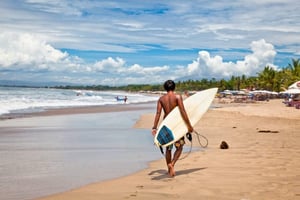 It's no secret that Bali draws surfers - both experts and beginners - from around the world. Uluwatu has been at the forefront of this hype since it's consistently perfect reef breaks were featured in the 1970's surf film Morning of the Earth. In addition to checking out the waves, be sure to stop by the Uluwatu Temple on your Indonesia Tour. Perched at the top of a cliff on the Bukit peninsula, this Hindu temple offers a breathtaking view of the Indian ocean and is a primo spot to catch the sunset .
Supertubes- Jeffrey's Bay, South Africa
Our travelers typically seek out a trip to South Africa to get up close with wildlife on a South Africa Safari or explore the wonders of Cape Town. However, most die-hard surfers have this country on their bucket list for the famed Jeffery's Bay. J-Bay for short, it is broken up into several sections. Supertubes is regarded as the "best" and known for having fast barrels and long rides that surfers from around the world are willing to brave sharkey waters for.
Zicatela Beach - Puerto Escondido, Oaxaca, Mexico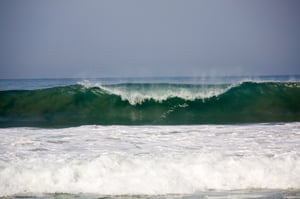 Puerto Escondido- a port town off Mexico's southern Pacific - is host to annual surf competitions every winter at its Zicatela beach. Nicknamed the "Mexican Pipeline", Zicatela's waves have comparable power and speed to those of Oahu's Banzai Pipeline. The surrounding beach towns and resorts offer travelers nightlife. good food, and relaxation. But if you are looking to explore a more unique side of Mexico, we recommend perusing our Mexico Tours. Get off the grid and into nature on the Baja peninsula. Discover the art of tequila distillation throughout Jalisco. Or take a tour of Chiapas many Mayan ruins. Whatever direction you take, we promise it'll be far from the beach clubs and resorts of your spring break days.
Chicama - Puerto Malabrigo, Peru
Peru's Chicima is one of the longest lefts in the world. Far north from the famed Machu Picchu that draws most travelers to this country, when properly firing this wave feels almost like a magic carpet ride. The surrounding town is fairly remote, however, so we recommend spending some time in more popular regions of Peru like Lima or going out into Peruvian Amazon.
Punta de Lobos - Pichilemu, Chile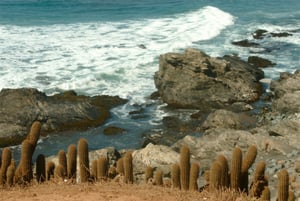 Punta de Lobos is one of Chile's best known waves - which is saying a lot given this country has almost 3,000 miles of coastline. The iconic left is where many of the country's best surfers got their start and often hosts international surf contests. This incredible wave is just one of the many examples of the plethora of raw beauty Chile Tours have to offer. In addition to its miles and miles of stunning coastline, this country is home to part of Patagonia, arguably one of the most remarkable natural wonders in our world.
Montanita Beach - Montanita, Ecuador
Considered one of Ecuador's best beaches off its southern coast, this hidden gem is often overlooked among travelers who are often focused on the capital of Quito or the getting to the Galapagos Islands. However, for the experienced surfer it offers stellar tubes and strong waves. The surrounding laid-back small town could make for a relaxing southern stop on an Ecuador tour after going inland to see the lush scenery of the amazon and explore the colorful markets and rugged terrain of Cotopaxi.
Tamarindo Beach - Tamarindo, Costa Rica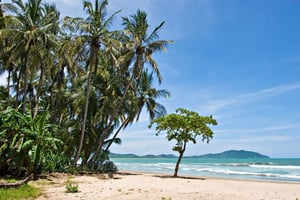 This warm-watered beach off Costa Rica's Pacific Coast is perfect for both beginners and life-long surfers. The coastline is the picture of tropical paradise with lush greenery that howler monkeys, colorful birds, and more call home. Be sure to check out Playa Grande to the north - a major nesting site for turtles. Beyond Tamarindo and the nearby Guanacaste beach town, Costa Rica has much to offer travelers from the incredible biodiversity of Monteverde Cloud Forest to stunning scenery in Arenal Volcano National Park.
The Box - Margaret River, Australia
Particularly dangerous due to its rapid transition from deep to shallow waters, this famed Australian wave gets its name for the square shaped barrels it produces. Regardless, it still draws many adrenaline junkies to Western Australia. This is just the tip of the iceberg ,though, when it comes to what this vast country has to offer. Australia is an ideal destination to visit surfer or not, from more pristine beaches to tropical forests to barren desert landscapes.