Global Basecamps was recently visited by one of our in country tour operators from Australia, Wayoutback. Wayoutback shares our commitment to ecotourism and is an award winning advanced Eco Accredited 4WD adventure tour operator in Central Australia. Locally owed and operated from Alice Springs, Wayoutback specializes in exploring Uluru, Kata Tjuta, Kings Canyon, Palm Valley, and West MacDonnell Ranges. Their reputation as an expert on this region of Australia was recognized when they received a 2010 Brolga Award, the industry's highest honor for the best tourism products and services in the Northern Territory. Wayoutback specializes in the following areas:
Small groups in 4 wheel drive vehicles (max. 16 people)
Bush camping
Cooking food over a campfire
Sleeping under the stars in swags (Aussie bush beds)
4 wheel driving on outback bush tracks
Keeping away from the crowds as much as possible
Providing authentic Aboriginal interaction
Employing and training guides that are, or become, the best in the business
Wayoutback believes that the best way to experience authentic Austrialia tours is to get far away from the crowds, in small groups of no more than 16 and explore bush tracks in a 4WD, swim in remote waterholes, camp in the middle of the outback, cook over an open fire and sleep under the stars. All the vehicles and equipment offered are very high quality and the campsite spots are well chosen to get away from other tour groups, creating a memorable adventure. Wayoutback offers a variety of safaris including a 2.5 day MacDonnell Ranges safari, 3 Day Uluru-Red Center safari, 5 Day Uluru-Red Center Safari, private charters, group safaris, and specialty safaris, such as the bird watchers tours and photographic tours.
Ecotourism
The Red Center is a very fragile environment that must be protected and preserved. Wayoutback contributes to the areas preservation by ensuring their activities and tours are sustainable. Additionally, they are the only Advanced Eco-Tourism Accredited Tour Company in Alice Springs operating in the Red Center. This is the highest acknowledgement for environmental understanding, operational practices and cultural representation as defined by Ecotourism Australia.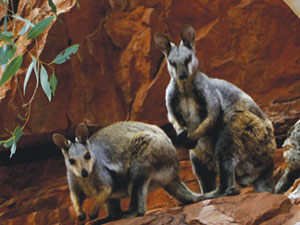 Wayoutback is also accredited with the Respect Our Culture (ROC) program, which indicates they are an endorsed Indigenous Tourism Business. The program accreditation is administered by Ecotourism Australia and was developed through consultation with Aboriginal Tourism Australia, Indigenous communities, industry stakeholders and tourism operators. The program encourages travel industry members to help in preserving the Indigenous cultural heritage.
Aboriginal Experiences
Interacting with and learning about the local Aboriginal people is a highlight of the Wayoutback experience. Wayoutback has been visiting the Oak Valley Aboriginal Community located south of Alice Springs for several years now, and this experience is included in their eco tours. While at Uluru, you will have the opportunity to take an Aboriginal guided Kuniya walk, where you'll learn about the mythical stories associated with Uluru. At Oak Valley travelers can learn about the Aborigine's art, history and relationship with the land, hunting style, and way of life. Wayoutback recently introduced a 2 day cultural safari that visits 4 Aboriginal communities.
Weather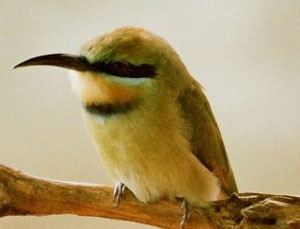 Summers in Central Australia are very hot, with the average temperature in December, January, and February being over 95 °F. Temperatures in the outback vary greatly from night to day. In the winter, daytime temperatures are around 68-77 °F. At night, it is often below 50 °F and in June and July it can often get below 32 °F. Many desert regions are subject to weather changes or large variances from the norm, so be prepared with proper clothing and equipment. In the winter you will definitely need a high quality sleeping bag, and can rent one for $15. In summer, you will still want to bring a sleeping bag, as the nights can get cool. Australia is very dry, however it still gets some rain. Alice Springs receives about 275 mm of rain a year, mostly between October and March.
What to bring
In the summer, bring shorts and shirts, and perhaps a jacket for the nighttime, as well as swimwear. In winter you can wear shorts during the day but you will want warmer clothes at night. Also be sure to bring a hat, sunscreen, a camera, mosquito repellent, towel, toiletries, water bottle, etc.
Visit our Australia tours page to start planning or call us at (866) 577-2462.