Africa has a vast variety of national parks and game reserves for visitors to explore, but we are often asked which ones are the best for first-time safari goers. The truth is that choosing the wildlife safari destination that is best for your first trip to Africa depends a lot on you: what you want to see, how you like to travel, your budget, and what kind of experiences are important to you. Our Africa Specialists can guide you through this process while planning your African Safari. But, in the meantime, we wanted to share some tips and top recommendations below.
TANZANIA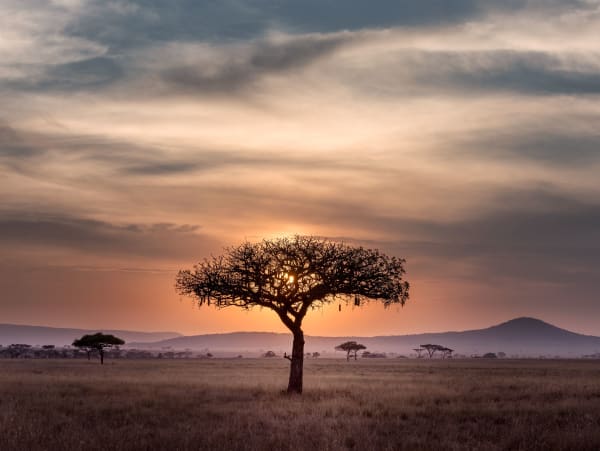 Evening Landscape of Serengeti National Park in Tanzania
The iconic Serengeti National Park is a great first time safari choice and still one of our favorite places in Africa. The wide open plains are teeming with wildlife: perhaps two million wildebeest, around half a million zebra, thousands of impala, gazelle, topi, eland and other antelope- all hunted by the predators for which these plains are famous. Game viewing is excellent year-round in certain areas of the park and then there is the spectacle of the great migration as it moves in a cyclical pattern around the Serengeti and into Kenya, then back again. The Serengeti is very accessible by both vehicle and plane, and certain areas can feel rather congested with safari jeeps and even minivans, but we can help you find the less crowded areas of the park. In addition to the great wildlife, a safari in northern Tanzania also allows for excellent cultural interaction, with Maasai villages surrounding the game parks and other indigenous groups. The Serengeti combines well with other nearby game parks and reserves such as the Ngorongoro Crater, Lake Manyara, and Tarangire National Park for the perfect vehicle safari circuit. For those who want to combine some tropical beach time with their safari, Zanzibar island is just a short flight from Arusha.Tanzania offers an affordable and family-friendly safari option and is a great introduction to Africa!
KENYA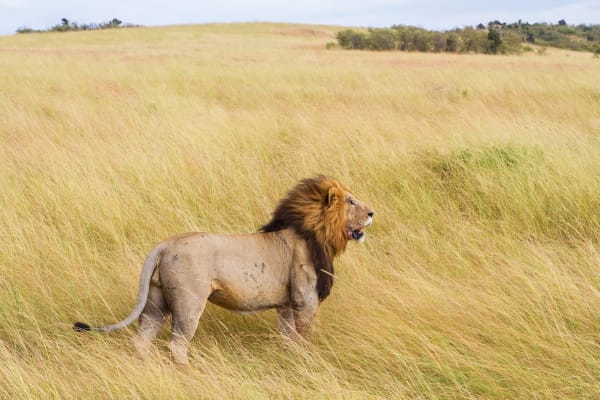 Lion in the grasslands of Maasai Mara National Reserve in Kenya
Kenya invented the modern "safari," which in Swahili means "journey". Kenya's wild animals have lived with a hunting ban for the last 40 years, so their fear of humans is greatly reduced. This means you can get remarkably close to them and watch them hunt and interact. Kenya's most famous park is the Maasai Mara National Reserve, in the southern part of the country. Although by no means the largest safari park in Africa, this small, beautiful area packs a mighty wildlife punch. On the short-grass savannahs of the Mara River basin, hundreds of lions, leopards, spotted hyena, jackals, elephants, buffalo, wildebeest, zebra, giraffe, and various antelope species provide an endless parade of game for the first-time safari goer. It's also a region where traditionally dressed Maasai still herd their goats and cattle. And the Mara also bears witness to the annual migration, with most of the river crossings taking place between July and October, as the herds cross back and forth from neighboring Tanzania. This is an awe-inspiring experience, but along with the game reserve's close proximity to Nairobi (1 hour flight or 4 hour drive), it also results in being a very busy park. There are more than 100 safari camps in an area of only about 1800 square miles, and during peak season the Mara can feel congested with safari vehicles. We can help you choose the best locations and timing to avoid the masses. We also recommend exploring other areas of Kenya, which offer a diverse safari experience and more varied activities such as walking, horse and camel safaris, fishing and swimming rivers. These areas include Laikipia, Lewa Conservancy, Meru National Park, and the Chyulu Hills. With a wide range of habitats and safari experiences, Kenya is a great mid-range to luxury fly-in safari choice.
BOTSWANA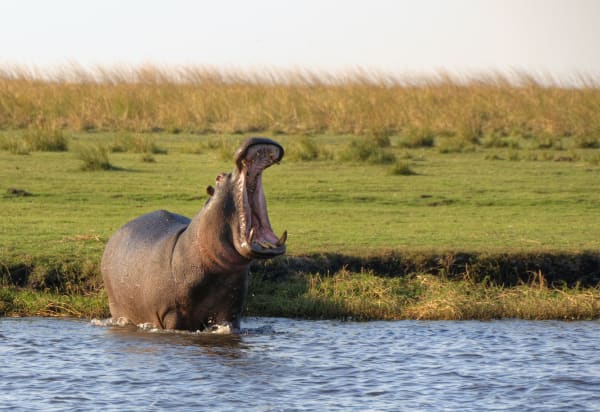 Hippo making some noise in the banks of the Okavango Delta in Botswana
The Okavango Delta is one of Africa's finest safari destinations. It covers over 9300 square miles, with a lush wilderness of papyrus swamps, riverine forests and floodplains, dotted with islands and a network of shimmering channels and lagoons. Though not a national park, the Okavango Delta is a protected area made up of mostly private game reserves in a country where 40% of the land is protected wilderness. Most of these Delta game reserves contain a few small and exclusive safari camps that are often only accessible by light aircraft. This makes Botswana a more expensive safari choice, but one well-rewarded with amazing vistas, fantastic game viewing, and few other visitors. Other advantages of an Okavango Delta safari include the ability to do both day and night game drives in open 4WD safari vehicles as well as canoe and boat-based safaris on the many waterways. Some of the wildlife highlights here include thriving populations of lion, leopard, cheetah, spotted hyena, and wild dog. Since being reintroduced into the Moremi Game Reserve in 2001, white rhino are now roaming and breeding in the Delta. There are also over 400 species of birds, making this a birder's paradise.
Click here for sample Botswana Safari Tours.
SOUTH AFRICA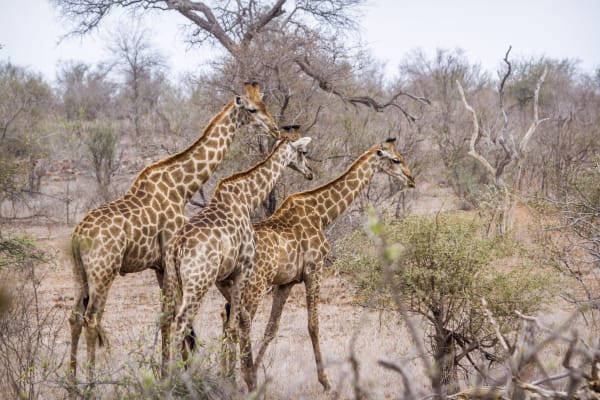 Three Giraffes trek through the bush of Kruger National Park
As the most developed country on the continent, South Africa offers the widest choice of cultural, wildlife, outdoor adventures, and foodie options, plus excellent roads, internal flights and luxury rail services. South Africa is the best choice for the first-time safari goer who wants to combine some game viewing with time in a cosmopolitan city or wine country or outdoor pursuits like hiking and kayaking. The most popular wildlife region in the country is Kruger National Park and the private game reserves that surround the park. Set in the northeast of South Africa, Kruger is one of the biggest national parks in Africa and is famous for easy "Big Five" game viewing and fantastic predator photography. Kruger also has a wide range of safari lodges to fit every budget. The national park itself can feel crowded with safari vehicles, so we prefer the private game reserves that border the park. The private reserves allow for a more exclusive experience, plus off-road and night drives and open safari vehicles. Walking safaris are also an option in some areas. Then you can combine your safari with a visit to the vibrant city of Cape Town, perhaps hiking up Table Mountain or kayaking with penguins on the Cape Peninsula. Other nearby attractions include the scenic Winelands region, where you can stay in a chateau, sip world class wine, and go cycling through the vineyards.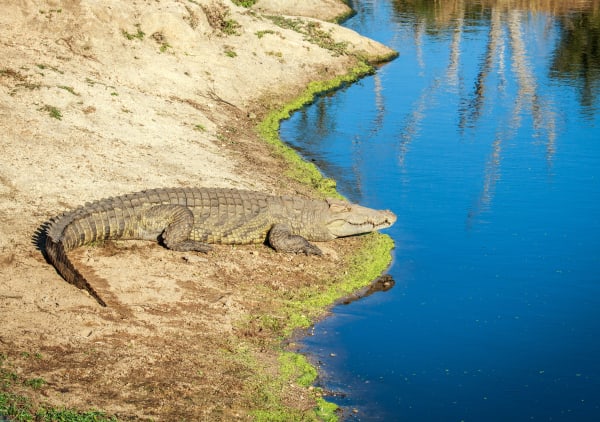 Crocodile sunbathes on the banks of a water source in South Africa's Kruger National Park
As you can see, there are many variables to consider when choosing the best African country for your first safari. Is your focus seeing the most African safari animals possible or specific species? Do you prefer a flying safari or a driving safari circuit? Do you want to combine safari with cultural experiences or beach relaxation or outdoor activities or city exploration? Are you on a tight budget or looking for an exclusive, luxury safari experience? Be sure to check out our more in depth guide on how to choose your safari destination, which you can download here, or contact one of our Africa Specialists today to help guide you through the process!