Getting to Lake Titicaca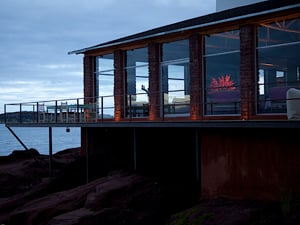 You get an idea of why Titilaka is so special as you land at nearby Juliaca airport. As excited as any traveler is to see stunning Lake Titicaca, the cities of neighboring Juliaca and lake-side Puno are… not a good introduction. There is poverty in Puno, there is an indigenous culture forgotten by modern civilization, there are incomplete brick buildings, there is a growing urban haze. And bad news for most travelers: most of the hotels on Lake Titicaca are within view of all of this.
But then your private driver keeps driving, and driving, and driving. Almost blissfully, the city gets left in the rear view mirror. City sounds and sights give way to family farms and the families that work them. Long views of the lake compliment the wide open sky that feels closer at this high elevation. And thirty minutes later, you arrive at your country estate.
Peru tours to Titilaka truly feel like a weekend home on the lake. Titilaka feels like it waits for you, like nothing happens when you're not there, like somehow you've earned this level of service and comfort. Upon arrival, attendants host an almost ceremonial "welcome bonfire" on the shore, where a first sunset is enjoyed with tea and tapas. An attendant is available in your living room at all times. Chefs prepare world-class meals in your kitchen. Your guide knows your name and is ready to take you on any excursion around the lake. Titilaka, in some way, says "welcome home" every time you return, even if you were just gone for the morning.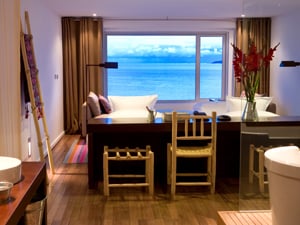 Excursions On Lake Titicaca
Few simply visit Titilaka for its own sake, however. If you're here, you're here because of Lake Titicaca, and there is no better way to fuse with the lake, its human culture, and its natural surroundings than with Titilaka's guides. These guides, like the rest of the hotel's staff, are locally born and raised. It's surprising then, when their fluent English is articulate enough to describe in-depth the biology, geography, human culture, and history of the region. During your stay, he is not so much your guide as your local friend whom you met by chance and has the weekend free to show you his home.
There are plenty of points to talk about here, and we could go on. The Relais & Chateaux certified kitchen produces the best meals you'll ever be lucky enough to taste, all made from locally grown, seasonal ingredients. The views of the lake from sunrise to sunset are incomparable. The setting is romantic. The showers are hot. The WiFi is surprisingly quick. The silence around the property is relaxing. The night skies are breathtaking. The activities available range from stand up paddle boarding to mountain biking. The beds are comfortable. Our travelers usually know what a great hotel is.
A Sustainable Model For Lake Culture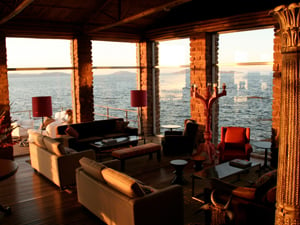 There are plenty of world-class, luxurious hotels in the world. What makes Titilaka worthy of our "Best of Basecamps" label is not its level of accommodation. Remember your guide? Remember the courteous attendants? The personal chef waiting to take your order? They were born and raised, and still live practically next door to the hotel. When other hotels in Peru hire their staff, they may want to bring college educated, experienced, and professional employees in from Lima to leave a good impression on guests. Titilaka certainly has professional staff, but they are trained from the local populace. A family that either farms or leaves home is instead trained in-depth in hospitality, employed, and paid well. A culture that is quickly fleeing towards the growing cities of Puno and Juliaca is preserved here. The land will not be left fallow, or even worse, urbanized. The locals run this property from top to bottom, in world-class fashion. And in a place where beauty is common, that is the most beautiful thing.
Did you enjoy this post? Check out our free guide to hiking the Inca Trail by clicking below! It has all the information you'll need to get the most out of your trek.