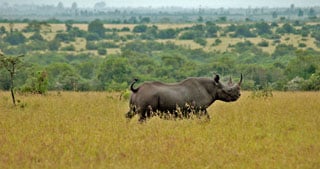 On Kenya camping tours, you may spy one of 700 eastern black rhinos left in the wild, an elephant is not too far off, and a small herd of mooing cattle wanders into your field of vision as you snap the perfect photo of a grazing zebra. There is one place in Kenya where the cows are not out of place, and in fact are welcomed into the environment. This week we'd like to feature a basecamp in Kenya we all get very excited about, Ol Pejeta. Though it is more of a wildlife conservancy, Ol Pejeta is home to a number of lodges and camps, all run by the non-profit organization.
Ol Pejeta encompasses multiple wildlife sanctuaries within its borders. The largest groups of black rhinos and chimpanzees in Kenya live here, as well as the largest herd of Boran cattle in the world. Overall, the park displays a model for wildlife conservation that is effective and inspirational.
Before realizing its potential in the 1970's, this semi-arid area was used for cattle ranching, and native wildlife was not tolerated. Over time however, extensive elephant hunting pushed herds onto Pejeta, destroying fences and making cattle ranching nearly impossible in a traditional sense. Ranchers began to move cattle into safe enclosures at night, and native wildlife began to "take back" their grazing areas. After years of Pejeta's management establishing wildlife tourism as an alternate revenue source, the Sweetwaters Game Reserve was founded, and 22,000 acres were reserved for black rhinos and other indigenous animals.

Innovative thinking led to Ol Pejeta integrating its livestock operation into its wildlife conservation. Park rangers found that cattle could be used to "intensively graze" areas to improve local grass's quality. Left ungrazed, grass on the arid African plains tends to stagnate and decrease in nutritional quality over time. The controlled grazing of cattle has led to increased local wildlife in the park, as well as an added revenue source for the funding of the park's conservation efforts.
With the combined income of wildlife tourism and cattle ranching, Ol Pejeta has become an example of biodiversity, self-sustainability and community development. The Sweetwaters Chimpanzee Sanctuary is currently home to over 800 orphaned or confiscated chimpanzees from all over Eastern Africa. Beginning with a population of 20 eastern black rhinos in 1989, the park now boasts 86 black rhinos, 11 southern white rhinos and 4 northern white rhinos. In addition, thanks to donations as well as the park's generous contributions, it has disbursed over $4 million dollars to local community development efforts including funds for local education, health, drinking water, roads, livestock extension and community-based tourism.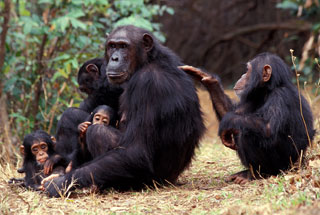 When on safari in Ol Pejeta, travelers pick from one of four luxury bush camps, and two houses on property from which to explore the area's wildlife. The conservancy is large enough that every camp feels exclusive and private, though the infrastructure of an established management system governs the camps like a five star resort.
Ol Pejeta brings to the table every aspect we seek in a world-class basecamp. Sustainability, responsibility, community involvement, and world-class accommodation all come together to form a worthy example for African wildlife tourism. Please check out our Wildlife Paradise Safari for an example of how this conservancy can fit into Kenya safari tours.
Can't get enough Africa? Are you in the very beginning planning stages of your trip? Great! We published an absolutely free travel guide to picking your perfect safari destination. Click below to download!