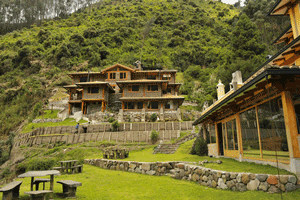 A few members of the Global Basecamps team just returned from a whirlwind trip to Ecuador, including a cruise around the Galapagos Islands. One of the highlights of their trip was discovering the Hacienda Rumiloma, located on the foot hills of Volcano Pichincha, overlooking central Quito (and just minutes from downtown). Rumiloma is a unique boutique hotel, and the only hacienda in the capital of Ecuador. Just 10 minutes outside of the UNESCO World Heritage colonial center of Quito, the hotel boasts spectacular views of the city and 100 acres of Andean cloud forest. The main building has an incredible restaurant serving international and Ecuadorian style cuisine (worth a visit in its own right) and an intimate Irish/Ecuadorian pub. The restaurant utilizes the best local ingredients and draws inspiration from the owners' travels throughout the world. Their wine cellar has more than 200 bottles of the best quality wines from Argentinean, Spanish, Chilean, and Italian vineyards. There are several comfortable sitting rooms to relax in after a day of sightseeing or to enjoy a drink with incredible views. Though the hotel is just minutes from downtown, in this Andean oasis you feel like you are a world away.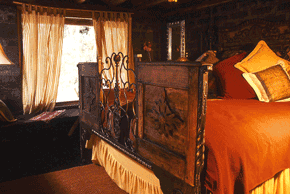 Separate from the main building is the seven-room hotel building, tucked into the hillside. The hotel suites, or casitas, are all uniquely decorated with a mix of Ecuadorian antiques, art, and collectibles. Adobe walls, red-tile floors, brass sinks, and exposed beam and brick ceilings are combined to create a unique ambiance. The rustic-style luxury rooms include spacious bedrooms, a cozy sitting room, a terrace or indoor garden, and all rooms have a spectacular view of Quito. Rumiloma is situated next to thousands of acres of national park land that has many hiking trails and a small river. Guests can see llamas, birds, and other native wildlife on the pristine acres of Andean forest. Visitors can also enjoy watching an award winning folkloric dance company from the neighborhood, a llama trek to a private lookout with views of the volcanoes Cayambe, Antisana, and Cotopaxi, or rock climbing adventures with certified mountain guides, among many other activities.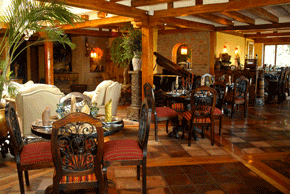 Ecotourism
Like all of our partners, Rumiloma has demonstrated a commitment to sustainable tourism. Dedicated to protecting the natural surroundings, they have been replanting native trees on the property for over 50 years (even before the restaurant and hotel were a reality). They have also implemented a variety of initiatives to minimize the hotel's impact on the environment, such as water and energy conservation measures. Further, Rumiloma demonstrates a commitment to the local community and purchases heavily from the local shops, hires neighborhood craftsmen and service staff, and sponsors local football clubs, dance troops and community food halls. Over 80% of Rumiloma staff comes from the village at the bottom of the hill, bringing a spirit of local hospitality and sincerity to their service. The owners, Amber and Oswaldo Freire, have truly created a one of a kind hotel in Ecuador. The hacienda has been is Oswaldo's family for over 60 years, and together the Freires have built their dream of a cozy, luxury adventure lodge in an idyllic setting.
Quito
Quito is an incredible historic and cultural hub located deep within the valley of towering Andean volcanoes, sitting at 10,000 feet above sea level. With over 40 churches and chapels, 16 convents and monasteries, 17 plazas, 12 museums, and much more there is not shortage of activities for travelers in Quito.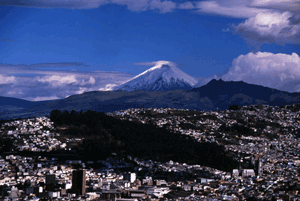 A 2 hour drive from Quito is Otavalo, situated in the foothills of Mount Mojanda. The town is characterized by unimaginable scenic beauty and kind people with distinct customs and heritage. Otavalo market is one of the most famous in Latin America, popular for the bright, beautiful textiles made by the local weavers. The largest market is on Saturday, though the markets in Otavalo are open daily. Through our Ecuador eco tour travelers can explore the crafts market, followed by lunch in a local indigenous-owned restaurant and an afternoon guided tour to a local artisan workshops and villages followed by a visit to a raptors conservation project.
Another popular activity for those traveling to Ecuador is exploring the volcanoes. The Avenue of Volcanoes refers to the parallel ranges that contain some of the world's highest volcano peaks. Along the Avenue of Volcanoes travelers have the opportunity to see Volcanoes Chimborazo, Antisana, and Cotopaxi, among many others.
Start planning your Ecuador tours! Fill out our custom tours form online or give us a call at (866) 577-2462.