Belize may be a tiny country at only 9,000 square miles, but the abundance of activities and diversity of landscapes and wildlife make it a top travel destination year after year. From lush jungles, exotic wildlife sanctuaries, rushing rivers and waterfalls, cenotes and cave exploration, ancient Mayan ruins, white sand Caribbean beaches, large and healthy coral reef systems, and water activities galore, Belize is the perfect place for an adventurous honeymoon. Belize is also a relatively short flight from any major US city - averaging about 7 hours - so it's perfect for the intrepid traveler seeking a truly exotic experience, but wanting to avoid the double digit flight hours required to visit Asia, Africa, or Europe.
Originally making its mark on the world as a cruise destination and all-inclusive hotel hotspot, Belize has made a huge shift towards smaller boutique properties and lodges, and our unique, private experiences and service guarantee a truly spectacular, once in a lifetime experience.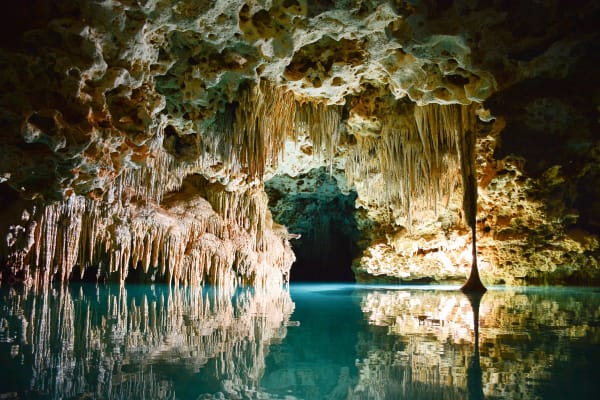 Where to Start Your Belize Honeymoon
If you are traveling from the US, your first stop will be Belize City. From here, numerous daily flight options to different areas of Belize are available, with under an hour flight time - so ease of movement here is a big plus. Typically honeymoons in Belize start in Cayo District. Here, you can admire the ancient Mayan ruins of Caracol, Xunantunich, and Cahal Pech. These gorgeous and mysterious structures were major ceremonial centers, and bear carvings and myths dating back to as early as the Preclassic period, or 1000 BC. Near the ruins, you can tube, kayak, zipline, or simply walk through prehistoric caves - some featuring pottery and artifacts.
The most popular cave is probably Rio Frio in the Mountain Pine Ridge Forest Reserve - 70 foot arches, giant boulders and stalactites, and a series of streams and pools as well as dappling sunlight makes this one of the most beautiful places to visit in Belize. Once you have finished exploring, relax and cool off in the cascading waters of the Rio On pools, and admire the flora and fauna of the unique ecosystem that is Mountain Pine Ridge.
Other popular activities in Cayo include Butterfly Farm tours, where you can see the rare Blue Morpho, rainforest hiking, canoeing, horseback riding and ATV tours, nature walks to learn all about the medicinal plants of the area with your private guide, or a night walk to see all the nocturnal animals in action, and of course simply relaxing and keeping your eyes open for any of the 350 species of exotic birds in Cayo. The stunning scenery and beautiful comfort of your boutique lodge accommodation will be compelling on its own - most travelers to Belize choose to spend a day or two at leisure in Cayo just admiring the surrounds and enjoying the company of loved ones.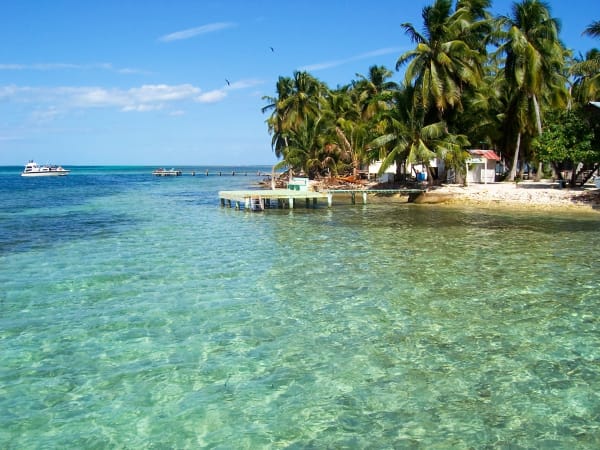 Belize Beaches
From Cayo, it's a short flight over to any one of the amazing beaches and cayes that Belize has to offer. Ambergris Caye is perhaps the oldest and most well established beach location - it is 25 miles long, and about a mile wide. Along the coast is a 190 mile long barrier reef, and as you can imagine, tons of snorkeling opportunities! No visit to Ambergris Caye would be complete without a snorkel day at Hol Chan Marine Reserve and Shark Ray Alley - vibrant marine life and healthy coral, sea turtles, large nurse sharks, and more. Caye Caulkner is another super popular spot, famous for its motto "Go Slow". No cars are on the island, only golf carts, and the island is pretty quiet, making it perfect for honeymooners looking for a place to simply relax after the more active segment of their trip. The island does have a 100 acre forest reserve mostly made up of mangroves, so if you're inspired to grab a kayak, you're in the right place!
One of our favorite beach stops in Belize is on the mainland, a 45 minute scenic flight from Belize City. For those who don't wish to move around on their honeymoon and switch hotels, Placencia and Hopkins are perfect landing spots to experience the best of the beach and water activities to one side, and the jungle to the other. From this area, wonderful snorkeling and diving can be found at Glover's Reef, Turneffe Atoll, and for a longer day, The Great Blue Hole of Belize. Additionally, Whale Shark swims are available seasonally, and in Placencia Lagoon's mangrove forests you can see manatees! This area is great to explore by kayak or canoe.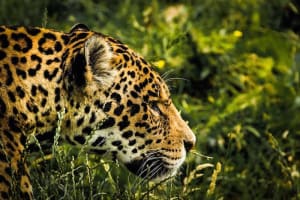 Belize's Jungle
On the jungle side, Cockscomb Basin Wildlife Sanctuary is the world's first jaguar reserve and offers nature activities such as hiking, bird watching, river tubing, beautiful waterfalls to swim in, and exotic wildlife viewing. The Mayan Ruins of Nim Li Punit are about an hour and a half away, so there's no need to miss out on that aspect of travel to Belize just because you skip the Cayo District. Just near the ruins is a spice farm and botanical garden, and today it is one of the biggest producers of black pepper and vanilla in the country.
During your romantic Belize vacation, delightful Belizean cooking classes, as well as cacao and chocolate production tours are another great way to connect with the culture at any of the destinations mentioned here. Overall, Belize is a wonderful place to explore nature and history, relax and unwind in gorgeous natural surroundings. No matter where you choose to go on your Belize honeymoon, you will be sure to appreciate the laid back vibes, beautiful culture, and amazing sunsets!