There are few places left on the planet that remain perfect examples of the term "off the beaten path." Tourism is nearly everywhere in the 21st century, and even the travel specialists at Global Basecamps find it more and more difficult to define these locations. This week, we'd like to define "OTBP" in Tanzania.
There is a reason Tanzania is one of the premier destinations for a quintessential African safari. There are world famous national parks here that are synonymous with wildebeest migrations and Big 5 sightings, and with good reason; don't let anyone tell you that Serengeti National Park, Ngorongoro Crater, and Lake Manyara aren't hands down the best parks for wildlife viewing in Tanzania. This "Northern Circuit" is popular worldwide, and sees tons of travelers annually.
We don't want to discourage you from experiencing these destinations; they are magnificent and we love them ourselves! A Tanzania Safari specifically highlights these parks should they call to you. However, if you have the time and the inclination, there are many parks around Tanzania that deserve your attention and your travel, and on average receive far less of both.
Mahale Mountain National Park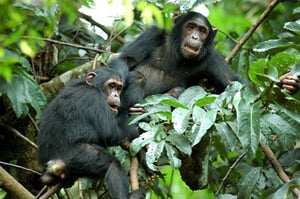 Nestled along the shores of Lake Tanganyika on the western border of Tanzania, Mahale is one of the hidden gems of Africa. Travelers reach this park via small plane, and will stay on one of a few beachside resorts along the lake's shores.
You may think the draw here is the peaceful, sandy beaches lined by pristine jungle, but the main attraction to this park can be summarized by one word: Chimpanzees. Day and night, you will hear the distant calls of chimpanzees from the forests less than 100 yards away from your beach villa. A stay here is not complete without walking treks into the jungle to meet them face to face and see why Jane Goodall dedicated her life's work to this region.
Otherwise, a few days relaxing on the beaches of Lake Tanganyika is as ideal as any tropical beach getaway around the world. The plant life of Mahale National Park is a photographer's dream, and both the parks' wet and dry seasons offer unique landscapes, all in the shadow of Congo's mountains, visible across the lake on clear days.
Selous Game Reserve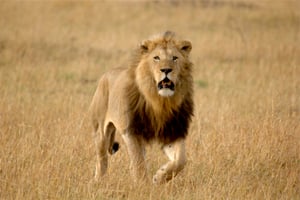 Selous Game Reserve is Tanzania's largest national park, and one of the least visited despite the sheer number of awesome animals that call it home. The park is most easily reachable by small plane, although driving from Dar es Salaam is also possible.
One of the main benefits of game driving in Selous is the absolute quiet. The lack of other travelers, and their game driving vehicles, makes this a much more exclusive-feeling park. The reason so few travelers come here is definitely because of the distance from the international airports, but it is definitely NOT from lack of wildlife. Selous features multiple water sources including rivers and lakes, making it a park dense with big game. Some of Africa's largest lion prides, as well as elephant and wildebeest herds live here, making it the ideal game driving destination for those with the inclination to step off the beaten path a little.
Ruaha National Park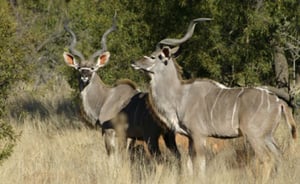 If you are seeking nearly untouched wilderness on your game drives, then Ruaha National Park is your destination. Human impact is almost non-existent here, and the three parks that surround this one come together to make the second largest protected area in Tanzania, behind Selous.
Ruaha is home to an estimated 10,000 elephants, and also features some of Tanzania's most varied wildlife, including 572 bird species and unique plant and insect life. The park's mascot, the greater kudu, shows off its corkscrew horns in huge numbers here, and some of Africa's last packs of wild dog round out the long list of predators that patrol the region.
Serengeti National Park, Ngorongoro Crater, and Lake Manyara are world-renowned game driving destinations for a reason. They are the perfect circuit to run on a Tanzania Safari. Their wildlife, beauty and rich cultural diversity are only enriched by the efficient infrastructure that makes this area so accessible. But there is something to be said for stepping off the beaten path and finding the the untouched and unspoiled regions of Tanzania. There are parks that deserve international attention, and do not receive it, but we would love to send you there.
Can't get enough Africa? Are you in the very beginning planning stages of your trip? Great! We published an absolutely free travel guide to picking your perfect safari destination. Click below to download!