Bliss and Patrick left their jobs in finance and law in New York City to travel around the world with their two-year-old son, Jude. They blog about their adventures traveling with a toddler at Around the World with a Two-Year-Old. Among other adventures, the family has taken the Trans-Siberian Railroad from Beijing to Moscow, and recently spent a week in India. We here at Global Basecamps authentic travel service are happy to share this guest blog with you, enjoy!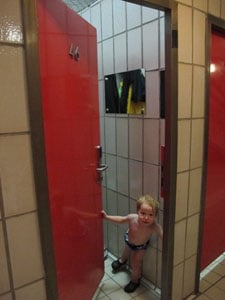 I can think of few experiences more relaxing than a long, hot soak on a cold day in a huge outdoor thermal bath, surrounded by beautiful neo-baroque buildings and stone statues spitting water. I recently had the pleasure of doing this—with Hungarians of all ages and sizes, mostly squeezed into very small swimsuits—at the Széchenyi Baths in Budapest's City Park, one of three baths my family and I visited in Budapest, Hungary. We knew Hungary was famous for its thermal baths, and decided to take the plunge, so to speak. We wondered what our two-year-old son Jude would think – he loves the bath at home – but this was hardly the rubber-ducky-pre-bedtime routine he was used to. More than that, what would the people relaxing in the baths think of Jude? Were we crazy to bring a two-year-old to the baths? (Clearly he would not be able to go in the very hot ones.)
As widely-accepted history has it, the Romans set up the first baths in Hungary in the 1st century, which is home to many deep underground springs. When the Ottomans occupied Hungary beginning in the early 16th century, they also built communal baths over the hot springs. Today, many baths are fed by multiple springs. The water coming from deep in the ground is so hot that is must be mixed with cooler water.
Because we spent over a week in Budapest, we were able to visit the city's three most famous baths, one as a family, and one each for mom and dad.
Gellért
The posh Gellért Baths are gender segregated every day except Sunday. Thankfully, the day we discovered this was a Saturday. The next morning we packed up our swimsuits, flip flops, towels, shampoo and body lotion, and headed across the Danube over the Liberty Bridge from Pest, where we were staying in an apartment, to Buda. After a long wait in line, we walked around and marveled at the art nouveau interior, which included beautiful columns, patterned floors and walls, and nude statues.
Next: the challenge of not speaking or reading Hungarian. When we paid, we were given a bold-colored wrist band that looked like a watch. At the entry turnstile, I scanned the wrist band which then let me pass. (Although I could get through the turnstile, the stroller would not fit: confusion ensued. With a little bit of effort, we were able to track down someone who spoke some English and helped us open a gate to get the stroller through. Phew. Crisis averted.) We paid an extra $2 to get a "cabin" (a small private space), instead of a single locker. In the locker room, I again scanned the wrist band on a machine built to help patrons locate their storage spaces; the screen displayed the cabin number, and we were off. I then scanned the wrist band a third time to open our cabin and we got ready to bathe!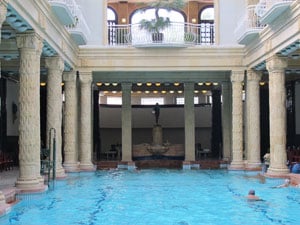 After showering, we began in an indoor bath (82 degrees Fahrenheit) which was full of people. Jude immediately wanted to swim and splash around – probably not what most people sitting on a ledge with their eyes closed and not moving had in mind – but we lured him under a fountain and he loved it. It was quite a cold day, but Patrick (my husband) decided to make an outside dash – in his wet swim suit – to another, hotter, pool outside. Meanwhile, Jude enjoyed watching people swimming laps and running in and out of the hot baths.
After the visit to Gellért, we decided not to bring Jude to any more baths. Although he was basically well behaved, he required our constant attention to stay that way. Ultimately, kids like to play and splash; people go to thermal baths to relax. In order to satisfy our curiosity about Hungarian baths, and not annoy Hungarian bathers, we decided that we (mom and dad) would each visit one more bath while the other parent looked after Jude.
Széchenyi
For my solo bath trip, I went to City Park to the huge bath complex known as the Széchenyi Baths, and found the experience really enjoyable. Here, I was away from tourists and soaking with Hungarians, several of whom were there under medical orders. (Doctor-prescribed baths are subsidized by the Hungarian health care system; the Budapest baths are owned by the Budapest municipal government.)
Although the entry routine is fairly complicated and made quite difficult if you don't speak Hungarian, the joint city ownership means that the routine is the same at all of the baths. I was thankful for this when I tackled entering Széchenyi on my own.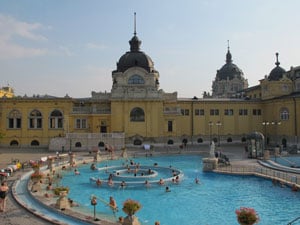 Like Gellért, there are indoor and outdoor pools. In one of the outdoor pools, people were playing chess on tables with tops just above the surface. In another outdoor pool, different types of jets took turns going on and changing directions. My favorite was a pool within a pool where the jets would turn on for several minutes and propel you in a circle at high speed. To stay afloat, bathers must tread water, all the while being careful to avoid other swimmers being spun around by the jets.
Inside, I decided to go for a short massage. Due to my inability to communicate, I was wearing a wet swimsuit on a late-October day in a massage room with an open window; in other words, I was freezing. Well, I survived – and opened my eyes with singular focus: where were the hotter baths!? Next I tried some 100-degree-Fahrenheit baths inside, two in the medical category, which brought my body temperature back up quickly.
Rudas
Patrick, eager for the most authentic experience possible, made the trip to Rudas Baths, biking along the Danube from our rented apartment. On most days of the week, including the day Patrick went, Rudas Baths are men-only (and until 2005, women could never visit). Rudas is widely considered one of the best, but potentially most-difficult-to-navigate (no English signs or people who speak English working at the bath, according to everything we had read). However, from Patrick's perspective, the difficulty was overstated, and several workers spoke enough English to make the visit manageable (having had one bath experience under his belt also helped Patrick).
Rudas is the oldest of the three baths we visited—it was built in the 16th century—and has a Turkish domed roof. Rudas is known to be the most "traditional" of the major baths and the least tourist-friendly. Patrick only saw one other person he could clearly identify as a tourist during his visit. In addition to the baths, it has a hospital and a "drinking hall" where you can sample various waters from the springs.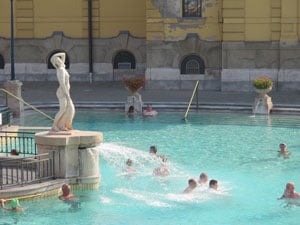 Patrick's main fish-out-of-water experience was sartorial. Upon arrival, Patrick first changed into his American knee-length swimsuit and headed to the baths. It didn't take him long to realize that he was the only one in a swimsuit at all, let alone the only one wearing a large floral one from Patagonia– everyone else was naked or in a loin cloth. He headed back to the locker room to grab a loin cloth (included in the price of admission) so as to fit in. The loin cloths don't leave much to the imagination: they are basically single pieces of cotton (about the size of paper lunch bags), tied together in the back with pieces of string (i.e., not covering the back at all), giving bathers the appearance of wearing very miniature aprons.
Patrick reports that the bath itself is undeniably beautiful. The main room sits directly under the Turkish dome. That room has a large, central bath of intermediate temperature, and four smaller baths of varying temperatures in each corner of the room. Saunas, massage rooms, and one additional bath (none of which Patrick used) are in adjoining rooms. The baths received their water through tubes running out of ornate statues. One nonagenarian sat perched, like a gargoyle, under one statute receiving the water directly onto his head for the duration of Patrick's visit.
Our conclusion: Don't miss the thermal baths in Budapest! But think twice before bringing your young child. Knowing what we know now, we would have brought Jude to Széchenyi and would probably have done so on a weekend, when the baths are at their loudest and most boisterous anyway.