The success of K-Pop, bibimbap, and the films of Bong Joon-ho are just a few reasons travelers have made South Korea a must-see destination
After more than two years of travel being at a halt in East Asia, I was lucky enough to visit South Korea for the first time in May of 2022, a month after it reopened to international travel. So, after I jumped through all the COVID testing hoops, I was on a plane to Seoul!
My welcome at the airport was seamless, but we noticed a small, excited crowd with professional-level camera equipment gathering at the customs exit. A few minutes later, I had my first K-Pop group sighting. Fans were snapping photos and the members were gracious as they made their way to their waiting vehicle. What a way to kick things off with an unexpected peek into modern Korean culture.
Seoul is the suggested starting point for most South Korea trips, as Incheon Airport is roughly 40 minutes away by train or an hour by car. I had a delightful nap during my transfer as the stress of the mandatory testing and official travel documents of 2022 faded into hindsight.
Seoul is a massive city where I spent the next few days. With 22 subway lines, the city's metro system is extensive and makes moving around a breeze. In addition to available buses and taxis, walking is an excellent way to discover smaller neighborhoods, shops, cafes, and more. It's safe to wander both day and evening, and I spent a few hours exploring the Gangnam district near our hotel, hunting down makgeolli (rice wine) and some snacks to bring home (garlic bread chocolate deserves its own blog post!). The neighborhood's neon lights, wine bars with BTS blaring on their TVs, and light rain coming down all created a festive spring atmosphere punctuated with colorful reflective puddles and a boy band soundtrack.
The following morning, after being fussed over by the lovely shopkeepers, we changed into traditional hanbok before taking in the Blue House, the previous residence of the president. From there we went to the beautiful Jingwansa temple for meditation and what turned out to be one of my favorite meals of the trip. This exquisitely prepared vegetarian temple food was simply amazing.
Leaving the peaceful Buddhist grounds behind, we headed back into Seoul and made our way to Gwangjang Market. We wandered the market lanes searching for tteokbokki (spicy rice cakes), buchimgae (savory pancakes), sundae (blood sausage), and a glass of makgeolli or soju to wash it all down. Later, we hung out at a chimaek spot (Korean fried chicken and beer. 치맥 is a slang word combining the 치 [chi] from 치킨 [chikin] and the 맥 [maek] from 맥주 [maekju], the Korean word for beer.) and watched the staff setting up tables and swiftly refilling plates and cups. Our final day in Seoul included an exploration of the Changdeokgung Palace, known for being built in harmony with nature at the foot of Mt. Baegaksan and walking up the steep hills of Bukchon Hanok Village to see a blending of old and new architecture.
On the way to the city of Andong, we stopped at Jeongjae Jontaek traditional house for lunch before trying our hand at making jaheehyang (chrysanthemum liquor) using chrysanthemum flowers, rice porridge, and wheat yeast mash. The process involves months of fermentation, so we only took part in one step but were lucky enough to get to taste some completed jaheehyang. Upon reaching Andong, we took part in a Mask Dancing lesson and had a walking tour of Hahoe Village including a light hike to the views from Buyongdae Cliff.
In Gyeongju, the former capital of the Silla Kingdom (57 BCE - 935 CE) and our next stop, we spent some time admiring the architecture and Buddhist relics at the UNESCO sites of Seokguram Grotto and Bulguksa Temple. After an elaborate and historic Silla Kingdom royal lunch, we rolled up our sleeves and learned how to make dasik (flower cakes with sweetmeat).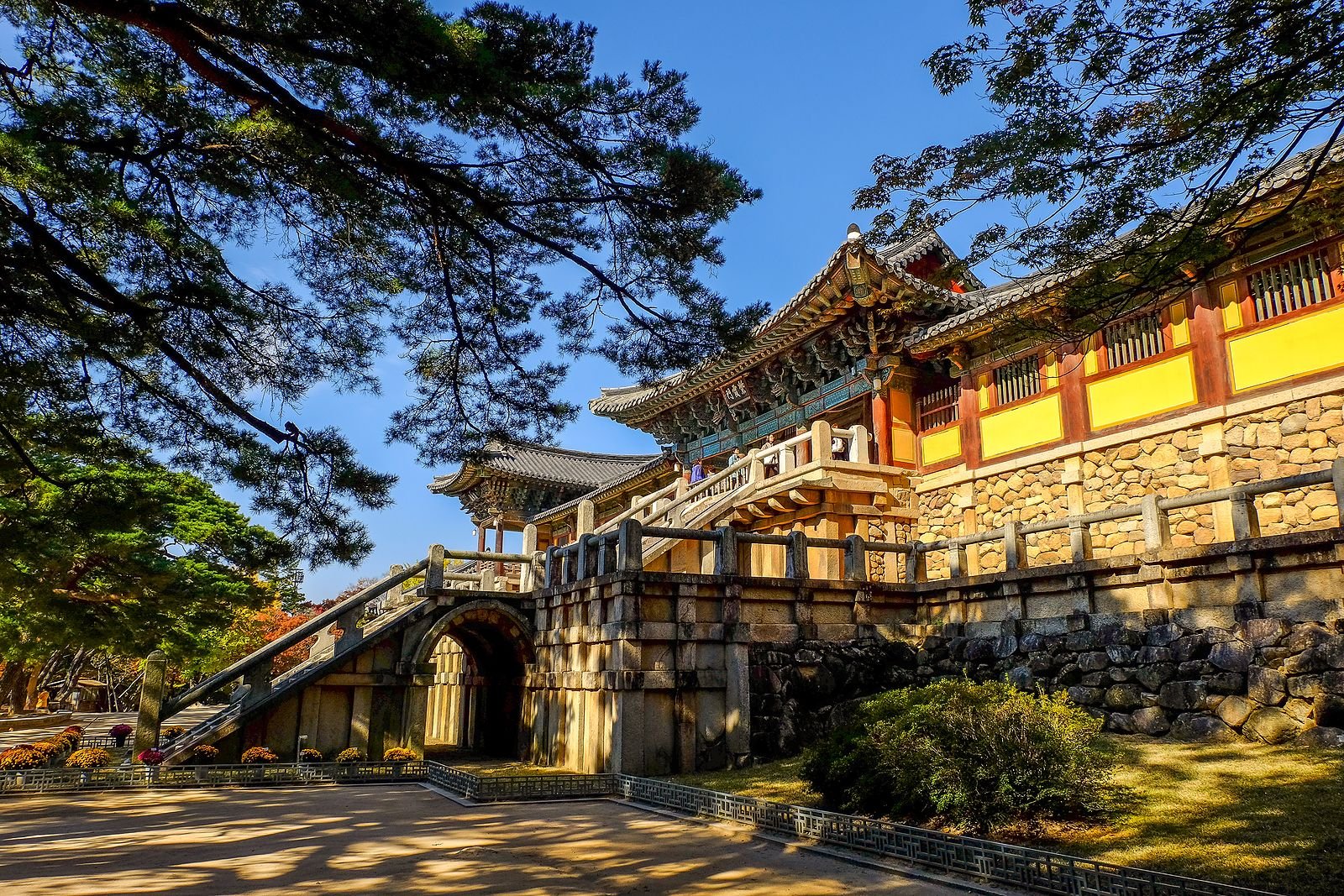 The Bulguksa Temple, a UNESCO World Heritage site, was first built in 528. The temple is considered a masterpiece of the golden age of Buddhist art in the Silla kingdom.
We spent the afternoon in Gyeongju Namsan National Park visiting Daereungwon Tomb Complex and Cheomseongdae Observatory, the oldest surviving astronomical observatory in Asia. It's a very relaxed area with significantly less traffic than in the major cities, so bicycling is a safe and pleasant way to take in the park.
The final stop of our trip was the port town of Busan of Train to Busan fame for those horror movie fans out there. Haeundae Beach sits alongside restaurants, hotels, and lively bars yet maintains a laid-back atmosphere. I wished there was time to linger for a few days but I settled for a quiet early morning walk and watching the surfers.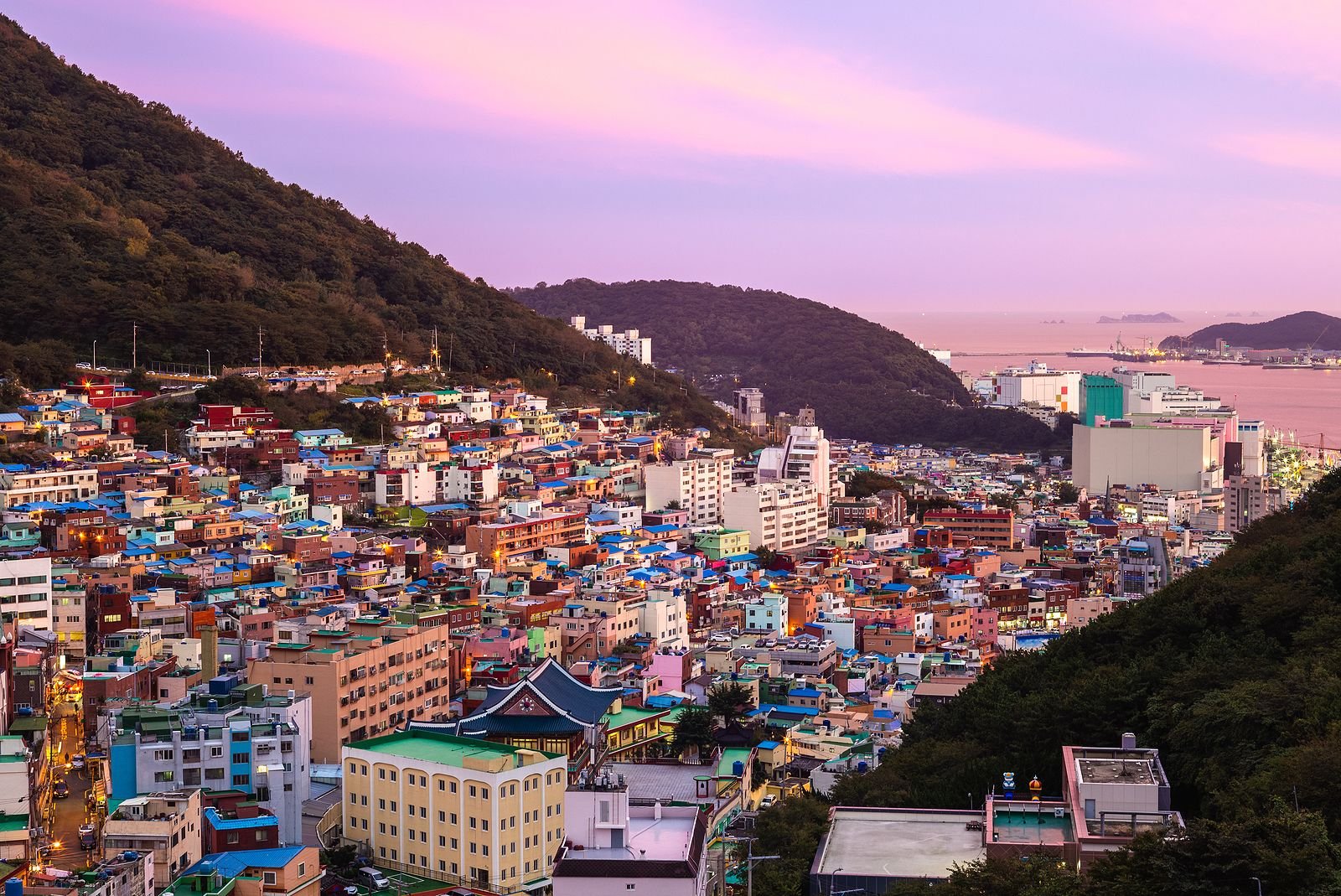 Gamcheon Culture Village in Busan, nicknamed "Korea's Santorini" and "Machu Picchu of Busan."
Beyond the sea views, Busan is home to the famous Jagalchi and Gukje Markets and popular nearby sites like Gamcheon Culture Village and Haedong Yonggungsa Temple. In Seomyeon (food alley & central commercial hub), I enjoyed a fantastic meal at Dajeon Cafe. This vegan restaurant offered meat-free variations of many traditional foods and was a delicious send-off!
South Korea is a culturally rich and welcoming country that I feel like I only scratched the surface of on this visit. I look forward to returning in the future to more rural areas, coastal towns, and the honeymoon hotspot, Jeju Island.
Many travelers combine South Korea travel with some time in Japan due to their proximity. With flights between Seoul and Tokyo being just 2 hours and 20 minutes and the ferry journey between Busan and Fukuoka taking only 3 hours, you can easily visit two amazing countries in a single trip.
Reach out to our Travel Specialists at travel@globalbasecamps.com to plan your own South Korea adventure!
---
Now's the Time…
If you're planning on hitting Costa Rica, Guatemala, or Belize for the year-end holidays, you need to act now. These destinations are booking up quickly.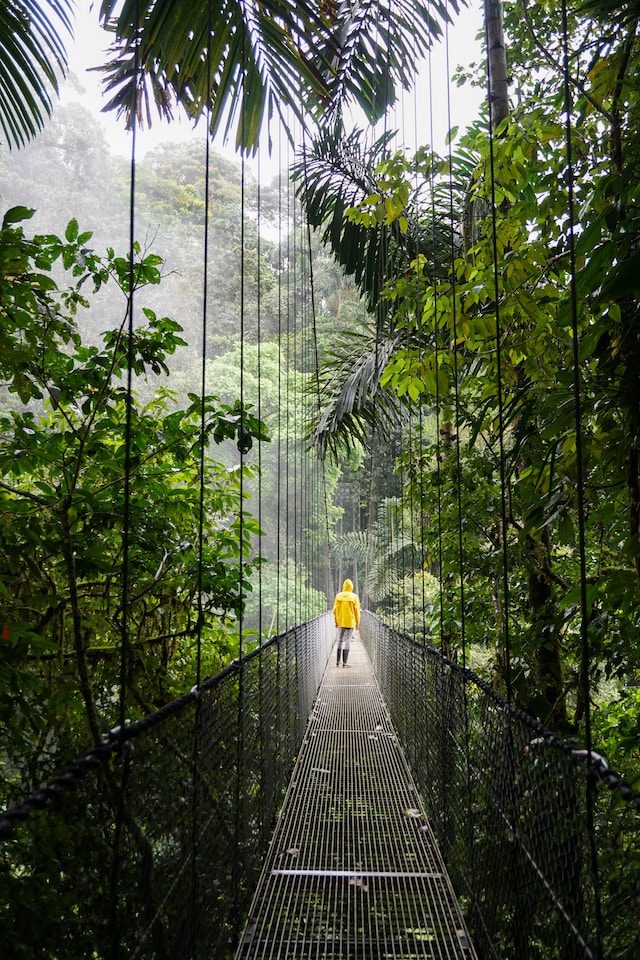 Cloud forest near La Fortuna, Costa Rica. Photo by Selina Bubendorfer on Unsplash
Finish the year with a walk in a majestic cloud forest, a visit to otherworldly Mayan temple ruins, or a relaxing swim in pristine waters. We can take you there. Contact us at travel@globalbasecamps.com to get started.