All-inclusive Morocco tours are an excellent way to achieve a comprehensive encounter with the multifaceted country in a timely fashion. However, curiosity and time to spare make it well worth the effort to seek out certain less-toured novelties that reign extraordinary even in a country where idiosyncrasy is the norm. Whether you've already been on a highlights tour of Morocco or you're just eager to take the bull by the horns from the get-go, you can easily book a day tour to make the most out of these five expectedly unexpected experiences.

1. Taste the best Moroccan wine (and olive oil) straight from the source
Escape from the bustle of Fez for a day or two and head to unspoiled Meknes, where you can peacefully explore monuments in the morning and spend the afternoon wine tasting in the city's rural fringes..
Hire a chauffeur to take you to Château Roslane, part of the Les Celliers de Meknes estate whose vineyards span three different regions (AOG's Guerrouane and Beni M'Tir, and AOC Les Coteaux de L'Atlas)
.
Tour the processing facilities, mosey around the lush gardens as you ponder which Premier Cru wine you preferred, and then buy a few bottles of the fair-trade version to give back to surrounding communities.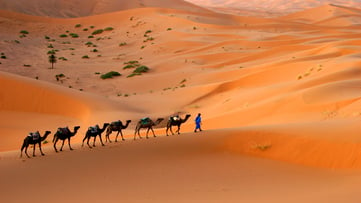 If a nap is not yet in order, hop over to Domaine de la Zouina to admire the vineyards and olive groves where the famous Volubilia label originated. Surrender to indulgence as you enter a colonial villa to sample wine that has been deemed the best in all of Morocco, and then try the exceptional olive oil (the 2006 harvest was officially awarded best in the world).
Keep in mind that tours and tastings require reservations two weeks in advance. Choose from one of the many Morocco tours that include a visit to the wineries.
2. Explore the farthest reaches of the Roman empire

While you're already in Meknes, hire a car and guide to take you north to the isolated UNESCO World Heritage ruins of Volubilis. Or, if you'd prefer to organize ahead of time, ask to include a visit to the ruins as part of comprehensive Morocco tours.

History buffs will rejoice as their guide explains the city's compilation of powers: Carthaginian traders founded the settlement around 250 BC, long before Rome annexed it as part of their African kingdom of Mauritania. Roman rule finally collapsed in 280 AD, prompting the wealthy to hide riches and statues beneath their luxurious residences. In 708 AD, Arabs arrived to an eclectic mix of Jews, Christians, Greeks, and Berbers still speaking Latin while seeking refuge from the Roman empire. Finally, the Great Earthquake of Lisbon (1755) obliterated the city, which remained buried until the French army began excavating the site in 1830.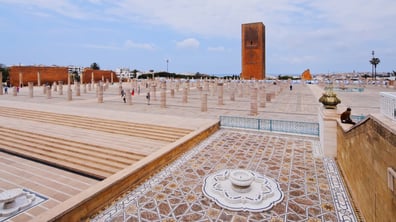 If history is not your forte, simply sit back and marvel as the classical antiquity structures majestically rise into view out of bucolic plains of wheat fields and olive orchards. Mud-brick kasbahs, minarets, noisy souks and crowded streets gradually fade from memory. The whole scene emulates a serene Tuscan countryside just as it did 2,000 years ago when Emperor Claudius decided it was destined to become one of Rome's most remote outposts.

Volubilis is most noteworthy for the House of Orpheus, triumphal arch of Emperor Caracalla, and exquisite floor mosaics depicting Greek mythology that have been nearly perfectly preserved in situ. As you wander the ancient streets, look for these gems as well as the Capitoline temple, basilica, forum, and grand villas. Call upon your best listening skills as your guide unfurls the captivating lore of the intricately tiled masterpieces. Pay special attention to the House of Venus, whose floors receive the most laud even though the namesake mosaic currently resides in a Rabat museum.
3. Get steam-scrubbed and walk out the cleanest you've ever felt
Blue-green pools and Tibetan sound bowls have no place in a Moroccan steam bath. In a hammam (bath house), you won't find any lavender-scented towels or wafting peppermint essential oils. Nonetheless, a bona fide scrub and steam session will leave you incomparably more invigorated than any five-star spa, without the nonsense or the price tag.
If you haven't already booked one of the
Morocco tours
that feature a spa rendezvous, ask a local for directions to the nearest hammam. Bring a towel, change of underwear,
kess
(scrubbing mitt available in the nearest souk), and
savon beldi
(black soap made with olive oil, also sold in souks).
Upon entrance, pay a small fee and then separate by gender. Once inside, women may or may not wear underwear but male nudity is expressly forbidden. It's normal to go with a friend to exchange back scrubs, and those who enter solo tend to pair up with a stranger inside so keep an open mind and don't be shy!
Use the kess to vigorously scrub the savon beldi all over and then sit and relax as it soaks deeply into your pores. Then, venture into other rooms for further steaming or go directly to the cool shower and rinse off.
In some hammams, you can pay extra for an attendant to accompany you to exfoliate and then perform a therapeutic massage. The exfoliation can be intense, so practice saying bshwiya ("go softer") ahead of time. Although it may be physically uncomfortable at first and a great test of inhibition, you will not regret rising to the challenge as you emerge in a euphoric trance of profound refreshment!
4. Go up and down (or around) the tallest peak of northern Africa
The centerpiece of the Imlil Valley region (just south of Marrakesh) is Jebel Toubkal, a mountain whose peak measures 4167 meters: the highest in the northern portion of Africa. The surrounding wooded region is picturesque and worth visiting even without ambitions to summit.
Although the ascent is not technical, it is not recommendable for the inexperienced. For a rewarding day without the burn, hike up from the village of Imlil to Toubkal Refuge (base camp) through the beautiful Azzaden Valley.
If you're up for a physical challenge that culminates in breathtaking views, spend the night at the refuge and wake up to climb further to Tizi-n Toubkal Pass (3950m). Then, as you traverse the jagged ridge that leads over to the peak, take in the dramatic panorama that sweeps over the Atlas Mountains all the way into the Sahara Desert.

Afterwards, retrace your steps directly back down to Imlil and catch a bus to Marrakesh that same night or, if curiosity trumps swiftness, opt for the scenic descent along which are scattered remnants of a downed 1960 Portuguese Army cargo plane.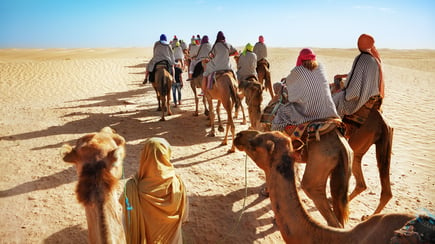 5. Watch the sun rise over Algeria on the edge of the Sahara Desert
Whether you partake in an organized desert excursion (an option offered by the majority of Morocco tours) or take a DIY approach to explore the ergs (large shifting sand dunes whose sands have been blown across from Algeria), it will doubtlessly become the most memorable part of the trip.
All roads to the Moroccan Sahara end at either of the two erg gateway cities: Merzouga and M'Hamid. From Merzouga, you can walk directly off the street into the Erg Chebbi. Venture into one of the many Berber camps to refresh with mint tea and stay for the night, or hire camels and steadily trek in for a picnic lunch.
In M'Hamid, the only way to reach the dunes is by 4x4 or camel. These dunes, called the Erg Chigaga, are larger and significantly less crowded than the Erg Chebbi (their difficulty to access means less tourists and no vendors). If you have the time and adventurous spirit to spend a few days roaming the Erg Chigaga, you'll be rewarded with an authentic glimpse into Berber culture amid the magic of a vast, enchanting desert.
Regardless of where you go and how you get there, expect to be amazed by locals' generosity and delighted by high desert cuisine. Gleaming smiles and ardent greetings will abound as you sit down to fresh bread and couscous with
kaliya
, a spicy
tagine
(slow-simmered stew) of lamb, tomatoes, bell peppers and onion.
After dinner, pull your mattress out from the tent and fall asleep under a crystal-clear, star-studded sky. Hours later you'll wake up to an otherworldly golden-pink Saharan sunrise that you'll neither forget nor be able to do justice with words of any language.