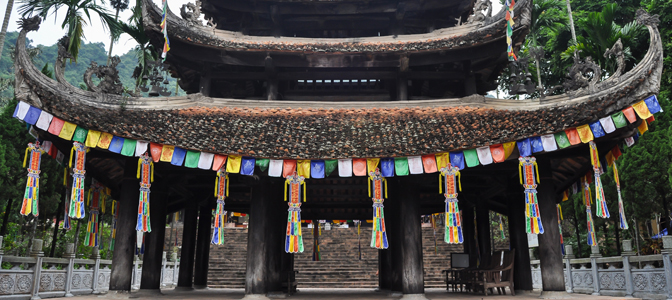 In our guide to traveling in Hanoi, we provide some excellent ideas of how to spend your time in Vietnam's capital. The city is certainly one of our favorites in the world, combining ancient Vietnamese culture with a strangely Parisian lifestyle. But everyone needs to get out of the city every once in a while…
Following are four trip ideas to get out of Hanoi for the day, which can all easily extend into one or two-night excursions. Vietnam tours are a playground of activities, sights, and cuisine. Every village carries its individual culture with pride, and local customs are not the same a two-hour drive away.
Duong Lam Ancient Village
Rent a motorbike and make your way about 1.5 hours northwest of downtown Hanoi, and you'll arrive in a small village seemingly stuck in the 17th century. Architecture in Vietnam is commonly newer, as violent wars have been an unfortunate constant in the country's history. Villages like Duang Lam are few and far between, and its residents couldn't be more proud to boast their history and culture.
The communal houses in the five smaller villages that incorporate Duong Lam are each dedicated to a local god. These gods are usually local heroes, war leaders, or founders, and are honored by community events and gatherings. Twenty one temples and pagodas call Duong Lam home, and these architectural relics are complemented by the festivals and customs that locals have kept alive for hundreds of years.
Venture outside of town for a beautiful hike to Guom Hill, or one of the other storied natural highlights in the area. However, there is definitely enough in Duong Lam proper to take up a day of exploration.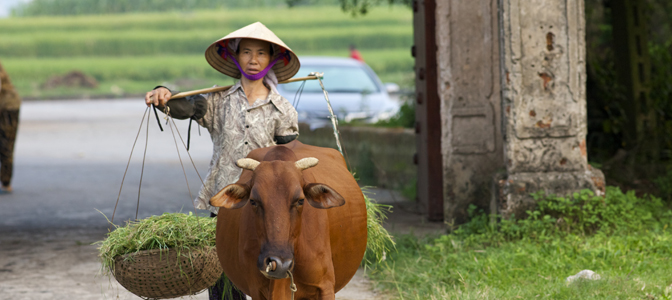 Halong Bay
The majority of our travelers' time in Hanoi feature at least one night on Halong Bay. This is one "day trip" that we suggest turning into a "two day trip." The drive to this precious natural treasure is anywhere from three to four hours from downtown Hanoi, but definitely worth the trip.
The towering cliffs are one of Asia's best examples of limestone karst landscape, which is a theme that continues throughout China and Southeast Asia. Hundreds of boats are available to take travelers into the maze-like corridors of water between the cliffs. Many of these boats are built in a traditional Chinese "junk" style, and feature overnight cabins.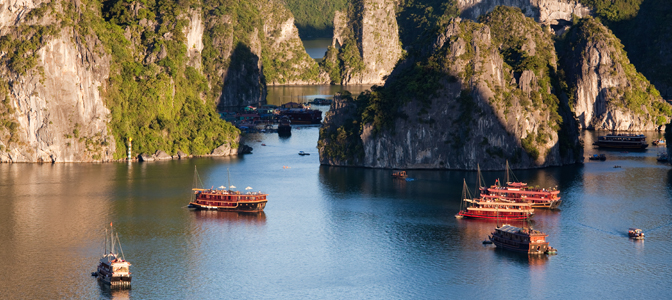 Perfume Pagoda
More Vietnamese visit this place than foreigners, but that shouldn't stop you. The complex of Buddhist shrines and pagodas dug into the limestone cliffs are both beautiful and religiously significant. Around March and April, Buddhist pilgrims from all over the world make their way here for a festival. Weekends can be crowded year round though, as there are lots of opportunities to hike, boat and explore fascinating caves.
Getting here can be tricky without a little help. A car ride, a boat, and a cable car are all necessary to reach this place from Hanoi. The journey is half the adventure, and just as beautiful as the final destination. If you'd rather skip the hassle, there are plenty of cheap ($20-30/person) tours available from Hanoi that will pay for your transport, guide and lunch. Note that due to the religious nature of this site, we recommend wearing modest clothes.
Cuc Phuong National Park
In 1962 during the American War, Ho Chi Minh declared this Vietnam's first national park, stating "Forest is gold." Though from a tourism perspective, Vietnam's culture often outshines its biodiversity, over 300 bird species, 133 mammal species, 122 reptiles and over 2000 plants call this stunning park home. Again, this is a place that sees more domestic tourism than international, but if the locals love coming here, you know it's a worthwhile trip.
In the '80's, the local Muong people were relocated from the center of the park to the western edge, but visiting these villages is still a highlight of a trip here, as culture and national parks don't often go hand in hand.
You may want to time your visit here to the dry months from November to February, as the rest of the year varies from hot and wet, to extremely hot and wet.