In our "24 Hours In" series, we would like to give travelers a good idea of what there is to do in a certain city if one has 24 hours to spend there. The destinations we'll be covering include cities that are often traveled through, but not in. These cities often act as international flight hubs, and layovers can extend from hours to a full day at times. So if you're in a city on your way to or from your destination, following are some of our favorite things to do there!
Lima is many things to many people. Peru's capital, the country's largest, most dense urban area, and its main hub for international flights. If you're thinking of Peru tours, hiking the Inca Trail, exploring the Peruvian Amazon, or taking a flight over the Nazca Lines, you absolutely will spend time in and around Lima's international airport. (That is, until Peru opens its new international airport near Cusco.) The most likely place you will spend this time, especially if you arrive in the city on a late flight, is the Ramada hotel directly adjacent to the airport.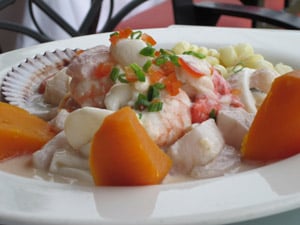 There are probably two things that keep many travelers from exploring further into Lima during their time here. One is the 45 minutes it takes to reach the city driving from the airport, the other is that the city is not all that visually appealing on first sight, (which is usually from a plane approaching the airport over the city's less wealthy district.) Trust us though, Lima can be a trip highlight, alongside Machu Picchu and the Sacred Valley.
Varied cultures come together here, from Inca, to Spanish, to American and uniquely Peruvian, to create what Lonely Planet calls a "cultural phantasmagoria." To the modern traveler, it almost seems like someone forgot to ask Peru to cleanly separate these cultures into defined eras, the result being a chaotic mixture that manages to sound, taste and feel uniquely Peruvian. Catholic processions are observed by people drinking the ubiquitous Inca Cola, world-class gourmet eateries do business in 17th century colonial buildings. In the past half century, Peru has experienced a mass migration of people from the mountainous countryside to the urban sprawl seeking opportunity, creating a density of people that cities in every developing country struggle to adapt to. The result of this influx, unfortunately, is mass poverty in most of the city. Lima's historic district, as well as its touristic Miraflores district and residential San Isidro district, are unique for their upscale shopping and dining as well as wide, beautiful boulevards and clean parks.
Eat
Excellent, high quality food has been an essential part of Lima culture since the Spanish conqueror Francisco Pizarro founded it in 1535. In fact, in 2006, an international summit of gastronomy named Lima the "Gastronomy Capital of the Americas."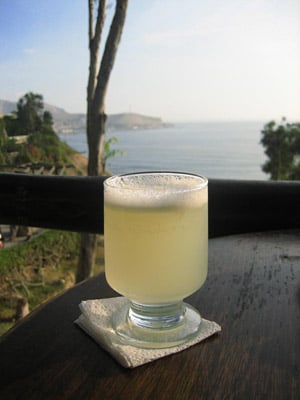 As responsible travel specialists, we must insist that you not leave Lima without trying the city's signature dish: ceviche. Ceviche is a selection of raw fish, soaked in a mix of lime juice, raw onions and chili (the exact recipe, of course, varies from restaurant to restaurant). It will usually be served with vegetables on the side, most often corn or sweet potato. Every restaurant in Lima seems to have its own take on ceviche, whether it is a Peruvian restaurant or not, but half the fun is discovering your own neighborhood hole-in-the-wall or market stall. Naturally, everyone claims theirs' is the best!
If you're looking for a cocktail to finish the day with, or begin the day with, or to compliment the mid-day pit stop, the go-to drink in Peru is the Pisco Sour. Though there are variations, the classic Pisco Sour includes lime juice, pisco (a Peruvian liquor) and a layer of beaten egg white. Made right, this drink will change your life, though we must warn you to watch your intake; pisco is not a liquor for the feint of heart! Ask for directions to Huaringas bar in the Miraflores neighborhood to get a high quality example of this uniquely Peruvian cocktail.
Twenty four hours isn't a lot of time to experience a city, but there are plenty of other drinks and foods you'll want to sample while you're in Lima. The great variety of fresh fruit juices available throughout the city are well-known to experienced travelers through Latin America, though "chicha morada" is a Peruvian specialty, made with purple corn, boiled fruit juice and spices including cinnamon and clove. Picarones are a donut-like fritter made with sweet potato dough and served with honey and fig syrup. Leche Asada is a baked custard made with evaporated milk, eggs, sugar and vanilla.
See
Though it might be difficult to move after you've sampled all the foods mentioned, there is plenty to do in 24 hours here, and there is no time to waste! The city's central historic district alone can keep you busy for days. Here, pre-Columbian and colonial architecture is on beautiful display. The San Francisco Monastery and Cathedral of Lima are cultural icons included in every tour of the city. The cathedral contains the tomb of Spanish conqueror Francisco Pizarro, as well as beautiful Catholic art with a uniquely South American twist. From the main square, you can take in the vast Presidential and Municipal Palaces, two structures that herald the great, modern Peru.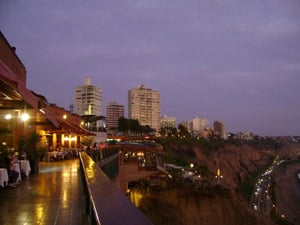 The San Isidro neighborhood offers fantastic views of Lima's seaside bluffs that almost make you forget the whole city was built in an arid desert. These views are available from a variety of well-kept parks and plazas throughout the neighborhood. The Miraflores district is great for just walking around, shopping, eating and people watching. This modern, international neighborhood is popular with tourists from around the world, but with good reason. Your 24 hours are almost over in Lima, but if you find the best pre-flight activity is a full night of bars and clubs, the Barranco neighborhood, south of Miraflores, will keep you up all night with its bohemian style and live music. The various music venues here really highlight Peruvian sounds, so influenced by Latin American music, yet so uniquely Peruvian at the same time.
So there you have it. Twenty four hours in a new city can slip away surprisingly quickly. Even densely populated urban centers like Lima have plenty to offer international trips to Peru in culture, food and history. If you spend your time in Lima idly waiting at the international airport, consider your trip to Peru incomplete.