In our "24 Hours In" series, we present ideas for how to spend a full day in a featured city. The cities we'll be covering include places often traveled through, but not in. These cities often act as international flight hubs, and layovers can extend from hours to a full day at times. So if you're in a city on your way to or from your destination, following are some of our favorite things to do there!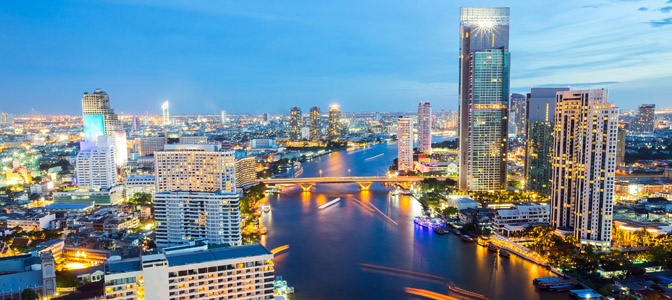 Thailand tours to Bangkok control a very special place in travelers' hearts. For anyone traveling through Asia for any amount of time, Bangkok is a constant friend that greets you, whether you're just passing through, or spending time here. As you get off the plane in Suvarnabhumi Airport and the wall of humidity hits your face, you feel one of the busiest cities in the world calling out to you. So, yes, though your layover may be a short visit with this colorful capital, a longer layover is an adventure waiting to happen.
Every individual can have a different 24-hour experience here. Certainly, one can spend all 24 of those hours hopping from bar to bar, club to club, and stumble back to the international terminal with just enough time to board one's flight. Another traveler can shop in markets ranging from mega-malls, to farmer's markets, to souvenir streets. With smart planning and enough intestinal fortitude, one can even eat street food continuously for 24 hours. Let's talk about some of these options.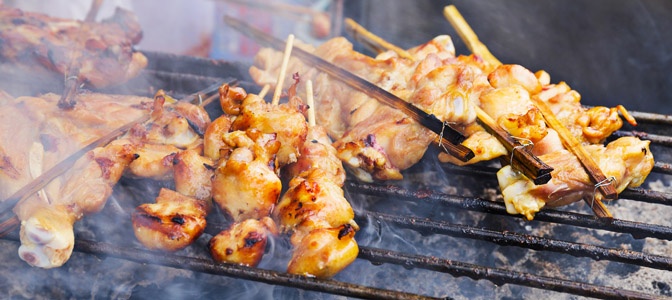 What to Eat
Maybe it says something about this writer that this section is listed before "What to Do." One of the first priorities when arriving in a new city is feeding the appetite that inevitably builds when on an international flight.
You don't have a lot of time in Bangkok to consider options, so we'll simply tell you where to have this 24 hours' four meals: breakfast, lunch, dinner, midnight dinner/snack. In the morning, visit Kuppa on 39 Sukhumvit 16 Khlong Toei, near the Asok train stop. Eggs benedict, pancakes, and even some morning pizza for the jet lagged traveler are all on offer.
For lunch, consider Bangrak, a tucked away lunch/dinner joint with a comfy atmosphere, and delicious, fresh Thai food. Their smoothies are also delicious, and come with just the right amount of mid-day rum. For dinner, you'll want to book a last minute dinner cruise. These usually last about 2.5 hours, and feature excellent views of the night time city from the Chao Phraya river. For the midnight snack, Love Scene is open until dawn, and is a known favorite for the night owl crowd, serving authentic Thai food. The place itself doesn't look great, which is why we suggest coming when the sun's down.
If all else fails while walking hungrily through Bangkok, throw this blog's advice out, and find the closest street food stall with a line of locals. While $1 pad thai is the classic target, you'll also want to hunt down a little durian. Durian is a fruit infamous for its putrid smell, but delicious taste. The creamy texture of durian is also unique, and allows for a number of different ways to prepare it street-side.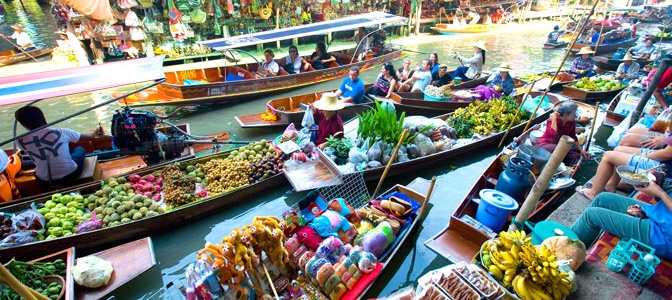 What to Do
In Bangkok, when in doubt, shop. There is every kind of store in Bangkok, and everything one can possibly think of is for sale. On the weekends, a massive flea market pops up in the northern end of the city selling "designer" wear, pet lizards, plastic bags of beer, and anything else that has the slightest demand. Business owners find their niche here, and if nothing else, travelers will learn about Thai ingenuity and entrepreneurship.
Spend time at a hotel's rooftop bar. The Banyan Tree Hotel has a famous rooftop restaurant and bar with endless views of the city. There are a number of tour guides ready to take you on a private longtail boat ride through the canals near the Grand Palace. This is also a chance to see more of the city while in the comfort of a shaded boat. From the palace, walk to Wat Po, where hundreds of travelers will be waiting in line to see the giant reclining Buddha statue.
Find yourself a massage parlor (there are hundreds ranging from cheap to luxury), and spend a couple of hours in pampered heaven. Now that you've loosened up, find your way to the Sukumvit district for some all night dancing and drinks, or the RCA Entertainment Area for a more local crowd. Either way, you'll want to be ready for a nap on your flight out of Bangkok, which should be departing in a few hours. So eventually, you will need to make your way back to the airport. Don't worry, the party keeps going even when you're gone.