Nailing down the travel details for an international destination can at times feel daunting, even to the most seasoned travelers. But, this wariness should never stop you from booking that bucket-list trip. And believe it or not, global travel is often a lot simpler than you'd imagine.
One coveted destination that has recently become even easier to get to is Myanmar. With new direct flight options from popular stopover airports like Singapore, Tokyo Narita, Taipei and more, traveling to Myanmar has just become more accessible than ever. Located just North of Thailand and to the East of India, this beautiful country is known for its bustling markets and stunning Buddhist relics among many other highlights. Intrigued?
Below is a we've outlined some of the essentials for preparing a trip to Myanmar. From packing tips to the best time to book your flight, we've consolidated our insider tips for all things logistics. Wondering what to do once you get there? Stay tuned next week for part two of our guide which will go over one of our favorite itineraries which explores Myanmar and Southeast Asia.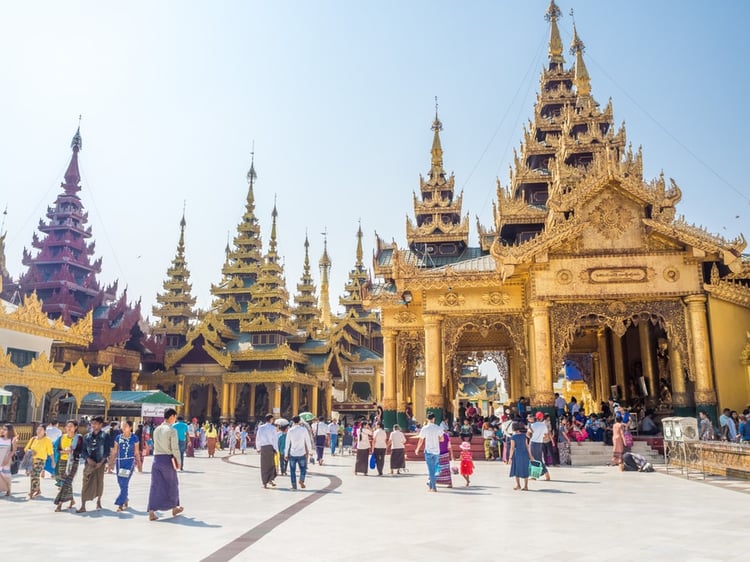 Getting to Myanmar
If flying from the U.S., you can take advantage of direct flights from connecting airports such as Dubai, Bangkok, Hong Kong, Doha, and Kuala Lumpur. Additionally, adding a Myanmar leg onto your trip Southeast Asia is simple with a variety of flight options from smaller SouthEast Asia airlines. The most common international airports that you might fly into are Yangon International Airport and Mandalay International Airport. Plus, don't forget: The best way to get good deals on airfare is to book well in advance! We recommend at least 4-5 months out if you want to secure your preferred dates and seats.
When to Visit
Myanmar has three main seasons: Winter (mid-Oct to Feb), Summer (March to May), and The Green Season (June to mid-Oct). While Myanmar is lovely to visit year-round, every season has its advantages and disadvantages when it comes to travel.
The most popular time to visit is winter, when lower temperatures and less rainfall create an ideal climate. However, The Green Season is also an excellent time to go. Temperatures drop to about (77 - 86°F), and the scenery is beautifully lush due to the increase in rainfall. If you choose to come during this time, we recommend sticking to Bagan, Mandalay and Shan State which only encounter evening showers. During this season, the coastal areas are prone to heavier storms and most hotels are closed. While Beach going may not be possible during these months, it is a wonderful season to explore the country with fewer tourists.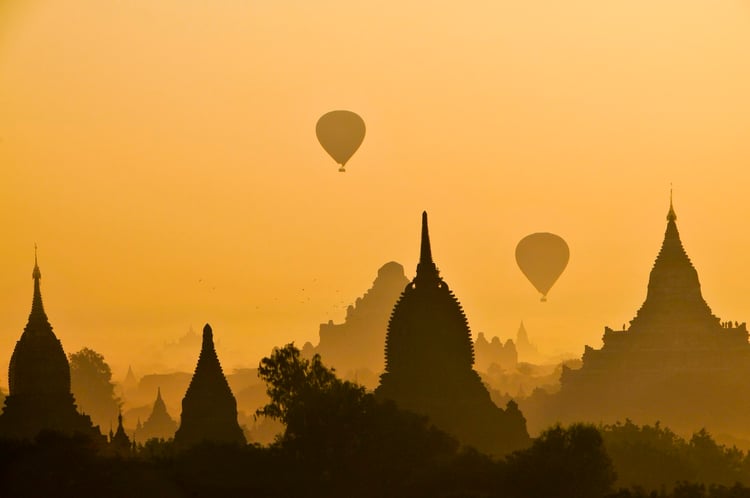 What to Bring
Before stepping off the plane into the mysteries of this stunning country, you'll need to be prepared for your adventure! Some things you may want to pack are:
Layered clothing (due to high average temperatures, we recommend natural fiber clothing like linen)

Warm jacket/fleece/jumper for cooler evenings and hill stations

Walking shoes and sandals

Swimsuit

Reusable water bottle

Appropriate hiking gear (if you plan to incorporate any treks into your itinerary)
Visas
The entry & exit requirements for Myanmar are controlled by the country's government and are fairly straightforward. You must have a passport that is valid for at least six months following the end of your trip and a visa to enter the country. In order to obtain a tourist's visa, you need to apply through the Government of Myanmar's e-visa program. Once in Myanmar, you will be required to show your passport & visa at all airports, train stations, and hotels. Depending how far off the beaten path your travels take you, you may see additional security checkpoints as well.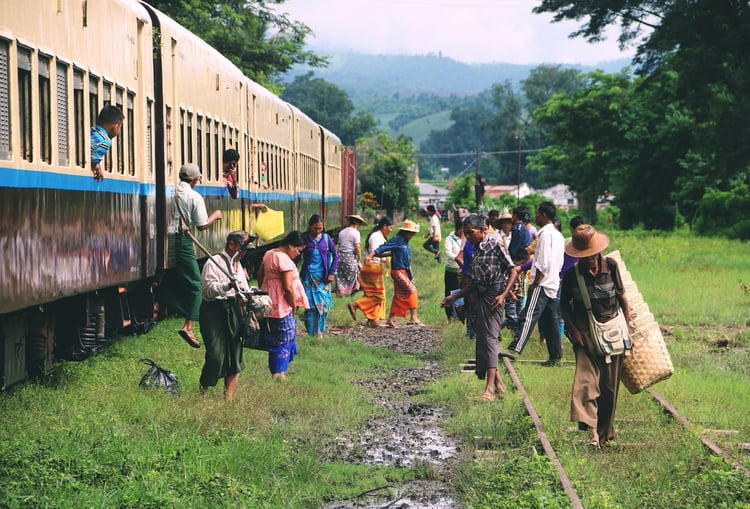 Getting Around Myanmar
Myanmar is a multicultural and fascinating country with a myriad of sightseeing options for travelers. As infrastructure is still in its development phase throughout much of the country, internal travel can be a bit challenging at times. However, this makes getting around Myanmar all the more an adventure. You might find yourself traveling by trishaw or horse or perhaps cruising around on rented bikes. If you prefer more familiar transportation options, you'll feel appeased knowing all Global Basecamps' tours provide private transport with local English speaking guides. Additionally, in line with our sustainable tourism ethos, we do our best to include eco-friendly alternatives when possible.
Myanmar also has a railway network that if utilized properly can be helpful for navigating the country. We only include short scenic segments of rail travel in our itineraries as the system is outdated and slow, so may not be worth using to travel longer distances. If your itinerary does include more spread out locations, domestic flights are our preferred way of helping you travel around the country.
Are you ready to enter a world of cultural diversity, picturesque landscapes, and distinctive cuisine? Join us on one of our sustainable and educational Myanmar tours. Once you arrive, you can relax and have the time of your life exploring this amazing country while we take care of all your transportation needs from horse cart to domestic flights. Let one of our Myanmar travel specialists help you start planning your trip today!