In our "24 Hours In" series, we present good ideas of what to do in the featured city over a full day. The destinations we'll be covering include cities that are often traveled through, but not in. These cities often act as international flight hubs, and layovers can extend from hours to a full day at times. So if you're in a city on your way to or from your destination, following are some of our favorite things to do there!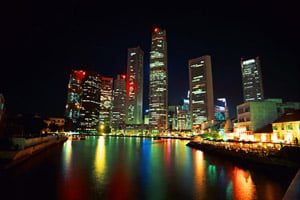 Have 24 hours to spend in Singapore during Indonesia tours? Well hold onto your hats friends, because you are in for a wild ride.
Ever since the first boats were traveling back and forth through the seas of Southeast Asia, Singapore has been a hub of international travelers. Traders realized the value of this island's real estate very quickly, but it wasn't until the British colonized the place in the 19th century that the Singapore we know today was born. Since its independence from foreign rule in 1963, and subsequent full sovereignty in 1965, Singapore has boomed as an international trade and travel hub. One of the wealthiest, most diverse, and modern cities in the world, Singapore is an extreme contrast with most of the Asian continent.
The city's image is that of a business-oriented, overly-clean, state-run shopping mall, but if you chip away the lacquer, you will find a vibrant, crunchy center of culture worthy of its Chinese, Malaysian, Indian, and Western roots. In 1963, most new Singaporean citizens were Chinese, Indian and Malaysian immigrants brought in by the British government for hard labor. Enough time to fully mesh these cultures has not yet passed, and Singapore remains a diverse nation of immigrants. Though about 75% of its citizens are Chinese, one must remember that over a third of Singapore's residents are not citizens at all. This is a true international city; religions, languages, and cultures come by the dozen.