One of our own recently returned from her trip to Tanzania. She was kind enough to share some of her pictures and experiences with us! This is How We Travel.
I just had the incredible opportunity to embark on a nine day Tanzania tour through Tanzania's Northern Circuit. This was my first time traveling to Africa, and it couldn't have been a better introduction to this incredible continent. The safari not only highlighted the incredible wildebeest migration and big game, but also allowed us to interact with the local tribes, and gain a deeper understanding into their daily lives and culture.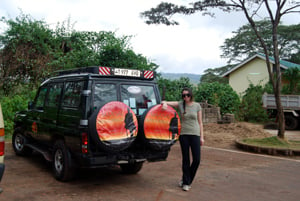 Day 1: After a long 24 hours of traveling from California, we arrived at Kilimanjaro Airport. Stepping off the plane onto the open airstrip and taking in our first breath of Africa was truly an experience in and of itself. On arrival we were met by the smiling face of our guide Francis. We loaded up the iconic Toyota Land Cruiser and were on our way to Arusha. Checking in at the charming Ahadi lodge around 11:30PM, exhausted and hungry, the kind and attentive staff were more than accommodating, and provided us with a hot and delicious three course meal. With our tummies full we went to sleep with dreams of Africa.