Our Sales Manager, Meg, took a trip down to Baja Sur, Mexico in November. This trip was originally booked for April but like so many of you, she also had to postpone. Given that Meg and her crew were going to visit an uninhabited island in the Sea of Cortez, they felt that this would be a perfectly safe destination to visit during the pandemic. Mexico currently doesn't have any entry requirements regarding Covid and there are many nonstop flights from various cities throughout the US making it one of the easiest destinations to visit right now. Here's her firsthand account of their sunny getaway!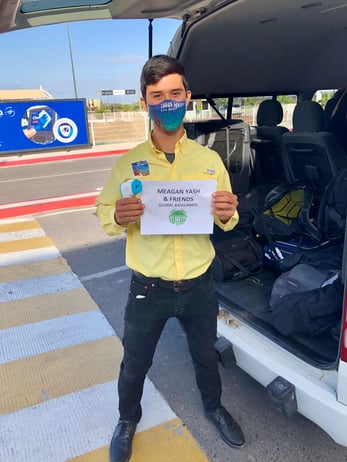 When traveling with Global Basecamps, you can rest assured that you'll be in the best of hands. On arrival at the La Paz airport, we were met at the airport by a driver who after introducing himself, requested to take everyone's temperatures and handed out hand sanitizer before entering the vehicle. During the transfer, our driver, Miguel, wore his mask and we were also asked to keep our masks on for his safety plus the windows were open allowing for plenty of fresh air. On arrival to Los Colibris Casitas in Todos Santos, we were met by the owners and staff who also all were wearing masks. After checking in, we enjoyed our first meal (a late breakfast due to an early morning flight from San Diego) sitting outside overlooking the Pacific Ocean and then made a beeline to the pool. Our long overdue vacation had officially started and we immediately fell into vacay mode.
Since we were only in Todos Santos for one day, in the afternoon we walked into town to explore and naturally, our first stop was a rooftop restaurant for some margaritas and ceviche. Not only was the food and drink fantastic but what really stood out was how lovely and attentive the staff were. Baja had been shut down pretty much until October when their season traditionally starts up after the HOT summer months, and the locals were excited to see tourists slowly trickling back and obviously happy to have the business. The town itself was still pretty quiet and we only saw a handful of other tourists. It felt very safe as there are plenty of outside dining areas and everyone in town was wearing masks. Shop owners were all happy to see us and we were happy to help support them! Todos Santos is a charming, sleepy and small town; and while we might not have had the 'normal' experience given how quiet it was due to the lack of tourism we likely made more personal connections and most importantly, we felt very safe.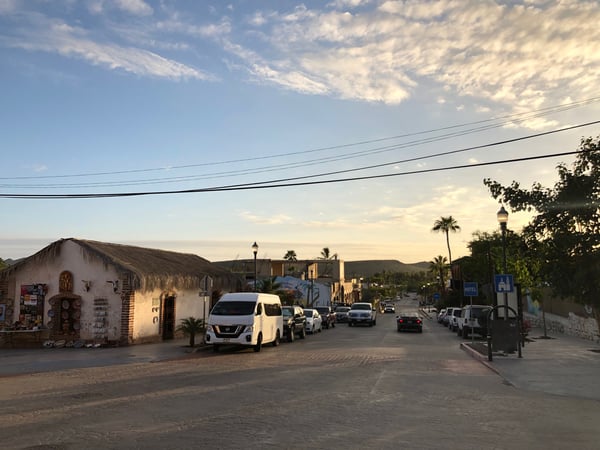 After a restful sleep at Los Colibris, the following morning we headed East towards La Paz for the next part of our adventure and something I've been excited about for years - glamping on the uninhabited Isla Espiritu Santo! First, we stopped at the office in La Paz to get fitted for wetsuits and snorkel equipment. Even upon entry to the office we had our temperatures taken before being outfitted and meeting our guide who would be with us for the next few days. From here we continued to the marina where we boarded our boat to head to the island. After about 45 minutes, we turned into the cove of Isla Gallo for our first glimpse of our home for the next three nights. It was a fantastic site to see, made even more special after being cooped up for so many months. The thought of essentially living outdoors for the next few days was liberating!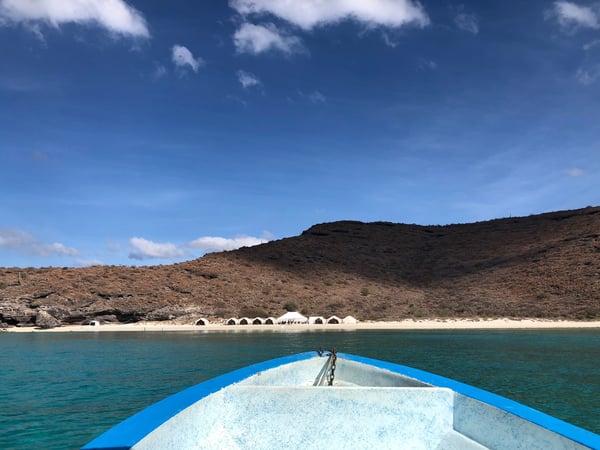 Espiritu Santo National Park is part of a UNESCO World Heritage Site, and is one of the best marine life viewing destinations in the world. Whales, dolphins, whale sharks, sea turtles, manta rays and plenty of beautiful tropical fish call the surrounding waters home, while a terrific range of bird species including Blue-footed Boobies, Reddish Egrets, Great Blue Herons and Yellow-footed Gulls frequent the island's skies and shores. There are no permanent structures on the Island and so the only people you will see in the area are the day-trippers who come from La Paz on boat tours or private yacht charters. Camp Cecil de la Isla is similar to an African safari style mobile tented camp. While the eight tents are spacious and beautifully decorated, they are not permanent structures and so there is no electricity although the Camp does have solar panels which are used to power fans in the guest tents and a charging station in the communal area. Bathroom facilities are shared and are made up of a compostable toilet and a bucket shower.
The Camp has a number of new safety protocols in place due to Covid which include:
There is a handwashing station easily accessible next to the bar area in the communal tent along with hand sanitizer. Guests are encouraged to wash their hands frequently and before meals.
Temperatures of all staff and guests are taken every morning and recorded daily to identify any abnormalities. If someone has a high temperature that persists they will be isolated and monitored for 8 hours and if symptoms persist, arrangements will be made by the guidance of medical professionals.
And finally masks! While staff wear masks when in close proximity to guests, guests aren't required to wear masks all day everyday given that all communal areas are open -air and all activities here take place outside in the fresh air!

At Camp Cecil de la Isla, you can spend each day doing exactly what pleases you - kayaking, snorkeling, hiking, stand-up paddle boarding and swimming with sea lions (perhaps one of my all time favorite travel experiences!). Reading, napping, playing card games and just enjoying the view. At night, the stargazing is absolutely mind-blowing. Our bilingual naturalist guide, Manuel, was not only incredibly knowledgeable but extremely passionate; his excitement about each sighting and activity was contagious! The entire staff was incredible and the food was beyond.... Fresh out of the sea caught by local fisherman every day (although dietary requirements can absolutely be accommodated - just be sure to let us know in advance).
After months of being cooped up, this was the ideal getaway. Not only did it feel so good to be active and outdoors but the ability to unplug completely (no Wifi or phone service here!) was incredibly refreshing. It's been a stressful year, to say the least, and Camp Cecil de la Isla is the perfect place to reconnect with nature and reset.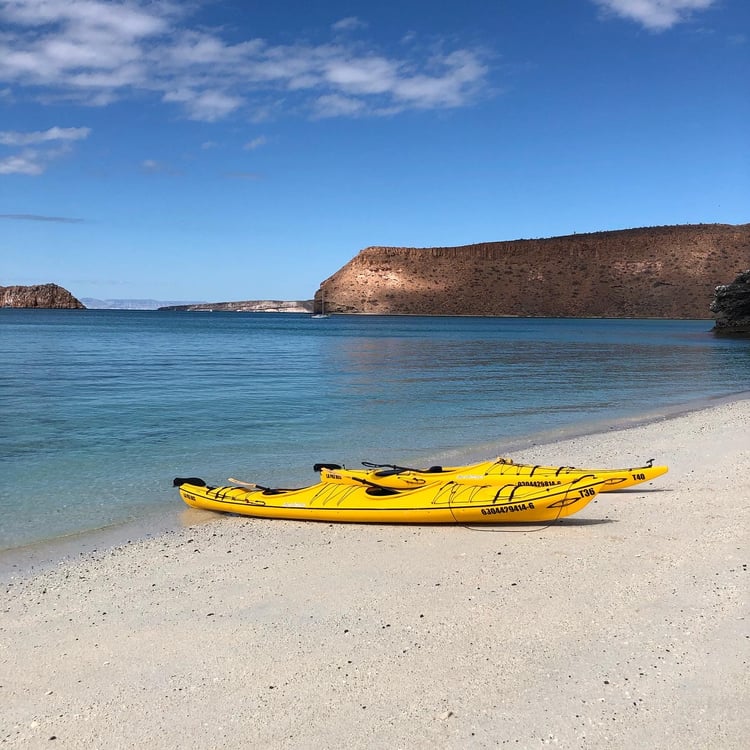 For more information about glamping in Baja Sur, or to plan your custom Mexico Tour, get in touch with one of our Travel Specialists today!