Mt. Kilimanjaro is a highlight of most Tanzania tours. With its diverse ecosystems and breathtaking views, it is an unforgettable experience. The climb is great for seasoned trekkers and for well prepared and fit first-timers. Below you'll find some practical information to start planning your Mt. Kilimanjaro trek.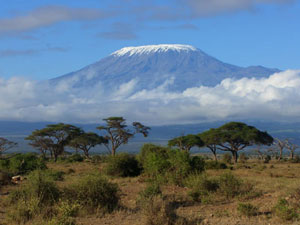 When to Visit
It is possible to climb Mt. Kilimanjaro year round, though some seasons are better than others. Going during rainy season can be dangerous and lower your chances of reaching the summit. The weather can be somewhat unpredictable, but usually the best months to trek Mt. Kilimanjaro are mid-December through February. Mid June through September is also a good time. During mid February, late September, or early October climbers can enjoy good conditions and moderate crowds.
Peak seasons occur around Christmas and New Years and during summer time in the northern hemisphere. It can be very crowded during these times. From mid March to mid June there is heavy rain and sometimes snow. These are very difficult and dangerous climbing conditions, and travelers should avoid this time of year.