The Red Pepper House
The Red Pepper House is located on Lamu Island in Kenya. Lamu was declared a World Heritage Site, and the thousand year old Swahili culture has been preserved there. The Red Pepper house consists of five nyumbas (houses) offering guests an idyllic isolated location. Located a short distance from Lamu town, the eco lodge sits between a beautiful beach and lush forest. Each nyumba has a sea view and a private butler to assist with any needs and lead on any excursions if necessary. Houses consists of a bedroom and bathroom, a living area, a veranda, a private enclosure with beach sand and an open air African shower, and an outside private space on the beach. The Red Pepper House blends in with the surroundings with a makuti thatched roof and was constructed with techniques inherited from their Swahili ancestors. The majority of the hotel is very open, allowing guest to enjoy the tropical breeze and climate.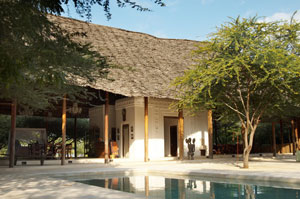 The Acacia nyumba is a larger, spacious suite which also includes a study room. Meals range from authentic Swahili cuisine to meals from the Mediterranean. The light, healthy cuisine consists of fresh, organic ingredients. Breakfast, lunch, and dinner will be served whenever you choose and appetizers are offered all day next to the pool. Activities at The Red Pepper House include bird watching, dhow trips (Arabian influenced boats), fishing, snorkeling, and visiting Lamu town. The staff at The Red Pepper House are very accommodating and will even prepare a private dinner for you on the beach with a menu of your choice.
The temperate at Lamu Island ranges from 26-34 degrees, with the coolest months from April to September and the hottest months from February to March. Frequent rain occurs in May and June. The ideal time to go snorkeling is from October to April. November to April is great for dolphin watching. The best time for fly fishing is from November to March, while the best time for deep-sea fishing is from August to May.