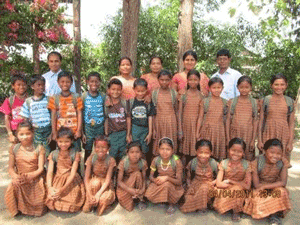 Tiger Mountain Properties, our in country partner in Nepal, has demonstrated a commitment to sustainable travel and ecoturism. They support a wide range of local programs, in addition to creating their own community projects throughout the country. These focus on health, education, and conservation, and illustrate Tiger Mountain's concern for the environmental and human needs that exist where its lodges, camps and trekking routes are located. Global Basecamps is happy to be contributing to the Tiger Mountain Properties' school programs.
Tiger Tops Swissair Pre-School
The Tiger Tops Swissair Pre-School and library, located on the edge of Chitwan National Park in the southern Terai, Nepal, is now in its 15th year. In collaboration with the Swissair Staff Fund for Children's Relief, the school was created for underprivileged children who were unable to afford government school fees; it provides free education, meals and health care. The free head start program was developed for young children of poor families near the Tiger Tops Tharu Lodge. The students are selected from the different ethnic communities in the area, Mushahar, Bote, Tharu, Kammi, Damai, Gurung, Kamal etc., based on their financial and nutritional needs. The school strives to provide the children with the skills necessary to prepare them for further education, and then funds their onward education in government school when they complete the 4-year program.