Bliss and Patrick left their jobs in finance and law in New York City to travel around the world with their two-year-old son, Jude. They blog about their adventures traveling with a toddler at Around the World with a Two-Year-Old. Among other adventures, the family has taken the Trans-Siberian Railroad from Beijing to Moscow, and recently spent a week in India.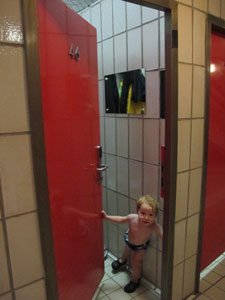 I can think of few experiences more relaxing than a long, hot soak on a cold day in a huge outdoor thermal bath, surrounded by beautiful neo-baroque buildings and stone statues spitting water. I recently had the pleasure of doing this—with Hungarians of all ages and sizes, mostly squeezed into very small swimsuits—at the Széchenyi Baths in Budapest's City Park, one of three baths my family and I visited in Budapest, Hungary. We knew Hungary was famous for its thermal baths, and decided to take the plunge, so to speak. We wondered what our two-year-old son Jude would think – he loves the bath at home – but this was hardly the rubber-ducky-pre-bedtime routine he was used to. More than that, what would the people relaxing in the baths think of Jude? Were we crazy to bring a two-year-old to the baths? (Clearly he would not be able to go in the very hot ones.)
As widely-accepted history has it, the Romans set up the first baths in Hungary in the 1st century, which is home to many deep underground springs. When the Ottomans occupied Hungary beginning in the early 16th century, they also built communal baths over the hot springs. Today, many baths are fed by multiple springs. The water coming from deep in the ground is so hot that is must be mixed with cooler water.
Because we spent over a week in Budapest, we were able to visit the city's three most famous baths, one as a family, and one each for mom and dad.