Getting to Lake Titicaca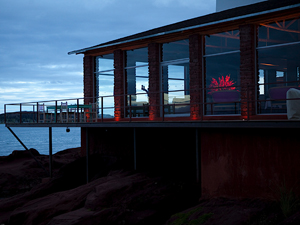 You get an idea of why Titilaka is so special as you land at nearby Juliaca airport. As excited as any traveler is to see stunning Lake Titicaca, the cities of neighboring Juliaca and lake-side Puno are… not a good introduction. There is poverty in Puno, there is an indigenous culture forgotten by modern civilization, there are incomplete brick buildings, there is a growing urban haze. And bad news for most travelers: most of the hotels on Lake Titicaca are within view of all of this.
But then your private driver keeps driving, and driving, and driving. Almost blissfully, the city gets left in the rear view mirror. City sounds and sights give way to family farms and the families that work them. Long views of the lake compliment the wide open sky that feels closer at this high elevation. And thirty minutes later, you arrive at your country estate.
Titilaka truly feels like your weekend home on the lake. Titilaka feels like it waits for you, like nothing happens when you're not there, like somehow you've earned this level of service and comfort. Upon arrival, attendants host an almost ceremonial "welcome bonfire" on the shore, where a first sunset is enjoyed with tea and tapas. An attendant is available in your living room at all times. Chefs prepare world-class meals in your kitchen. Your guide knows your name and is ready to take you on any excursion around the lake. Titilaka, in some way, says "welcome home" every time you return, even if you were just gone for the morning.