We're introducing a new series on the Global Basecamps' blog highlighting travel experiences that we feel are bucket list worthy. This week we'll be highlighting the Galapagos Islands, one of the world's best wildlife and nature destinations. A Galapagos cruise is a truly once in a lifetime experience, where you'll discover the island's fascinating volcanic geology, unique flora and fauna, and breathtaking wildlife.
When to Visit
The Galapagos Islands are a great destination to visit year round. Peak tourist season is from December through mid January and mid June to early September. From December to May the water and outside temperature are warmer, though there is more rain during this period. You will experience light, short rains almost daily. The warmer water temperatures make swimming, snorkeling, and diving more comfortable, though there are fewer fish to see during these months. Sea lion mating season also falls during this time and in March and April you can see many newborn sea lions. February to April is a beautiful time of year to visit the islands, as all the flowers are in bloom creating a colorful landscape.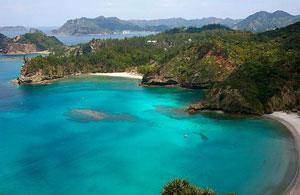 From June to November the water and temperatures are much cooler. This attracts more fish and birds. It can sometimes be cloudy or windy during this time of year, though there is little rain. This is a great time of year for diving; you can see more fish and penguins. Keep in mind the ocean is not as clam during these months. The ideal time of year to visit depends on your specific travel goals. With warm weather from December to May and more wildlife viewing from June to November both are great times of year to visit.
Galapagos Tour Options
There are a variety of Galapagos cruise options ranging from budget to luxury, and lasting from three to eight days. The cruises include all meals and excursions. Our first class yachts have no more than twenty guests and multiple decks with spacious rooms.