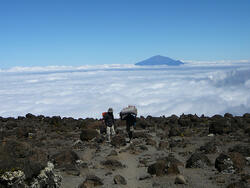 Given the plethora of tours and exotic destinations, planning an adventure can be both exciting and overwhelming. With so many distractions, the well-being of the people who support these incredible destinations are often overlooked. The consumer's lack of awareness is a major underlying issue in this struggle for human justice. This next blog series will shed light on the ongoing socio-cultural impacts of the tourism industry as well as solutions that can be taken to prevent being a part of the problem.
Reaching the summit of Mt. Kilimanjaro, and inhaling the magnificence of the African safari is undeniably an experience of a lifetime. As you revel in the raw natural landscape, take a moment to ponder the contributing factors that went into making this glorious life changing moment a reality.
Plan Your Perfect Trip
Porters are undoubtedly the backbone behind any mountain expedition. These hard working individuals undertake the daunting task of carrying the enormous load of gear for the entire trekking group. Imagine the difficulty of climbing this challenging peak with as much as 66 lbs on your back? Bearing the burden, is only a portion of the hardships that the porters must face. The harsh environmental conditions and lack of proper equipment present various health implications including: exposure, hypothermia, frost-bite, altitude sickness, and in the worst cases, death. Many tourists misconceive the severity of the situation, by making the assumption that porters are accustomed to such extreme conditions. This premise is far from the truth, according to the International Porter Protection Group porters suffer from more accidents, illness and deaths than Western trekkers. Inadequate clothing, footwear, shelter, nourishment, medical care, insurance, and wages also contribute to the problematic life of the porter.