A cruise around the Galapagos Islands is a great addition to any Ecuador travel itinerary. The Galapagos Islands offers travelers an unforgettable trip that can include snorkeling, diving, wildlife viewing, kayaking, land safaris and much more. The isolated Islands have many plant and animal species that you can't see anywhere else in the world, making it a truly once in a lifetime experience. Global Basecamps works with the most ecologically friendly and sustainable small ships on the water. Our unique Galapagos tours feature a variety of cruising options, incredible multi-day walking safaris, and lodge-based island explorations.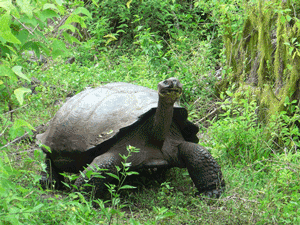 Galapagos Cruises
First class yachts accommodate no more than 20 people and have multiple decks, spacious rooms, a dining room, bars, and a conference area with flat screen TVs. Tourist class ships accommodate no more than 16 guests. Currently both cruise options can be for 3, 5, or 8 days. You will arrive at Puerto Baquerizo Moreno, San Cristobal Island to be escorted to the boat. As the sun sets, the cruise begins. The cruises include all meals, non-alcoholic beverages and daily excursions. The itineraries focus on spending time on the islands and interacting with local wildlife.
In an effort to contribute to the conservation efforts of the islands, we have hand-picked every ship we work with in the Galapagos Islands based on their commitment to ecotourism, both during the cruise and on the islands, the expertise of the naturalists and guides, and the level of comfort of the ships. All the ships we work with are certified SmartVoyager ships and include the only hybrid vessel on the water. Additionally, all of our Galapagos cruises help support the Galapagos Marine Biodiversity Fund, which advocates environmental education and marine conservation efforts by strengthening the local communities' ability to manage natural resources.