With the cost of lift tickets rising each year at popular North America ski resorts and crowds continuing to grow, a ski or snowboard vacation can include its fair share of headaches. Look off the beaten path for some unique ski resorts and take advantage of fewer crowds in these quaint mountain towns.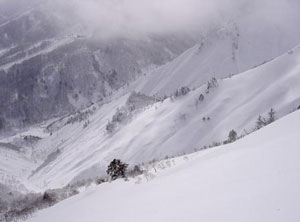 Myoko Kogen, Japan
Japan's ski industry has been steadily growing, with places such as Hokkaido becoming a popular stop on Japan tours. Myoko Kogenis one of Japan's oldest skiing areas, but is typically less crowded than other skiing destinations. Located on the slopes of Mt. Myoko, Myoko Kogen offers some of the best skiing and snowboarding in Japan. The mountain town is popular for more than just mountain sports, including delicious food, unique restaurants and bars, and onsen hot springs which are perfect for relaxing after a long day on the slopes!
Oukaimeden, Morocco
Skiing doesn't typically come to mind when planning a Morocco eco tour. Oukaimeden Resort is one of the few places it is possible to ski in Morocco. It is Africa's highest ski resort and has lifts that cater to all levels. Oukaimeden is about an hour drive south of Marrakech, located high in the Atlas Mountains. The resort has 1 chair lift, with 5 runs to take you back down again. The best time to go skiing in the Atlas Mountains is typically in January and February. The resort has ski rentals, ski schools, unique restaurants, and beautiful hotels. Enjoy the sun, sand, and snow in Morocco!