The churning and international youth culture of modern Japan lives, as always, beside a calming and proud cultural history unique to its islands. Tokyo is no different. Always an exciting mix of tradition and the future, Tokyo offers ancient temples amidst its modern streets, and keeps ancient traditions while embodying the 21st century.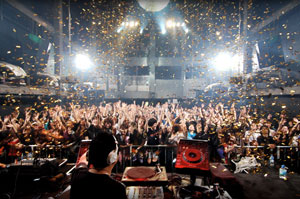 In its nightclubs Tokyo is at its futuristic best, and the city is definitively among the world's top destinations for night club and dance music lovers. Anyone on a Japanese cultural tour should think about stopping by one of these locations while in Tokyo. The following are only a few examples of what travelers might expect when venturing into Tokyo nights:
Womb opened in 2000 and has since expanded to organizing music festivals and party cruises in Tokyo Bay. The club itself is a nightly (and most afternoons and early mornings) three story music show, light show, food and drink destination with the biggest disco ball you will ever see.