"Is Colombia safe for travelers?"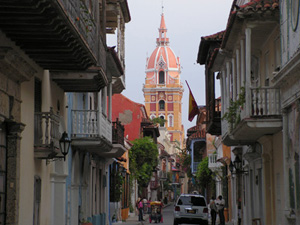 This is the first question that our Colombia travel specialists often get when planning travel there. Americans in particular have concerns about traveling to a country so recently known for its centrality to the drug trade, and the violence that was born of it. I'm going to be honest with you. There's part of us here at Global Basecamps that wants to lie to you. Part of us wants to say "wait 10 more years for things to settle down," or "the security is not quite there yet." There seems to be an exclusive club of travelers these days, a secret cabal of people in the know. They know Colombia has been safe for years. They know its beaches are top notch. They know it is absolutely one of the best countries to travel in almost because so few people go there.
Really, this is no secret if you've been paying attention. In 2008, The New York Times officially declared Cartagena a foodie destination. Travel + Leisure called Cartagena a Hidden Retreat in the same year. Last year, the Times seemed to still be on the Colombia-train, moving onto the great eats in Bogota and its tourist revival. It's a common topic of conversation in our office. How do we get the message across that Colombia is safe, when the New York Times can't seem to do it? Consider us stumped. The best we can do is describe the perfect vacation setting as best we can, and travelers can make up their own minds.