Scott and Christy are surfers and photographers who run an inspiring travel blog, (as well as a San Diego food blog,) where they provide tips to others who want to fulfill their dreams of travel, no matter what situation they are in. You can find them on Facebook, Twitter or view their travel photography portfolio. They were kind enough to answer some questions for us, thanks Scott and Christy!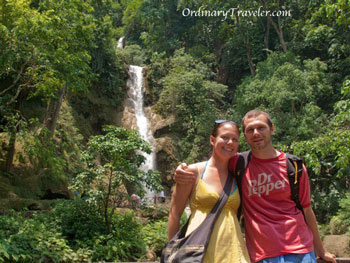 1. Where in the world are you now?
We are currently using San Diego, CA as our home base and taking lots of trips to places like Nepal, Dominican Republic, Panama, Arizona, San Antonio, Texas and Yellowstone National Park. We named our blog Ordinary Traveler because we are two people working normal jobs, but still finding plenty of time to travel the world. We want to show people that you don't have to quit your job in order to travel.
2. When and how did you get hooked on travel?
Christy has been hooked on travel for as long as she can remember. Her parents are partly to blame for taking her on annual trips to exotic destinations throughout her childhood. Scott first caught the travel bug on a school trip to Italy during his senior year in high school.