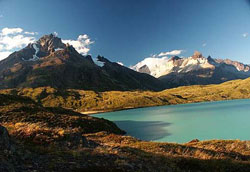 As you may have heard, Chile recently experienced devastating forest fires, damaging parts of the beautiful Torres del Paine National Park in Southern Patagonia. The wildfires began December 27th and quickly spread as the result of drought conditions and strong winds. The fires lasted 10 days, damaging about 7% of the park. The fires were brought under control in early January and the majority of the park reopened on January 4th, 2012.
The park is now operating normally, with hotels and other services open to receive tourists. Chile's National Forestry Corporation (CONAF) has begun developing a restoration plan to reforest sections damaged by the fire. The plan will be implemented in Spring, with April being an important month for reforestation.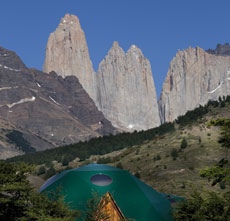 Our partner eco lodge in Torres del Paine, EcoCamp Suite Domes, which we recently wrote about in our Green Honeymoon Ideas blog, did not experience any damage from the fires. The fires did not reach the Eastern sector of the park, where the EcoCamp is located. However, some of the itineraries have been revised to avoid areas of the park that are closed and allow trekkers to experience some of the lesser visited regions.
The modified itineraries include the Paine Circuit, 7 day W trek, 5 day short W trek, and a wildlife safari itinerary. Highlights include seeing Laguna Azul's beautiful blue waters, Cañadón Macho's incredible fauna including guanacos and the ostrich-like ñandú and the Valle Encantado viewpoint, which overlooks the valley below. Torres del Paine draws near 150,000 tourists a year, mostly during the months of December, January, and February. EcoCamp Patagonia has decided to extend its season this year to allow travelers more time to explore Torres del Paine.