Our well traveled intern, Adrienne, has written another great blog for us about her VolunTourism trip to Peru. Read Adrienne's previous posts about the struggles and benefits of ecotourism and the return of the travel agent.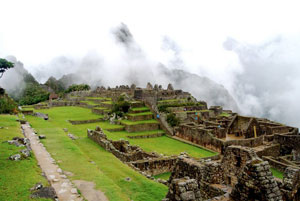 Cusco, one of the most popular destinations for adventure tourists in South America, will have a 30% increase in visitation (foreign and domestic) this December from the previous year, according to Peru's National Chamber of Tourism. The Inca citadel of Machu Picchu, which is a World Heritage site, has attracted many more visitors recently than in past years. Although there's always the controversy of an increase in visitors destroying the site by simple "wear and tear", this growth is estimated to bring in around $3.3 billion dollars. In a developing country like Peru, $3.3 billion can go a long way in sustaining the local economy and increasing wages for Peruvians. But why such a drastic increase in a mere 12 months? The global economy hasn't seen THAT much of an improvement since last year, so what could be behind the driving force of people's desires to see the ancient lost city?
For everyone I'm sure it's different. Some may want to experience the new hype of Peruvian food, or maybe the big centennial celebrations of Machu Picchu have caught people's eye, or it could just be a stop along the way while exploring the northern region. But my desire to travel to Peru in late spring is a bit more personal.